Hunter Biden's Laptop Probe Referred to FBI, Delaware State Police Say
The Delaware state police have passed on an inquiry concerning the laptop purportedly belonging to Democratic Presidential Nominee Joe Biden's son, Hunter Biden, to the FBI.
On Tuesday, President Donald Trump's personal attorney Rudy Giuliani told Newsmax that he handed over the laptop that he claims belongs to Hunter Biden to the Delaware state police on Monday.
"In light of ongoing questions about the credibility of these claims and multiple reports that the FBI is investigating their veracity, law enforcement is referring this matter to the FBI," a Delaware State Police spokesperson told Newsweek. The Delaware State Police also confirmed that they are not in possession of the laptop.
Newsweek reached out to the FBI for further information and Biden's campaign for comment.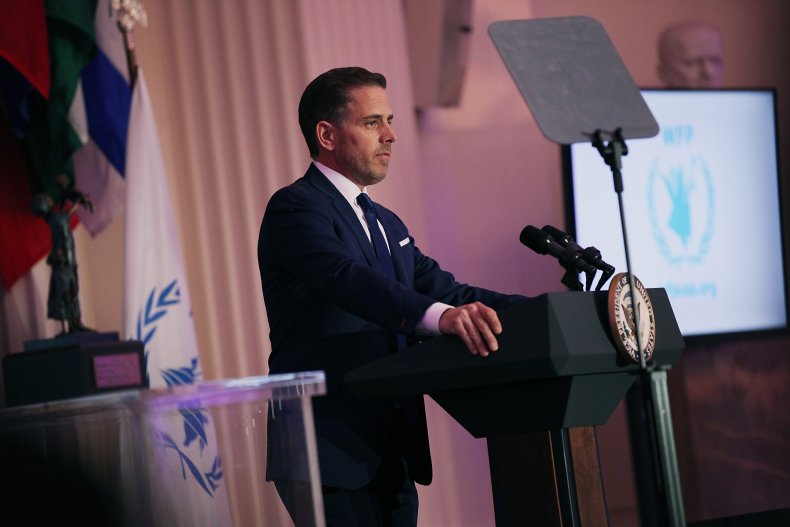 Director of National Intelligence John Ratcliffe and House Intelligence Committee Chairman Adam Schiff accused each other of politicizing intelligence on Monday over emails allegedly found on the laptop.
More than 50 former senior intelligence officials signed a letter on Monday detailing their belief that the laptop "has all the classic earmarks of a Russian information operation."
After Schiff called revelations stemming from the laptop a Kremlin "smear" campaign, Ratcliffe on Monday insisted that the laptop "is not part of some Russian disinformation campaign."
"Let me be clear: The intelligence community doesn't believe that because there is no intelligence that supports that. And we have shared no intelligence with Adam Schiff, or any member of Congress," he said.
In a statement to Newsweek, a spokesperson for Schiff accused Ratcliffe of "purposefully misrepresenting" the Democrat's words to "mislead the public" and help Trump.
"The Intelligence Community has stated publicly that Russia is once again seeking to benefit Donald Trump's election campaign by denigrating Joe Biden with attacks the Treasury Department described as, 'false and unsubstantiated narratives' ... designed to culminate prior to Election Day," the statement read.
The controversial emails allegedly written by the son of the Democratic presidential nominee were obtained by the New York Post and appear to show terms of agreements with Chinese and Ukrainian companies. The Post's story has not been corroborated by mainstream news outlets and is based on the accounts of two people close to Trump: Giuliani and Stephen Bannon.
The emails were reportedly found on a laptop that was left behind at a New Jersey computer repair store in 2019. But the store's legally blind owner John Macissac was unable to identify whether the computer was dropped off by Hunter Biden.
Biden campaign spokesperson Andrew Bates has asserted that the candidate has "engaged in no wrongdoing," but did not deny that the laptop belonged to Hunter Biden.
"Investigations by the press, during impeachment, and even by two Republican-led Senate committees whose work was decried as 'not legitimate' and political by a GOP colleague have all reached the same conclusion: that Joe Biden carried out official U.S. policy toward Ukraine and engaged in no wrongdoing. Trump administration officials have attested to these facts under oath,' Bates said in a statement.
One of the emails in question suggests that Hunter Biden arranged a meeting between his father and a top executive at a Ukrainian energy firm in 2015, when the then-vice president was in charge of Ukraine-U.S. policy. Bates said a review of Biden's schedule found no evidence that such a meeting had taken place.
While some questioned the validity of the allegations, calling it a political hit job, Trump has used the laptop as ammunition for attacking Biden. With less than two weeks left to Election Day, the president on Tuesday vowed to focus on pressing the former vice president about the allegations leveled at his son.