Hunter Biden's Memoir Listed as #1 Best Seller in 'Chinese Biographies' on Amazon
Hunter Biden's upcoming memoir Beautiful Things is topping Amazon's list of best sellers in the "Chinese Biographies" category.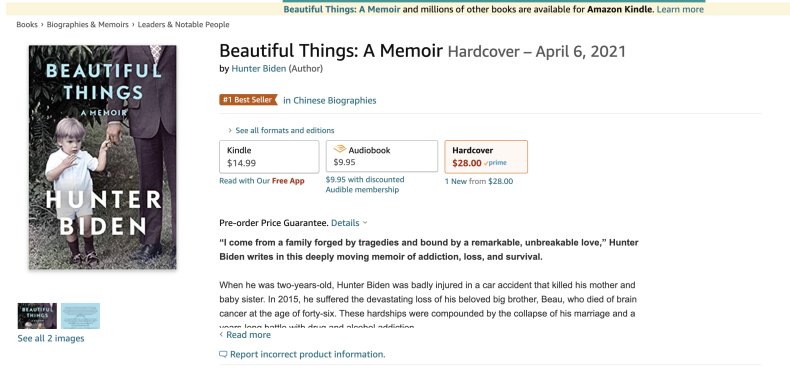 Beautiful Things, which is set to be published April 6, appeared at both number one and number five on the list as of Friday evening. It was not the only seemingly inappropriate memoir to appear on the list.
Disloyal by Michael Cohen, the ex-lawyer of former President Donald Trump, took both second and fourth place in the "Chinese Biographies" category. Into Thin Air, by non-Chinese American writer Jon Krakauer, appeared on the list three times.
Amazon told Newsweek that Biden's inclusion was an error and that the company was working to correct the list.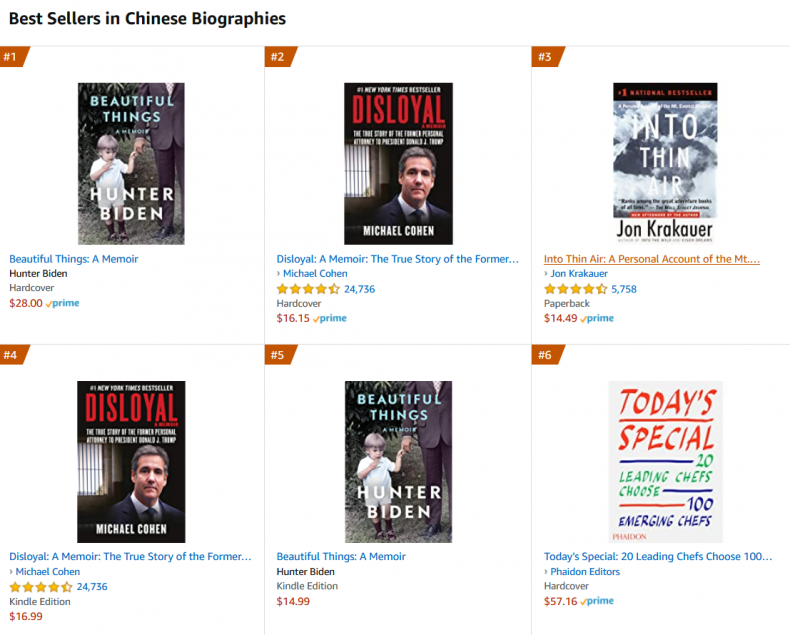 While the book from President Joe Biden's son may have been erroneously included on the list, attempts to highlight his alleged business activities in China have been popular among some conservatives. Unsubstantiated allegations concerning corrupt practices by Hunter Biden were heavily promoted by Trump and many of his supporters prior to the 2020 presidential election. An investigation into the younger Biden's "tax affairs" was launched by the Justice Department in December.
Biden's memoir was purchased by Simon & Schuster in the fall of 2019 but kept secret until Thursday, according to The Associated Press. A description from the publisher says the book "details Hunter's descent into substance abuse and his tortuous path to sobriety."
It may also touch on other dark chapters in his family's history. Biden and his late brother Beau, who died of brain cancer in 2015, survived a 1972 car crash that killed their mother and 1-year-old sister.
Author Stephen King, one of a small group who have read advance copies of the book, called it a "harrowing and compulsively readable memoir." King noted that the book answers a question that Trump, while promoting the allegations against Biden, regularly uttered during campaign rallies ahead of the election.
"Biden remembers it all and tells it all with a bravery that is both heartbreaking and quite gorgeous," King said in a release announcing the book. "He starts with a question: Where's Hunter? The answer is he's in this book, the good, the bad, and the beautiful."
The president and first lady Jill Biden also weighed in on the book, saying "we admire our son Hunter's strength and courage to talk openly about his addiction so that others might see themselves in his journey and find hope" in a statement issued on Thursday.
In addition to Hunter Biden's Chinese business dealings, separate allegations of corruption concern Biden's business activities in Ukraine. The allegations led to the first of Trump's unprecedented two impeachments by the House in December 2019, months after the former president allegedly attempted to pressure the Ukrainian government into announcing an investigation of Biden.