Hunter Hayes and Jojo Siwa Are Leading 'The Masked Singer' Group C Fan Theories
Group C will take the Masked Singer stage for the final time on Wednesday night before three remaining contestants infiltrate the show's Super 9. Just one more elimination stands between the celebrities and the next step to becoming the Masked Singer Season 3 champion.
Last week the series saw former Disney Channel star Bella Thorne, who was dressed as Swan, eliminated. She explained she'd chosen the mask based on the Twilight character Bella Swan, a hint to her own first name. Thorne also claimed she joined the show after being guessed so many times by judges on past seasons.
Thorne is far from the only big star eliminated on Season 3 so far. She joined Sarah Palin, Drew Carey, Chaka Khan, Tony Hawk, Lil Wayne, Dionne Warwick and Tom Bergeron as the first-round castoffs this season.
The Masked Singer asks judges and fans to guess which mystery celebrity is under each mask. It isn't until they're sent home that their true identity is revealed. With four singers left in Group C, fans have begun to come up with some compelling theories. Here's what the public thinks of the remaining contestants.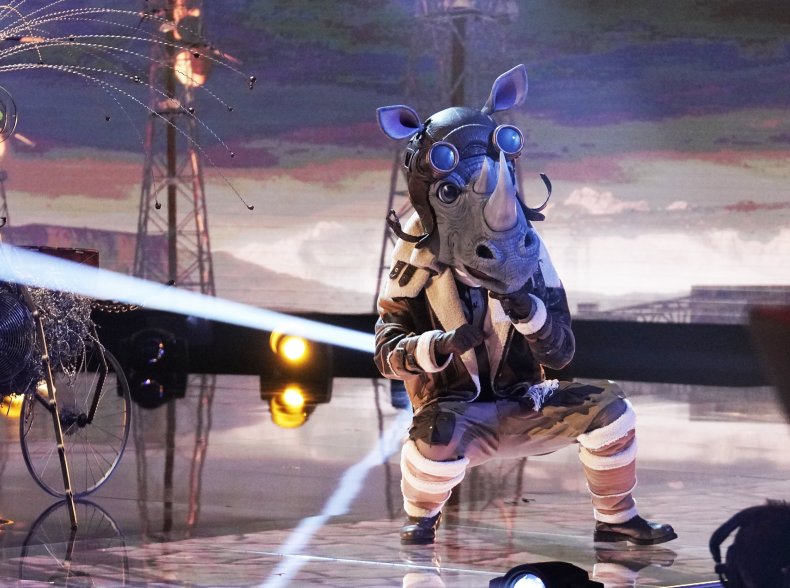 Astronaut
There's one name that's been mentioned by hundreds of Twitter users watching The Masked Singer: Hunter Hayes. The country star has recently been tied to Astronaut on the series, though the true identity has yet to be revealed.
This is an interesting twist, as judges guessed Hayes for another character: Turtle, from Group A. Fans are convinced Turtle is actually Jesse McCartney, though.
There are a few other names associated with Astronaut including Joseph Gordon Levitt, Jonathan Taylor Thomas and Lance Bass.
T Rex
Another confident theory lies in the possible identity of T Rex. Internet users seem convinced Jojo Siwa is the singing celebrity. Not only does Siwa have a music career (and her vocals can easily be compared to those of T Rex), but she fits the judge's theory that the performer is also a YouTuber.
Rhino
It's harder to pin down a unanimous theory surrounding Rhino's identity. Twitter users seem all over the board, but suggest a handful of country singers like Keith Urban, Brett Young and Brian Kelley of Florida Georgia Line. Others listed professional athletes.
Night Angel
The Masked Singer fans seem convinced Kandi Burress is under this spooky, yet serene mask. It seems to be because of the singer's powerful vocals, which some think match the Xscape artist.