Professional Hunter Killed By Club's Pet Deer While Trying to Feed it
A professional hunter was killed by a pet stag on Tuesday, presumably while he was trying to feed it. The incident occurred in north County Cork, Ireland, at the Duhallow Hunt Kennels, where the man was gored and trampled by a male deer raised and kept by the organization as a pet.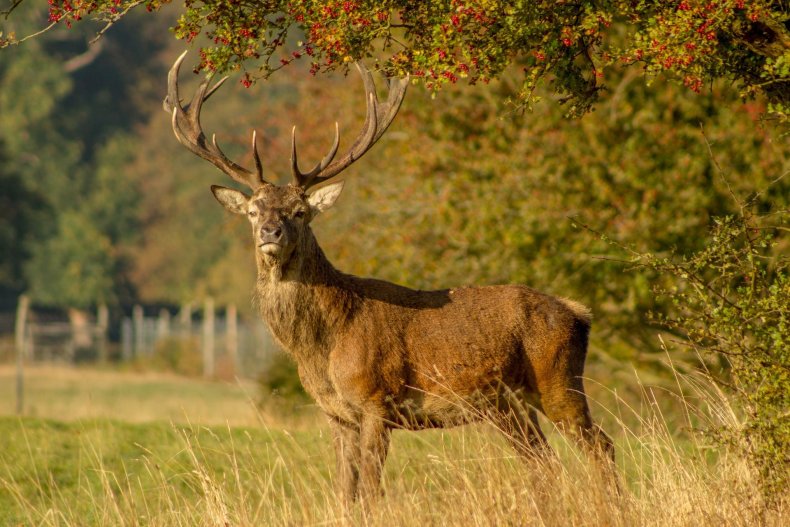 The deceased man was identified as Ger Withers, a 45-year-old, married father of three young children (reportedly a set of twins and a toddler). The Irish Examiner wrote that "Mr. Withers was well known in the area and highly regarded as a skilled huntsman hunting with Old English hounds."
Duhallow Hunt Kennels is located in Liscarroll, a small village in County Cork with a population of 249, as of the most recent census taken there (2016). Police and the Health and Safety Authority are still investigating the accident, though it is believed the attack occurred while Withers was feeding the stag.
Authorities were alerted that Withers was missing by his wife, Maria, when he did not return home Tuesday evening. Members of the gardaí or "the Guards," the national police service of the Republic of Ireland, attended the scene of the accident, where they discovered his body, according to a statement from the police service's press office.
The statement noted that Withers had received fatal injuries. A local coroner was notified, and his body was transported to the mortuary in Cork University Hospital, where he was pronounced dead. An inquest is likely to take place next year, according to rte.ie, the website for Ireland's public service broadcaster, Raidió Teilifís Éireann.
The dogs at Duhallow are said to be the oldest foxhound pack in Ireland, working continuously since 1745. The club was founded in 1800 by Sir William Wrixon Becher. Pat Fleming, the chairman of Duhallow Hunt, said the club was "devastated" by the death of Withers. He also said Withers was employed at the kennels and was doing his job when the attack occurred. Fleming added that the club's loss was nothing compared to how Withers' wife and young family must be feeling after the tragic incident.
The Irish Examiner reported that several contributors to the private Irish Deer Commission Facebook account have expressed their sadness over Withers' death.
Stags are said be dangerous during their breeding season, also known as "the rut," which runs from September to December. The large males get extremely aggressive and dominant due to increased testosterone levels and have been known to attack hunters and even vehicles.