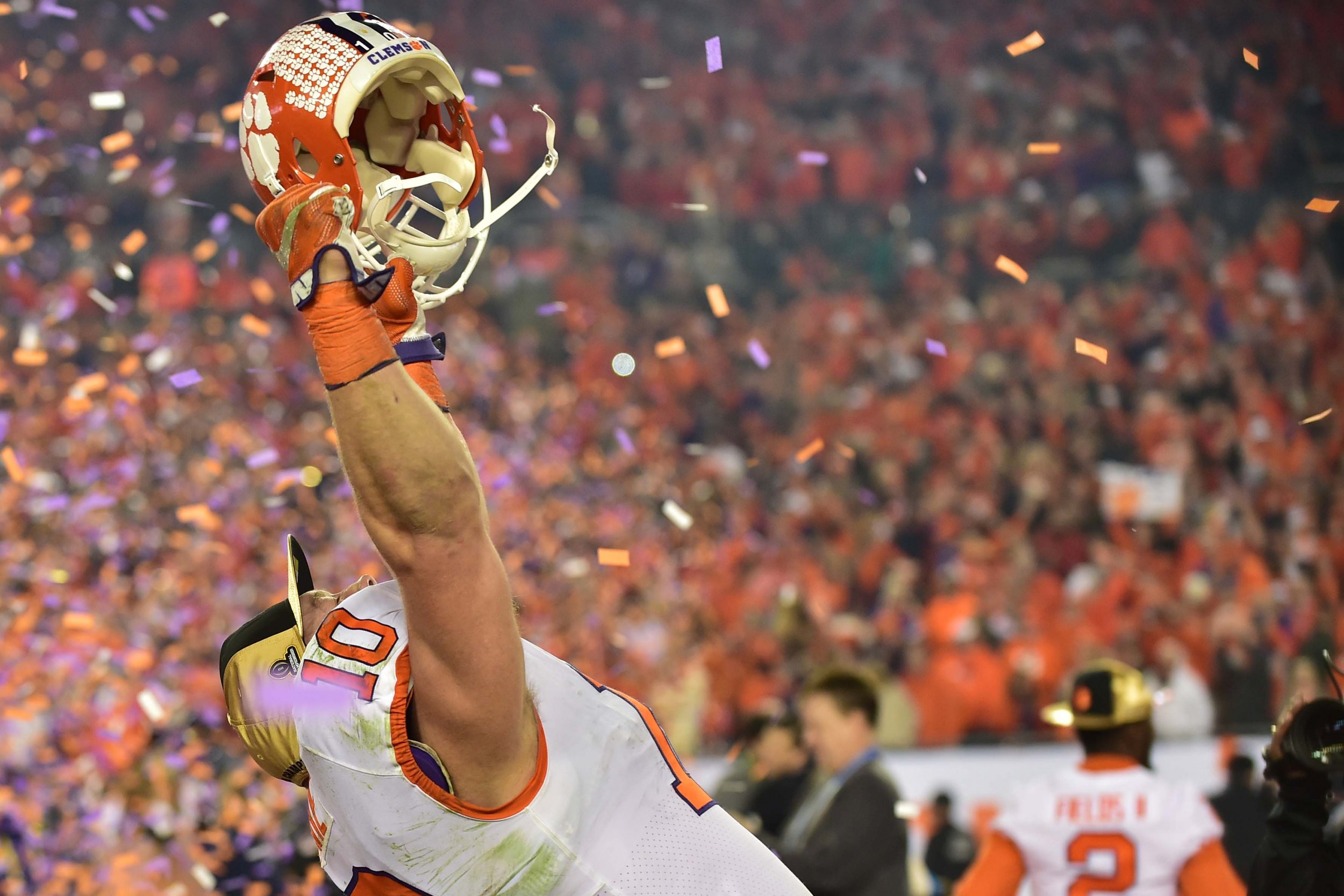 It was a simple "rub" play—Clemson calls it "Crush"—in which two wide receivers run intersecting routes. The player zigging toward the middle of the field sets a pick for his teammate zagging toward the sideline. The Tigers had run a similar play early in the fourth quarter to score from four yards out against defending national champion Alabama, but now they were about to run the rub with just 0:06 remaining and the 2016 college football national championship at stake.
""I kind of smiled, and I knew before I even snapped the ball it was going to be a touchdown," said Tiger quarterback Deshaun Watson. "I knew if Tay [wide receiver Artavis Scott] makes his block and got the little pick, [Hunter] Renfrow was going to get in the end zone."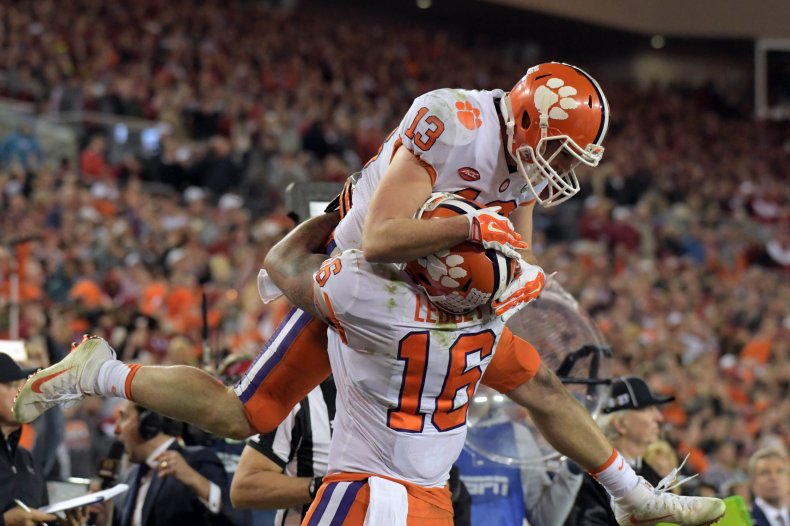 The play went for two yards and Renfrow, lucky No. 13 for Clemson, went into the end zone with just 0:01 to play. The Tigers, who lost to the Crimson Tide, 45-40, in last year's championship contest, avenged that defeat with a 35-31 victory. That they did so by twice scoring in the fourth quarter via a play that every offensive coordinator has in his playbook but is technically illegal will be just a footnote in college football lore. Traveling is technically illegal in basketball, too.
What fans will remember about the rematch at Raymond James Stadium in Tampa is a breathless fourth quarter in which the lead changed hands three times in the final five minutes. They will remember a Crimson Tide program losing after it entered the final stanza with a 24-14 lead, a team that before Monday night was 97-0 under head coach Nick Saban when entering the fourth quarter ahead by 10 or more. They'll remember two tremendous sky-walking grabs by Tigers wideout Mike Williams, a 6'3" specimen who will likely be a first-round NFL draft pick next spring. And they will recall a pair of touchdown catches by Renfrow—particularly the latter one—a 5'11" Myrtle Beach, South Carolina, native who three summers ago, weighing all of 152 pounds, came to Clemson as a walk-on player.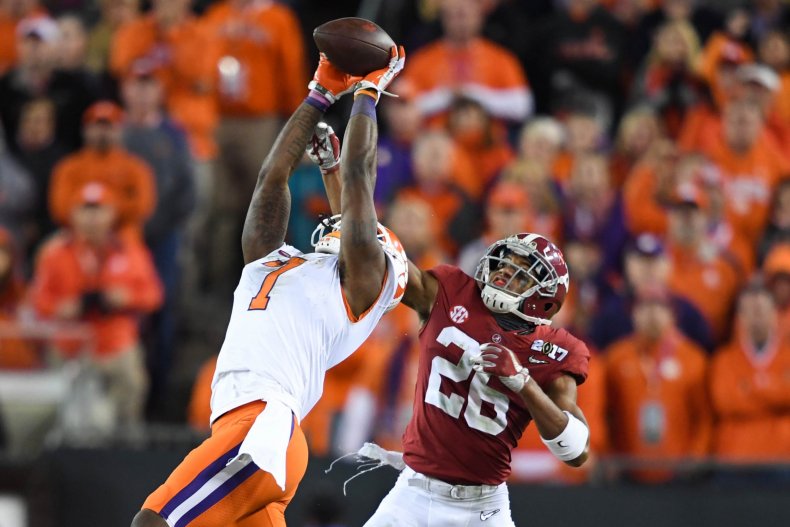 "About a year and a half ago, I was still a walk-on, nobody really knew about me," Renfrow, who received no Football Bowl Subdivision scholarship offers, told USA Today. "It all started in practice. [Our defense] was the No. 1 defense in the nation, and that's something I've carried over, that if I can get open against those guys and the guys we have now, I can get open against anyone."
Related: Can Trump save the Rust Bowl losers?
On a field littered with former five-star recruits and seven likely first-round picks in the upcoming draft alone (four of them Crimson Tide defenders), Renfrow, now 180 pounds, excelled. The redshirt sophomore caught a game-high 10 passes, including second-half touchdown grabs of 24 and two yards. Renfrow had seven receptions and also caught two touchdown passes against the Crimson Tide in last year's championship game (his four TDs against Alabama in the past calendar year are more than all but one team, Mississippi, scored against the Tide).
Any coach or tape-head who witnessed the game will also point out that Renfrow's most important contribution, outside the final play, happened as a defender. Early in the third quarter, Alabama's hulking linebacker Ryan Anderson stripped Clemson running back Wayne Gallman of the football, recovered it in the Tiger backfield, and had nothing but open meadow between himself and the goal line. Renfrow sprinted toward Anderson, who has three inches and more than 70 pounds on him, and dove toward his knees. Anderson fell at the Clemson 16 yard-line and Alabama would wind up settling for a field goal.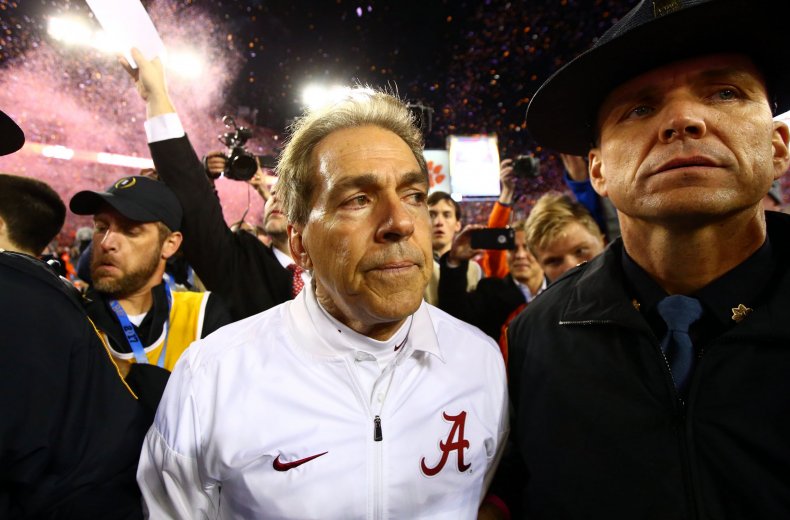 "He was going to go score, but Hunter made a great tackle," fellow receiver Mike Williams, who will sign with an NFL team for millions of dollars next summer, said. "That was one of the best plays of the game."
Renfrow's winning catch consummated a magical year for Clemson, which 363 days ago lost to Alabama in the title game. During the 2016 season the Tigers defeated four schools that between them had won the past seven national championships—Alabama (four), Ohio State, Florida State and Auburn—the first two at neutral sites and the latter two on their campuses. Clemson also tackled Heisman Trophy winner Lamar Jackson and Louisville in an early October game in Death Valley—as the Tigers' home venue is colloquially known—that was nearly as thrilling as Monday night's game. Clemson did lose once this past autumn, 43-42, to Pittsburgh on a 48-yard field goal with 0:06 left, but that defeat served as a reset for the program.
"Sometimes you need a little pain along the way, and a little failure is part of getting better," Tiger coach Dabo Swinney said a few days after that November loss. "There was a sense of urgency [when the team reconvened Monday], where there was a hard edge to it. And I like that."
On Monday night in Tampa, Swinney, an Alabama alum, denied a legendary Crimson Tide coach his fifth national title in Tuscaloosa. Nick Saban had been in five national title games (once with LSU) and had never lost one until Monday night, when his defense surrendered the lead with 0:01 to play. For Swinney, who had been a walk-on wide receiver with the Crimson Tide, how sweet must it have been to see a walk-on wideout complete the championship-winning play.