Suddenly, there was a terrible roar around us. Whaaaa-reuuuuh-whaa-wha-wha-wha. It was primal and screeching. But the sky didn't fill up with what looked like huge bats (to my great disappointment). I ran out of the car to the high wooden fence heavily barricaded with chicken wire to spy what was going on. And I heard my voice screaming: "Holy Jesus! What are these goddamn animals?"
Hunter S. Thompson prized his peacocks. So much so that the late, lamented author of Fear and Loathing in Las Vegas once shot a maimed fox that got too close to a couple in his personal flock. The descendants of those birds are alive and well and living at Owl Farm in Woody Creek, Colorado, the homestead where Dr. Gonzo wrote while chain-smoking Dunhills through gold-tipped cigarette holders.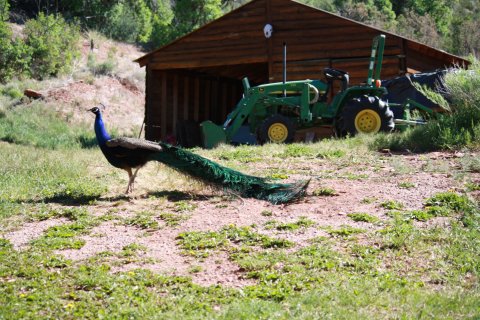 Thompson, who sometimes used the alias Sebastian Owl, liked to play with explosives at his 42.5-acre spread. He blew up a Jeep Wagoneer there after packing it with dynamite and dousing it with gasoline. Then he used it for target practice for hours at a time.
He raised his son, Juan, there. He hosted Jack Nicholson in the 1980s and Johnny Depp in the '90s. He accidentally shot his assistant, Deborah Fuller, there in 2000. He and his second wife, Anita, honeymooned there in 2003. Two years later, he died in the kitchen after shooting himself in the head. Suicide, the coroner called it.
Last week, I bummed a ride from Aspen to Woody Creek. I wanted to talk to Anita, who still calls Owl Farm home. Next year, she hopes to open the place to the public as a part-time museum. Visitors, maybe five or fewer a day, will be allowed to book tours online for free. Hunter's cartoonist friend Ralph Steadman set up a memorial fund to bankroll tours for Thompsonphiles who pass Anita's vetting process. No souvenir shop, so don't get your hopes up for a Steadman coffee cup. And fans of Fear and Loathing may be disappointed to learn there will be no on-site dispensary.
If all goes according to plan, you'll be able to sign up for the tour on the Gonzo Foundation website. Anita will fix you the same breakfast she always made for Hunter at 2 in the afternoon: grapefruit, scrambled eggs, juice, coffee, and fresh fruit suspended in Jell-O, with gin and Grand Marnier drizzled on top. After you've more or less digested this feast, Anita will lead you on tour of the house and grounds.
The house is a two-story log cabin, with "many, many rooms," says Anita. "A specific count is not advisable, as Hunter had some of them built off the grid." The rooms are jammed with books, art, vinyl albums, memorabilia and Hunter's words—his handwritten notes are everywhere. Visitors will be shown the barn, which houses a green Cadillac (Anita notes that the vehicle "still technically belongs to April and Lyle Lovett") and an airplane simulator. Hunter's fabled red shark convertible is in the garage. Off-limits: the bedroom, and areas where firearms are stored.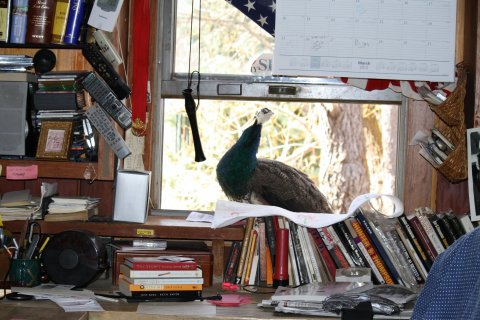 Besides peacocks, Owl Creek is home to chickens, a German shepherd and two Siamese cats, Caesar and Pele. "The cats were Hunter's babies," Anita says. She built what she calls a stone "labyrinth" (a sort of rock crop-circle maze) on the spot from which Hunter's ashes were shot out of a cannon. "With fireworks," she recalls. "Hunter loved explosions."
More attractions await his fans in town, most notably Hunter's favorite haunt, the Woody Creek Tavern. The walls are still plastered with photos of him and "Thompson for Sheriff" posters from the 1970 Aspen election. (He wanted to change the name of the town to "Fat City," but he lost by 31 votes.)
Near the main house are signs that bear a Wizard of Oz line ("Nobody gets in to see the wizard, not nobody, not nohow") and the Hunter motto ("It never got weird enough for me"). It got pretty weird at the farm, judging by a game of shoot-and-putt he played with the local sheriff: "He had my Ping Beryllium 9-iron, and I had his shotgun, and about 100 yards away, we had a linoleum green and a flag set up. He was pitching toward the green. And I was standing about 10 feet away from him, with the alley-sweeper. And my objective was to blow his ball off course, like a clay pigeon."
When Hunter moved to Owl Farm in 1967, he wrote to newsman Charles Kuralt that he had "now fairly permanently sunk into this Woody Creek fortress" but that his checks were still bouncing. He wasn't the only freeloader on the ranch. Around the same time, he wrote two letters to Paul Krassner at The Realist about the "flower-power creeps" who showed up "with all kinds of drugs."
To this day, Anita says Hunter hajjis still sneak onto Owl Farm. "Hunter had a beautiful relationship with his readers," she says, "but he shot at anybody who tried to trespass. Just warning shots, thank God." Thompson used to perch by an open window in his "catbird seat" and fire into the air when anyone crossed the property line. Today, Anita calls the sheriff first, but has no compunction about following Hunter's lead.
Anita says she's probably the only person to ever get sober in the Owl Farm kitchen. Thirteen years ago, she decided to quit drinking (previously, she says, she had been keeping up with Hunter) and getting high to take care of her husband, whose health was deteriorating. "I was participating fully in a daily drug & alcohol lifestyle with Hunter," Anita wrote me in an e-mail. "After a year of living like that, I knew I needed to stop, or end up in rehab, or end up leaving Hunter." Though she drinks an occasional martini with friends, she doesn't smoke pot, which is now legal in Colorado. "I'm only barely smarter than my smartphone," she says. "I like to keep it that way."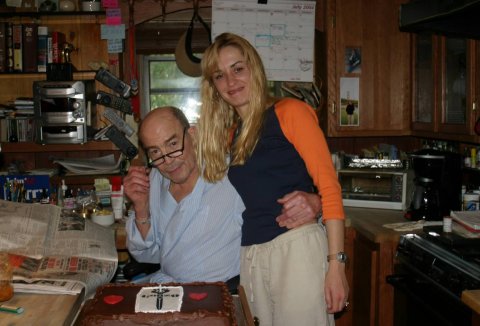 Though Anita says she always intended to turn Owl Farm into a museum, until recently she didn't even consider the possibility of showcasing her late husband's belongings. "After Hunter died, it brought me comfort to not move anything," she says. "It took me years to even move his toothbrush from the bathroom." A year after the memorial service, she left Woody Creek for New York City, where she attended Columbia University. She received a B.A. in American studies in 2009 and returned home intent on preserving her husband's legacy.
Thompson's original manuscripts will not be on display. Anita recently sent 800 boxes of Hunter's writings to Depp, who "soon, with proper encouragement, will open those archives to scholars and Ph.D. students," she says. Then again, literary scholarship never much interested Thompson. In a 2005 Rolling Stone story, Douglas Brinkley, a history professor at Rice University, remembered bringing students to Owl Farm. Thompson, Brinkley wrote, pulled out a .45 and "in assembly-line fashion he had them—one by one—prop their personal copies of Fear and Loathing: On the Campaign Trail '72, Songs of the Doomed, et al., against a tree and then blasted bullet holes through the text."
Hard-core Thompson fans may be disappointed to learn that their hero's basement office is no longer an office. An exact replica of the infamous "War Room" (featuring a taxidermied bat, IV bags on a pole and a Richard Nixon mask) appeared in Where the Buffalo Roam, the 1980 film in which Bill Murray played the "legendary outlaw journalist." When back and hip ailments made climbing the stairs too painful, the kitchen and living room became Thompson's writing salons.
All of which means Dr. Gonzo's acolytes will soon be allowed to sit in his final writing room and bask in his presence, between spoonfuls of his favorite Jell-O.