'Hunters' Ending Explained: What Happened at the End of the Series and What It Means for Season 2
For a series that bills itself as "inspired by true events," the ending of Hunters takes a massive move into fantasy with a cliffhanger based on one of the biggest conspiracy theories that came out of the end of World War Two. The Amazon Prime Video series' end also suggests some big cast shake-ups for Season 2, with revelations about several characters.
What happened at the end of Hunters and what it means for Season 2
WARNING: The following contains spoilers for the entirety of Hunters on Amazon Prime Video
Hunters may have been about the killing of Nazis, but the ending revealed that the head of the Third Reich was still alive and well and living in Argentina. In the final episode, titled "Eilu v' Eilu," we learned that Joe Torrance (Louis Ozawa) has been kidnapped and taken to Argentina. Here, he discovers that Adolf Hitler is alive and well and living with four identical Aryan boys.
In this bold final episode, we also learn that the woman known throughout the Amazon series as "The Colonel" is, in fact, Hitler's wife Eva Braun (Lena Olin), who survived the Episode 9 car crash and has finally made it back to her lover. Though the ending of Hunters sees Jonah (Logan Lerman) and the majority of the team in Europe, Season 2 will surely see them on the hunt for their biggest Nazi head yet.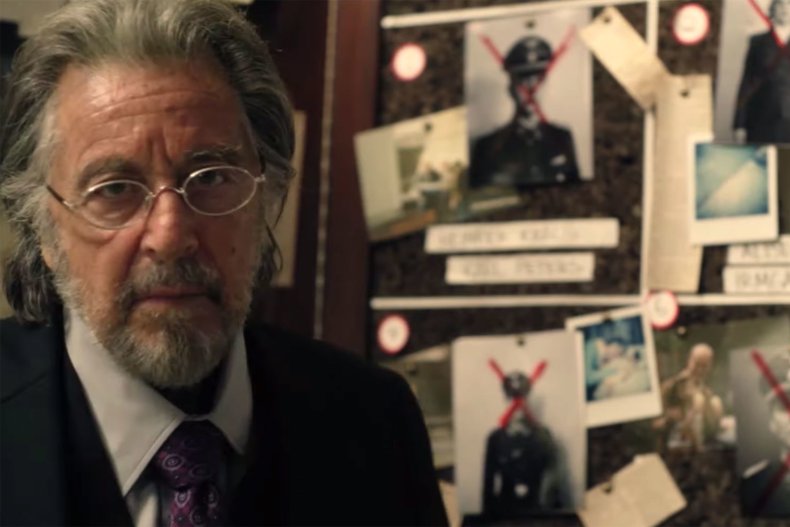 A Refinery29 interview with Hunters showrunner Nikki Toscano hinted that Hitler may even try to bring the Third Reich back to power in Season 2 via these new young recruits (or, it is hinted in the episode, clones). Speaking of these four youths, she said: "I think that we should be worried about the entire Nazi community. If we're forecasting anything, it's that. And in theory, it's a throwback to Hitler Youth."
However, Hitler was not the only major Nazi-related reveal in Hunters Episode 10. Throughout the series, Meyer Offerman (Al Pacino) was on the hunt for The Wolf, a Nazi doctor who had worked at his concentration camp. However, "Eilu v' Eilu" revealed that the person we thought was Offerman was actually The Wolf himself. We learn that he killed Offerman after the camp was liberated and then took on his identity via a face transplant. As a form of penance for his actions during the war, he has become a Nazi-hunter.
This did not stop Jonah, however, from killing him, meaning that Pacino is unlikely to return for another series of the show. However, he is not the only actor who may not return for more. The final episode sees Mindy Markowitz (Carol Kane) retire from the Hunters, suggesting that the Unbreakable Kimmy Schmidt actress will not be making a return if there is a Season 2.
That season, if it is commissioned by Amazon, is also likely to see a change in location. After Millie Morris (Jerrika Hinton) sets up her legitimate Nazi-hunting operation in the U.S., Jonah, Lonny Flash (Josh Radnor), Sister Harriet (Kate Mulvany) and Roxy (Tiffany Boone) are set to head to Europe to continue their work there.
This would mean that Hunters Season 2 would have more of an international theme, with the team in Europe, Joe in Argentina and Millie working with Congresswoman Elizabeth Handelman (Zoe Winters) setting up their own operation in the U.S.
Speaking of what the next season could mean for Joe, Toscano said: "You'll see a lot of soul searching, in terms of a season 2, as far as who Joe is, what he's motivated by, and how the Nazis are able to use him as a tool for destruction."
The showrunner also promised that the next season might offer more answers about Sister Harriet after we heard her taking orders from an unknown British person. She said: "If we're lucky enough to get a Season 2, her motivations and agenda will be explored. But as far as the first season goes, we know she's doing something dubious. The question you're meant to walk away with is, Is it for the Hunters or is it against them?"
Hunters is streaming now on Amazon Prime Video.