'Hunters' Season 2: Will There Be Another Season of the Amazon Prime Video Show?
Hunters may have only just been released onto Amazon Prime Video, but many fans have already made it to the end of the Al Pacino Nazi-hunting drama and are waiting for Season 2⁠—especially after the major reveal at the end of the series. Amazon has not confirmed another season of the show is coming to their streaming service, but there are some good early signs that the show could be back early next year.
First of all, Hunters creator David Weil has seemed in interviews very ready to create more seasons of the Amazon show. For example, he told Inverse: "Oh my god, I have five seasons mapped out if I'm lucky enough to get a second season...There are so many stories to tell. I'm dying to tell them. And I'm ready."
However, showrunner Nikki Toscano has also said that Amazon Prime Video has not yet told her about any decisions made about the future of the show. For example, when asked by SlashFilm whether Season 2 would feature real-life Nazi war criminals, she said: "It's something that we've talked about but haven't yet delved into because we haven't officially gotten our season two."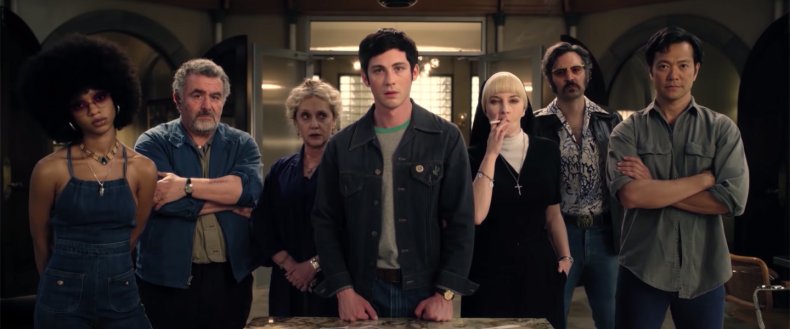 As for when Amazon Prime Video will announce the future of the show, a decision is expected to be made soon. Though the streamer's two most recent originals Carnival Row and The Boys both got given second seasons before their first seasons had aired, previous series got recommissioned a few weeks after their first releases.
Hanna, for example, was renewed in mid-April 2019 after the first season was released at the end of March, while Modern Love was renewed the week after it was first released. As such, a renewal decision is likely to be announced by the end of March at the latest.
Were the show to continue, Season 2 is likely to be released in February 2021, with cast members like Logan Lerman, Kate Mulvey and Josh Radnor returning. One star almost certain not to return, however, is Al Pacino, after his character Meyer Offerman (spoiler alert) died at the end of the current season after he was revealed to be a notorious Nazi doctor in disguise.
Speaking to Refinery29, Toscano said that among the plot details she is considering for Hunters Season 2 is a further exploration of the character of Joe (Louis Ozawa). He was last seen in Argentina in the hideout of (spoiler alert) Adolf Hitler and "The Colonel," AKA Eva Braun (Lena Olin).
However, it seems as if his imprisonment there will have big ramifications for his character. Toscano said: "You'll see a lot of soul searching, in terms of a [possible] season 2, as far as who Joe is, what he's motivated by, and how the Nazis are able to use him as a tool for destruction."
Though Pacino's character is likely to be gone from Season 2, he will not be forgotten, with many of the Hunters left questioning Jonah's (Lerman) explanation of how Meyer died.
Toscano said: "At the end of the episode, if you were to pop in on them, all of them in some kind of way would be confronting the fact that they're not sure they can believe this. They may be going to Europe if there is a season 2, but I think it's going to be a question that they continue asking."
Hunters is streaming now on Amazon Prime Video.
Correction 2/25/19, 03.25 a.m. ET: This article was corrected to note David Weil created Hunters.