Huntington Beach Man Sued by City, Threatened for Proposing Assault Weapons Ban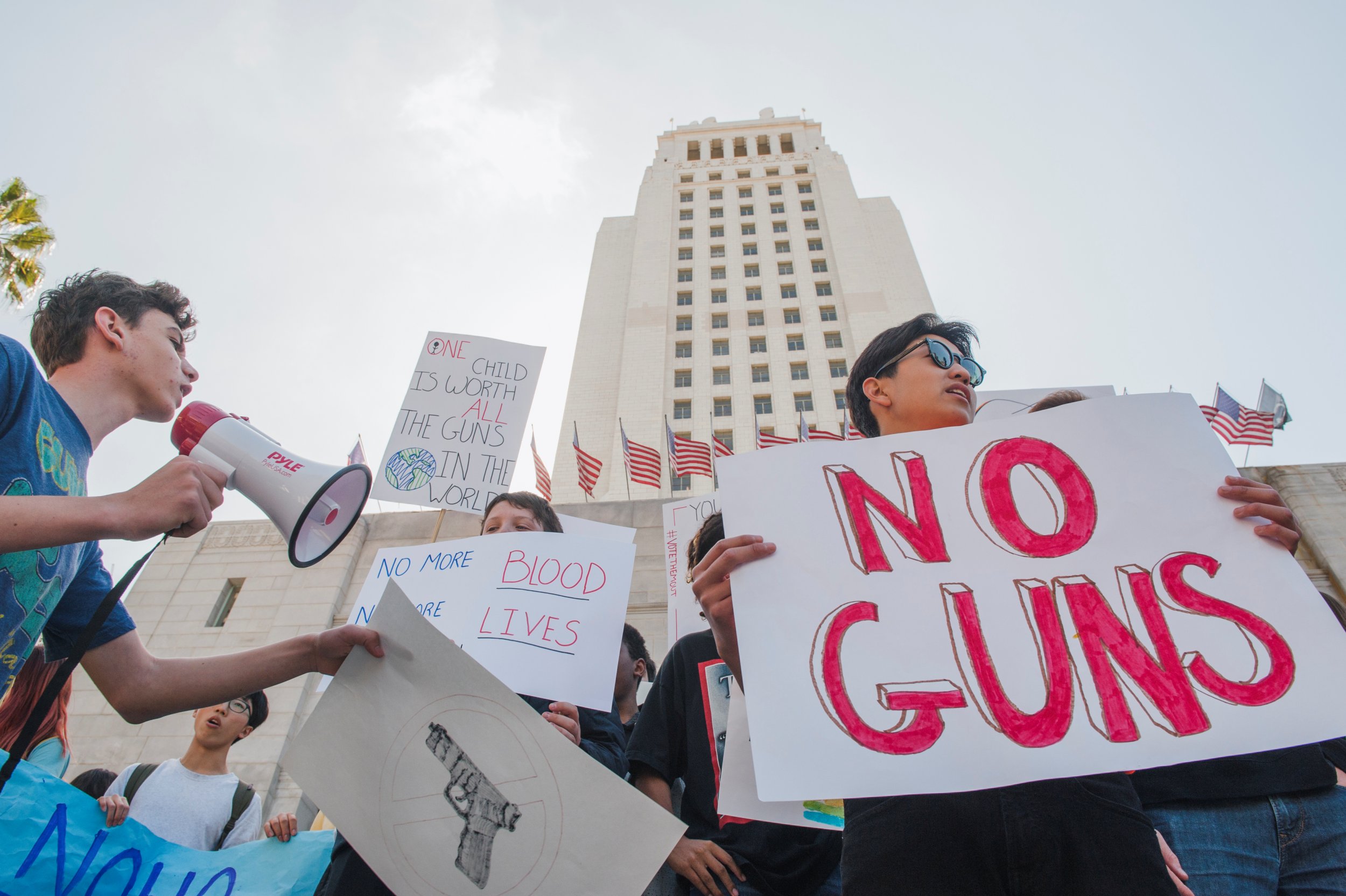 A California man is being sued by the city of Huntington Beach after drafting and collecting signatures for a ballot measure banning the possession of semi-automatic weapons and rifles.
The city calls for "declaratory and injunctive relief" from the resident's proposed assault weapons ban being placed on the upcoming November ballot in an April 24 complaint filed in Orange County Superior Court. The case is called City of Huntington Beach vs. Daniel Horgan.
Daniel Horgan first considered drafting the gun control proposal last fall after the October 1 Las Vegas shooting that left 59 people dead, he told the Orange County Register. But after sitting on the idea for several months, he finally put out the initiative following the February 14 shooting in Parkland, Florida, which left 17 students and staff of a high school dead. In addition to being served a lawsuit over the proposal, Horgan has also been the recipient of dozens of threats at his home.
"I basically wanted to ask the community, 'Are you comfortable with the proliferation of AR-15s?'" Horgan, a 42-year-old mortgage lender, told the Orange County Register. "I was so tired of feeling helpless and hopeless about this carnage. I needed to focus on a solution."
Horgan paid a mailing company $1,300 to send out 2,000 copies of his petition requiring "all semi-automatic and automatic guns and rifles be turned in to the City of Huntington Beach Police Department by Jan. 1, 2019." Horgan told the Register he simply wanted to "gauge interest" in placing the measure on the November ballot. Horgan only managed to collect about 600 of the 12,000 signatures needed by June 2 for it to appear on the ballot.
Still, the City Council approved the lawsuit against Horgan in a closed session last month, and served him with it at his home on April 24. The complaint from the city alleges an "unconstitutionally vague" definition of a semi-automatic or automatic gun or rifle. Additionally, the complaint states the initiative "will unlawfully waste and expend taxpayer dollars to verify the signatures … causing City to suffer irreparable harm."
The 25-page complaint also makes clear that Horgan's proposed ballot initiative flies in the face of the Second Amendment.
"His initiative squarely hits the Second Amendment between the eyes and puts the city in opposition to state and federal law. We don't leave anything to chance," City Attorney Michael Gates told Orange County Coast. "I've heard comments that filing the lawsuit was not necessary," he said. "But I took an oath to uphold and defend the Constitution, and I believed this was the best way to fulfill that obligation."
In addition to the city's legal challenge, Horgan says he has been the target of harassment. Horgan said he came home from a mid-April vacation and found several messages scrawled on copies of his proposal that he'd mailed out with handwritten phrases such as "Eat Poo Snowflake" and the entirety of the Second Amendment. One of the nearly shredded copies of his proposal was riddled with shots from a BB gun. Horgan told the Orange County Register he didn't intend on picking a legal fight with the city, and that his "only intent was to speak [his] mind."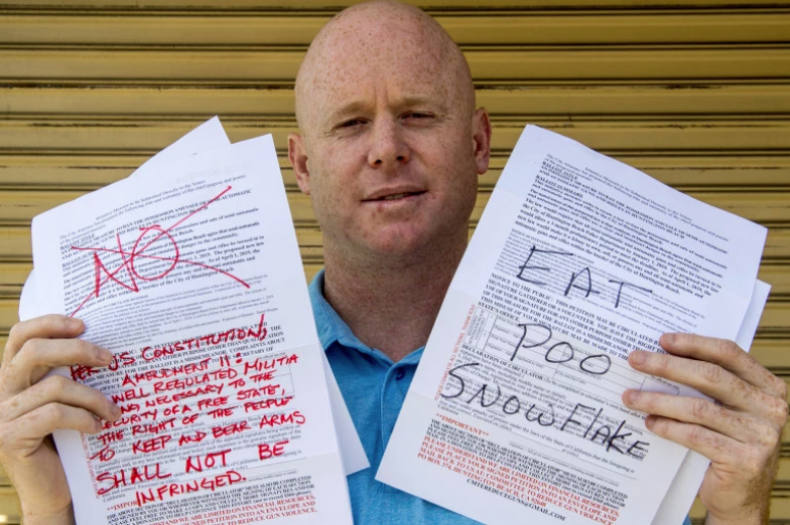 Several firearm activist groups immediately criticized Horgan's proposal, with the California Rifle & Pistol Association noting on their website that "Huntington Beach residents are staunchly opposed to such misguided measures." Their website also provides instructions on how to make certain that Horgan's ballot initiative is quashed before his June 2 filing deadline.
Horgan is set to appear in Orange County Superior Court on May 24. The City of Huntington and Horgan did not immediately return Newsweek's requests for comment Sunday.