Hurricane Bud, which has strengthened to a Category 3 storm, is projected to target the western coast of Mexico in the coming days. Bud is the second official hurricane to develop in a week in the eastern Pacific Ocean.
The hurricane is located around 235 miles southwest of Manzanillo, Mexico, and is moving northwest at 10 miles per hour, according to the latest advisory from the National Hurricane Center (NHC). It is expected to continue moving northwest today and tonight with a drop in forward speed. According to the NHC, Hurricane Bud is expected to move north-northwest on Tuesday into the midweek.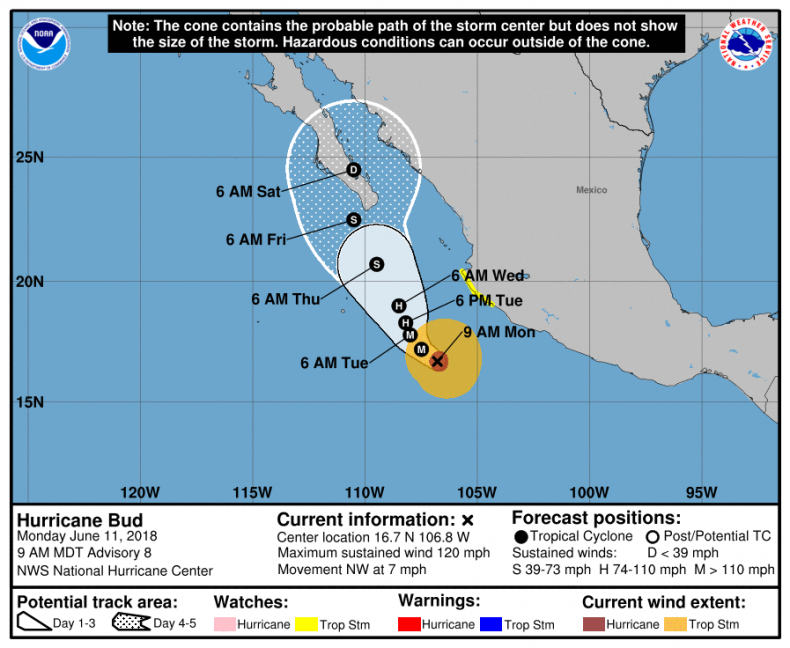 Hurricane Bud, which is expected to remain "well offshore of the southwestern coast of mainland Mexico," has maximum sustained winds of 115 miles per hour. The NHC noted that some additional strengthening is possible Monday but a decline in strength is expected to start by Tuesday.
Some 3 to 6 inches of rain accumulations are expected in much of southwestern Mexico, with isolated maximum amounts of 10 inches, the NHC said in the advisory. "These rains could cause life-threatening flash floods and mudslides," the agency warned.
A tropical storm watch was issued by the government of Mexico for Manzanillo to Cabo Corrientes, The Weather Channel reported. Hurricane-force winds are extended outward up to 35 miles from the hurricane center, with tropical storm-force winds extended outward up to 125 miles.
The hurricane center warned that swells generated by Bud "are likely to cause life-threatening surf and rip current conditions."
The Weather Channel reported that the hurricane could prompt a "surge of moisture" in the southwest United States, which would lead to an increase in rain showers and storms.
Meanwhile, Tropical Depression Aletta is expected to become a remnant by late Monday, the NHC said in an early-morning advisory. Aletta surged from a tropical storm to a Category 4 hurricane late last week over the span of just 24 hours.
By Saturday, Aletta dropped back down to tropical storm status, AccuWeather reported. The depression is now located about 665 miles southwest of the southern tip of Baja California with maximum sustained winds of 35 miles per hour.