Hurricane Chris Forecast: Tropical Storm Speeds up Off Carolina Coast, but Unlikely to Hit U.S.
Tropical Storm Chris has spiraled into full hurricane status off the U.S. East Coast. It may cause life-threatening surf and rip current conditions off the Carolina coast, but is unlikely to hit mainland.
As Chris's winds increased to 85 miles per hour on Tuesday afternoon, the storm became the second hurricane of this year's Atlantic hurricane season, albeit only reaching Category 1 strength. The hurricane quickly picked up speed, though, and the National Hurricane Center (NHC) upgraded it to a Category 2 hurricane in an advisory shortly before midnight.
The center of Chris is around 205 miles east-southeast of Cape Hatteras, North Carolina. However, meteorologists do not expect it to make landfall in any part of U.S. Moving northeast and along, but not towards, the coast, the closest its projected path comes to land is Newfoundland, Canada. It could graze Newfoundland later in the week. By the time of this possible landfall, however, Chris will likely weaken thanks to the cooler temperatures over these northern waters of the Atlantic Ocean. Its winds will likely slow down back to storm status, according to current data from the NHC.
Chris escalated quickly from a storm to a Category 2 hurricane in a matter of six hours on Tuesday and has become the second hurricane of the Atlantic season this year, according to Fox 5.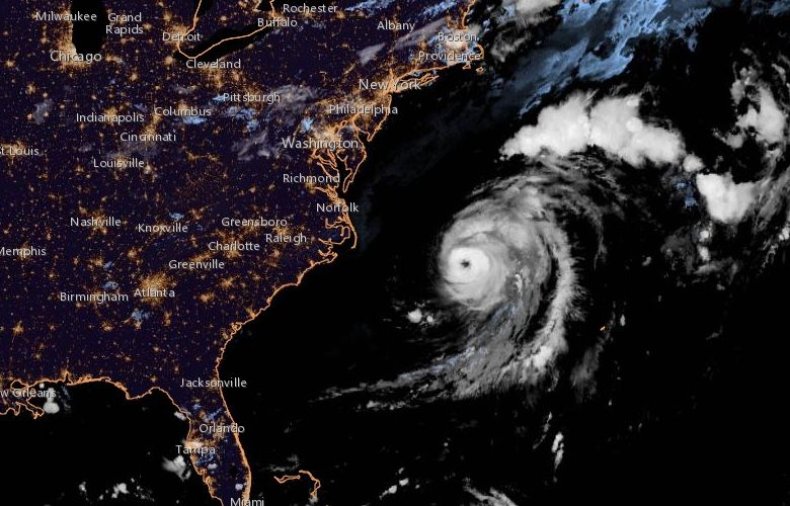 The hurricane has caused no coastal watches or warnings to come into effect, however weather authorities have warned anybody seeking to paddle out in the wake of Chris for recreation.
"Swells generated by Hurricane Chris are expected to affect portions of the coasts of North Carolina and the mid-Atlantic states during the next few days," the latest advisory said. "These swells could cause life-threatening surf and rip current conditions. Please consult products from your local weather office."
By the time Chris wafts pass Nova Scotia, which is farther from the projected path of the hurricane than Newfoundland, local expert surfers may be tempted to hit the waves, as the weather forecast predicts an otherwise sunny day.
"We're excited to have a storm this early in our season, for more advanced surfers definitely," Pete Cove, general manager of the East Coast Surf School, told Canadian broadcaster CBC. "It looks like a really fun day. It adds to the hype. When we hear of waves and sun, people get intrigued and come out to Lawrencetown beach."