Hurricane Delta Becomes Major Category 4 Hurricane: When and Where Will It Make Landfall?
Hurricane Delta is now a Category 4 storm, making it a major hurricane on the Saffir-Simpson Wind Scale and the third of the 2020 Atlantic Hurricane Season.
Delta strengthened rapidly over the past 24 hours and increased its wind speed by about 55 miles per hour. Environmental conditions mean that it will likely continue to increase in strength, and may only slow if an eyewall replace cycle begins, according to the National Hurricane Center (NHC).
The storm's wind speeds could gather an additional 34 miles per hour before reaching the Yucatan Peninsula, where it is expected to make landfall within the next 12 to 24 hours. When it hits Mexico, the storm is expected to be "extremely dangerous" and although it may weaken after landfall, a second peak could occur in the next 48 to 72 hours.
A hurricane warning is in place for Tulum to Dzilam, Mexico, as well as Cozumel.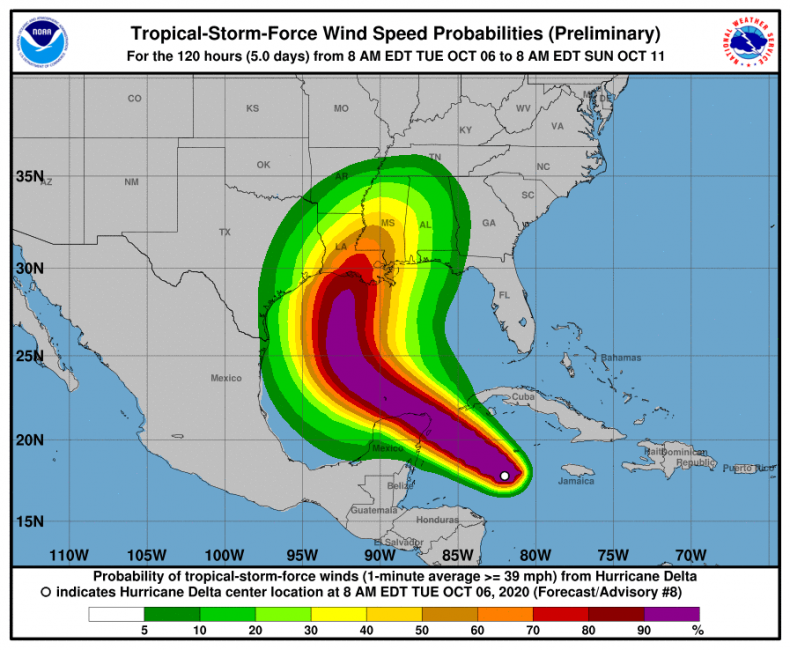 After passing over Mexico, the storm is expected to veer to the northeast as it moves through the Gulf Coast and strike Louisiana on Saturday.
Delta became a Category 3 storm around 11 a.m. on Tuesday, with sustained wind speeds at 115 miles per hour. However, shortly after, the NHC issued an update putting it at Category 4 since wind speeds increased to 130 miles per hour. While the scale is used to indicate wind speeds, it doesn't account for storm surges and other deadly aspects of a hurricane so experts often warn people not to get hung up on categories or let the characterization dictate whether or not they evacuate.
As a Category 4, "catastrophic" damage can be expected and even well-built framed houses may incur "severe" damage. Trees are expected to be uprooted or snapped, blocking roads and isolating areas. Downed power lines could cause power outages that may last for weeks or even months.
The NHC warned of an "extremely dangerous storm surge" that could raise water levels by as much as nine feet above the normal tide along the coast of the Yucatan peninsula. Life-threatening storm surges are also forecasted for Louisiana and Mississippi on Friday and heavy rainfall and flash flooding are possible in the southeastern United States, central Gulf Coast and the Tennessee Valley.
The 2020 Atlantic Hurricane Season broke records and in September, the number of storms exhausted the number of names on the list, forcing future storms to be named in accordance with the Greek alphabet. The last time a season dipped into the Greek alphabet was in 2005, when there were enough storms to warrant a Tropical Storm Zeta.
Dan Kottlowski, lead hurricane expert at AccuWeather, previously told Newsweek it's possible the 2020 season yields a Zeta storm and even Eta.
As of Tuesday, there have only been two other Category 4 storms, Hurricanes Laura and Teddy. Predictions from the NHC released in August forecast there would be three major hurricanes and Kottlowski warned people about not getting complacent.
"When did Hurricane Sandy occur? Late October. It wasn't a Category 5 hurricane but it was a huge storm that caused massive damage so we can still have a really bad storm into even late October," Kottlowski said. "I want to remind people hurricane season continues through November 30 and you have to leave the door open for a late one."
This article has been updated to reflect the storm reached Category 4 strength.