Hurricane Delta Cancun Damage Photos Reveal Storm Destruction and Flooded Streets
Residents of the east coast of Mexico are starting to rebuild their homes and clear debris from roads, with photos revealing the aftermath of yesterday's Hurricane Delta passage.
The category 2 hurricane, which is currently moving west-northwest towards the U.S. Gulf Coast, made landfall near Cancun yesterday, resulting in hurricane warnings between Tulum to Dzilam and Cozumel. Photos taken at the scene show damage to residential and commercial buildings and flood streets in caused by winds in Cozumel.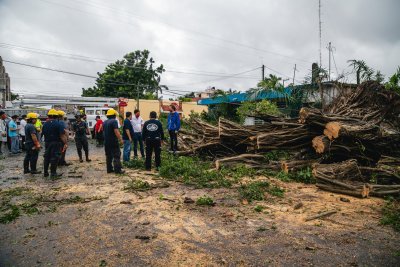 Tens of thousands of residents and holidaymakers were evacuated yesterday as the hurricane made landfall. Puerto Morelos, which sits halfway between holiday destinations Cancún and Playa del Carmen, was battered by the storm at 6.30 a.m. ET.
The aftermath of the hurricane, captured by photographers, saw resorts shut down, with debris on floors and roads. Buildings also took damage, with sides blown away by the hurricane-force winds. Homes were wrecked, resulting in people getting to work to rebuild them.
Roads were flooded, resulting in people driving through in cars and scooters. Some even waded through to get to where they needed to be. Photos also show fallen trees and poles across roads, causing them to become blocked.
According to a National Hurricane Center's advisory issued around the time Delta hit Mexico, the maximum sustained winds neared 100 mph with higher gusts. It is expected to strengthen again as it approaches the U.S and is forecast to become a major hurricane.
A storm surge raised water levels in areas on the coast by as much as 9 feet, with large and destructive waves battering beaches. It was forecast the peak storm surge would result in normally dry areas near the coast to flood as rising water moved inland from the shoreline.
Additional heavy rainfall contributes to the rising water levels, with the National Hurricane Center predicting up to 6 inches of rain, with isolated maximum totals of 10 inches across the northern Yucatan Peninsula.
In the northwestern Caribbean Sea, swells will affect portions of the northern and western Gulf coast today, which are likely to cause life-threatening surf and rip current conditions.
Tens of thousands of residents and holidaymakers were evacuated and sought refuge in emergency shelters Wednesday as Hurricane Delta made landfall on the coast of north-eastern Mexico in the early hours of the morning, lashing popular tourist resorts.
Mexico's scientists, activists and artists oppose president's funding overhaul
The category 2 storm hit Puerto Morelos—approximately halfway between the resort towns of Cancún and Playa del Carmen—at around 6.30am US east coast time, with estimated maximum winds of 105 mph, the National Hurricane Center (NHC) said.
It was then forecast to bring a "life-threatening storm surge and strong winds to north-eastern portions of the Yucatan peninsula."