Hurricane Delta Makes Landfall, Is Strongest Storm Named for Greek Alphabet In History
Hurricane Delta made landfall in Louisiana on Friday night, leaving hundreds of thousands of residents without power while becoming the strongest hurricane ever named for a letter of the Greek alphabet.
The hurricane reached land around 6 p.m. near Creole, in the Southwestern part Louisiana, according to the National Hurricane Center. A storm surge warning was in effect Friday night from Cameron, Louisiana, moving east toward the mouth of the Pearl River, with concerns that a "life-threatening storm surge" could happen along parts of the Louisiana coast.
"To the people of Southwest Louisiana, I know you are strong," Louisiana Governor John Bel Edwards tweeted before the hurricane struck land. "I also know you're about to be tested again. Please finish making preparations now. We will get through this."
After making landfall, the storm moved inland on a Northwesterly trajectory. Sustained winds were recorded at around 75 miles per hour at 10 p.m. local time. A tropical storm becomes a hurricane when it reaches 74 miles per hour. Delta was downgraded from a category 2 hurricane to a category 1 about an hour after it hit land.
According to PowerOutage.US, over 400,000 Louisiana residents were without power after the storm hit. Heavy rainfall caused by the hurricane was expected to lead to flash flooding and river flooding in the state through Saturday, with additional areas of the lower Mississippi Valley and central Gulf Coast also expected to experience flooding.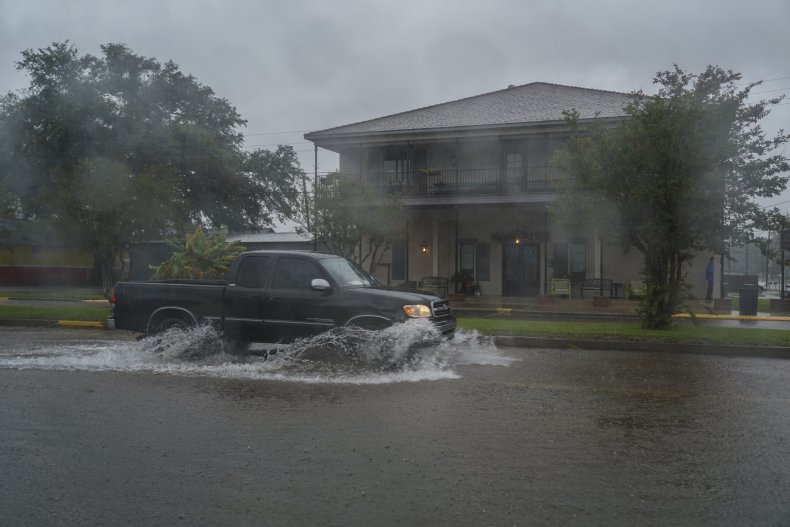 Delta substantially weakened in the hours after making landfall and was expected to be downgraded to a tropical storm overnight, before becoming a tropical depression later on Saturday. It is likely to dissipate entirely within 72 hours.
The hurricane made landfall in the same part of Louisiana as Hurricane Laura did in August. Although Hurricane Delta is the strongest storm ever named for a Greek letter, it is unlikely to cause anything like damage of Hurricane Laura, which was a much stronger category 4 storm. The earlier hurricane caused serious damage that the state is still recovering from, including the destruction of over 10,000 homes.
The 2020 Atlantic hurricane season is only the second season on record to name storms after Greek letters, which happens after all 21 conventional storm names are used. The previous season, in 2005, was the most active season ever and had six Greek letter storms. The current season will match that with two more storms. The 2005 Tropical Storm Delta occurred in late November of that year.
The 2020 season has already broken numerous records and is likely to break several more before it officially ends on November 30. Delta was the 10th named storm to make U.S. landfall, breaking a record that had stood for more than 100 years.
Newsweek reached out to the National Hurricane Center for comment.