Hurricane Delta Path, Tracker as Louisiana and Mississippi Prepare For 'Life-Threatening' Storm Landfall
Hurricane Delta is moving towards the coasts of Louisiana and Mississippi, with experts warning of "life-threatening" storm surges towards the end of the week.
According to the National Hurricane Center's latest advisory (#10A), the hurricane is currently moving west-northwest near 16 miles per hour (mph) and will slowly motion northward by Thursday night towards the U.S. Gulf Coast. The storm will make landfall on Louisiana by approximately 8 a.m., Friday, moving northeast towards Mississippi, Alabama and Tennessee.
Delta has maximum sustained winds to near 120 mph, with higher gusts, says the organization, and that it is a category 3 hurricane on the Saffir-Simpson Hurricane Wind Scale. Eight hours previously, it was classed as a category 4 hurricane by the organization, but recons showed it dipped to a category 2 hurricane in-between advisory updates.
Hurricane-force winds extend outward up to 30 miles from the center, with tropical-storm-force winds extending up to 105 miles.
Hurricane Delta is forecast to produce 4 to 8 inches of rain, with isolated maximum totals of 12 inches, over portions of the central Gulf Coast, says the National Hurricane Center. "These rainfall amounts may lead to flash, urban and minor river flooding," the organization says in its latest advisory.
Heavy rainfall will eventually spread into the Tennessee Valley, and interior southeastern U.S from Friday evening. Residents in these states are advised to have their hurricane plans prepared.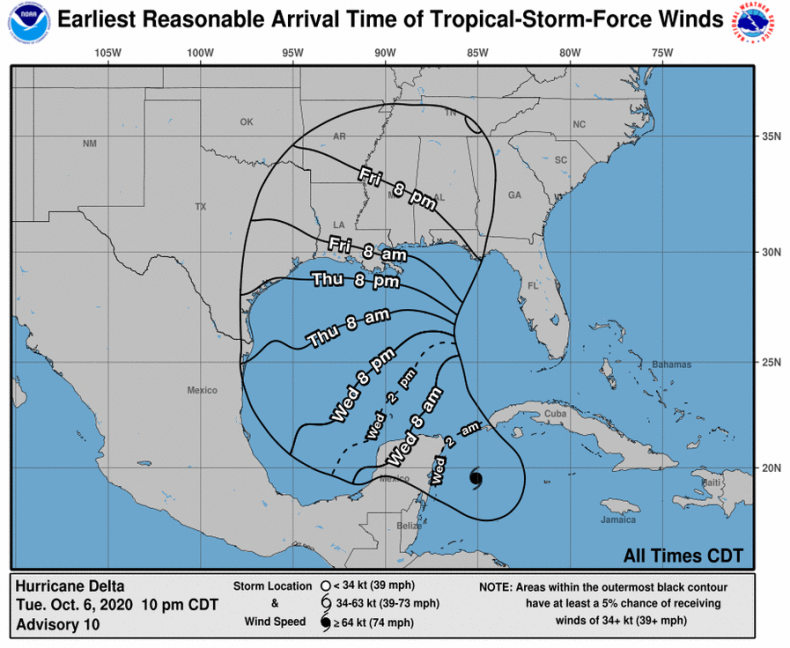 Currently, Hurricane Delta is moving over the northeastern portion of the Yucatan Peninsula, continuing over the boot of Mexico. Experts have warned that Cancun and surrounding areas could be subject to life-threatening storm surges—abnormal rising water levels—and "catastrophic wind damage."
"A life-threatening storm surge will raise water levels in areas of onshore winds by as much as 8 to 12 feet above normal tide levels along the northern coast of the Yucatan Peninsula from Cabo Catoche to Progresso, and 6 to 8 ft above normal tide levels along the eastern coast of the Yucatan Peninsula from Tulum to Cabo Catoche," says the National Hurricane Center. "Near the coast, the surge will be accompanied by large and destructive waves."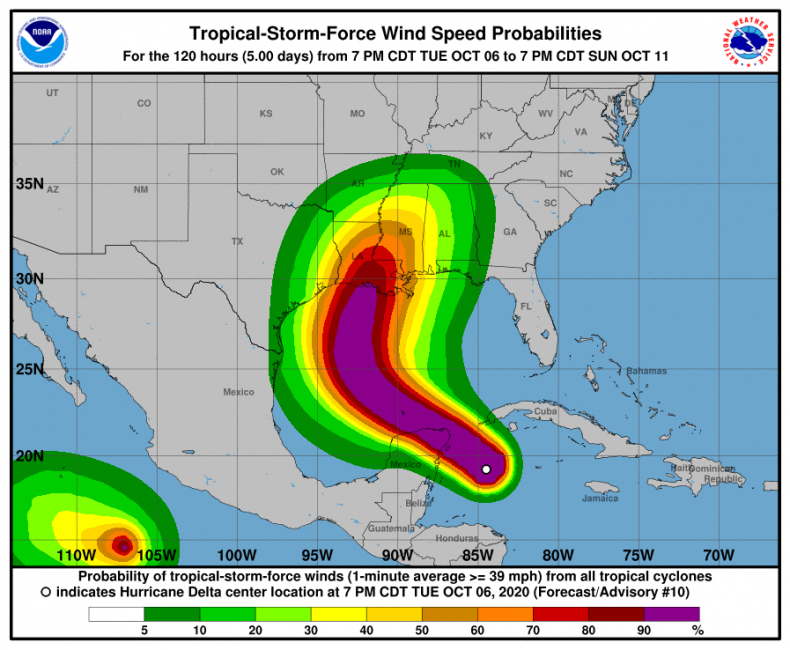 The storm is forecast to move off the land by this afternoon.
The hurricane's winds have fluctuated within hours, as Twitter user @ChessEricOU posts on his Twitter account. "It's astonishing what a few hours can do to a hurricane," they write. "Just hours after its upgrade to Category 4 status, #HurricaneDelta now appears to be a struggling Category 2 according to recon data, despite being in favorable conditions."
For the latest updates on Hurricane Delta, visit the National Hurricane Center's website. The next advisory is expected at 4 a.m. CDT.
For information on how to prepare for a hurricane, visit the dedicated webpage on the National Weather Service website.