Hurricane Delta Path, Tracker as Storm Forecast to Make Landfall in Louisiana Tonight
Hurricane Delta is expected to bring a life-threatening storm surge to portions of the northern Gulf Coast tomorrow. A Hurricane Warning is in effect for east of Sabine Pass, Mississippi, to Morgan City, Louisiana.
According to the National Hurricane Center, a Storm Surge Warning means there is a danger of "life-threatening inundation" from rising water moving inland from the coastline during the next 36 hours. The organization advises people located within these areas to "take all necessary actions to protect life and property from rising water" and "promptly follow evacuation" orders from local officials.
Delta, which is currently moving past Mexico after making landfall in the country yesterday morning, is forecast to make landfall on U.S. soil between 8:00 p.m. CDT and 8:00 a.m. CDT tomorrow. According to the graphic provided by the National Hurricane Center, the center of the hurricane will hit the south-central coast of Louisana by tomorrow morning.
The hurricane is currently moving towards the west-northwest at around 17 miles mph and is forecast to turn slowly north and then northeast through tonight into the early hours of tomorrow morning. The National Hurricane Center says maximum sustained winds are near 100 mph with higher gusts. It is currently a category 2 hurricane but is expected to strengthen and become a major hurricane by tonight.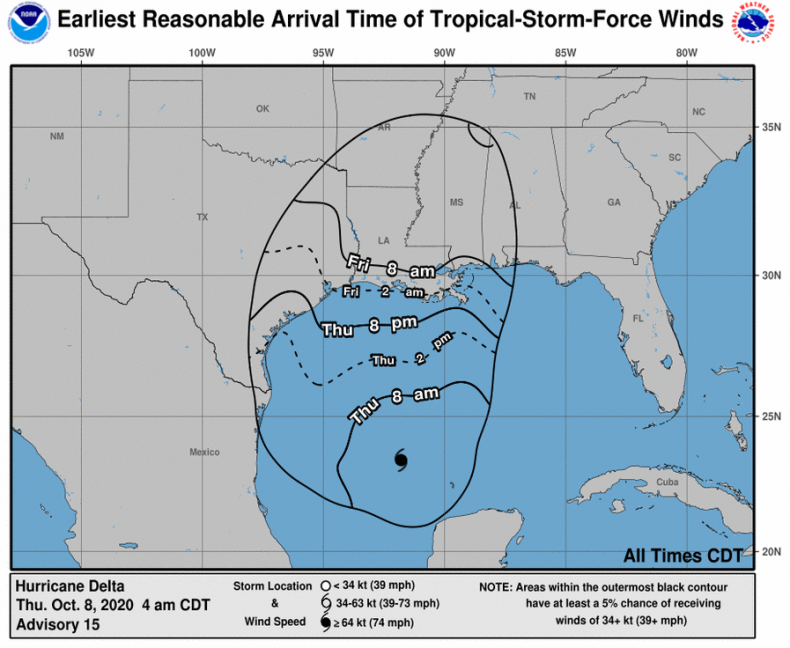 The hurricane-force winds extend outward up to 35 miles from the center, with tropical-storm-force winds outward up to 140 miles. These winds will affect the southeast coast of Texas throughout today before the center hits the north Gulf coast.
Louisiana Underwater Due to Storm Surges
According to the National Hurricane Center's latest advisory, water could reach heights of up to 11 feet in some areas of Louisiana. The advisory states that maximum heights will be reached "if peak surge occurs at the time of high tide."
"The deepest water will occur along the immediate coast near and to the east of the landfall location, where the surge will be accompanied by large and dangerous waves," says the National Hurricane Center.
The following areas are at risk:
Pecan Island to Port Fourchon, Louisiana, including Vermilion Bay: 7 to 11 feet
Cameron to Pecan Island, Louisiana: 4 to 7 feet
Port Fourchon, Louisiana, to the Mouth of the Mississippi River: 4 to 6 feet
Mouth of the Mississippi River to Ocean Springs, Mississippi: 3 to 5 feet
Lake Borgne, Lake Pontchartrain, and Lake Maurepas: 3 to 5 feet
Ocean Springs to Mississippi and Alabama border: 2 to 4 feet
High Island, Texas, to Cameron, Louisiana, including Calcasieu Lake: 2 to 4 feet
Mississippi and Alabama border to the Alabama and Florida border including Mobile Bay: 1 to 3 feet
Sabine Lake: 1 to 3 feet
Port O'Connor to High Island, Texas including Galveston Bay: 1 to 3 feet
Hurricane conditions are expected within the hurricane warning area by tomorrow evening, with tropical storm conditions expected within this area earlier in the day. Delta is also expected to produce 1 to 3 inches of rain over the far northwestern Yucatan Peninsula through this morning, which could result in flash flooding. The north Gulf Coast could see 4 to 8 inches of rain produced from tomorrow through the early weekend, with isolated maximum totals of 12 inches across portions of the central Gulf Coast and into the Lower to Middle Mississippi Valley.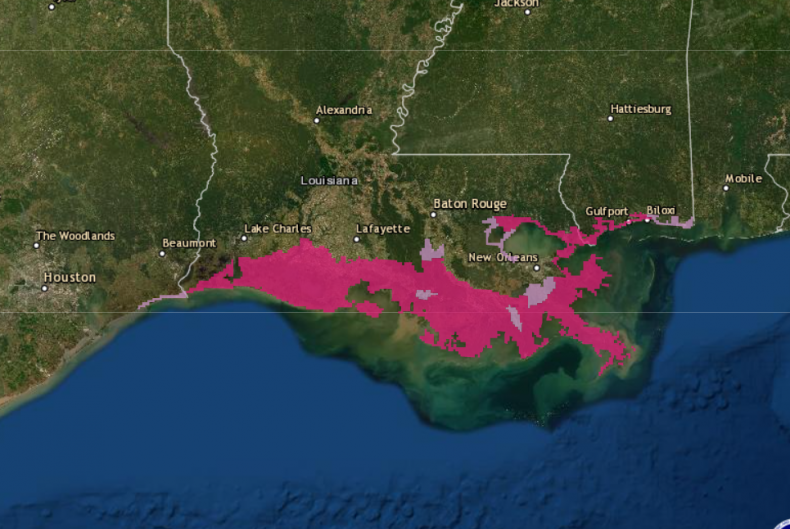 "These rainfall amounts will lead to flash, urban, small stream and minor to isolated moderate river flooding," says the National Hurricane Center. "As Delta moves farther inland, 1 to 3 inches of rain, with locally higher amounts, [are] expected in the Ohio Valley and Mid Atlantic this weekend."
Southern Louisiana and Mississippi and southwestern Alabama could also see tornadoes, as the organization warns that the risk will increase late tonight into tomorrow morning.