Hurricane Delta, a major Category 3 storm and packing winds of 120 mph, is set to make landfall on the Louisiana coast Friday evening, hitting communities that are still recovering from the devastating effects of Hurricane Laura just six weeks prior.
The storm is expected to make landfall about 10 to 30 miles east of where Laura hit as a Category 4 storm in August. Delta's major-hurricane-force winds (more than 110 mph intensity) extend up to 40 miles from its center, while its tropical-storm-force winds (between 39 mph and 73 mph) extend up to 160 miles outwards—according to a public advisory from the National Hurricane Center.
Delta is the 25th named storm in an unprecedented hurricane season, in which forecasters have had to pull out names from the Greek alphabet after going through the traditional alphabetical names. This hasn't happened since 2005—and there are still roughly two months left of this year's season.
Delta's expected strong winds and deadly storm surge draw a familiar parallel to the effects of Laura.
Laura destroyed a large portion of southwestern Louisiana on August 27, including significant destruction to the Lake Charles area. The storm left at least 28 people dead, 10,000 homes demolished and more than 130,000 homes damaged, according to Louisiana Governor John Bel Edwards during a Wednesday press conference. In August, officials reported that Laura had a wind speed of 150 mph and caused a storm surge as high as 15 feet in some areas.
Edwards declared a state of emergency on Wednesday ahead of Delta's arrival, which authorizes FEMA Public Assistance.
"We believe that there will be hurricane-force winds and storm surge in southwest Louisiana in the area of our state that is least prepared to take it," the governor said at a Thursday press briefing.
He added: "It is very clear that southwest Louisiana's going to take more of a punch from this than we would like to see for sure."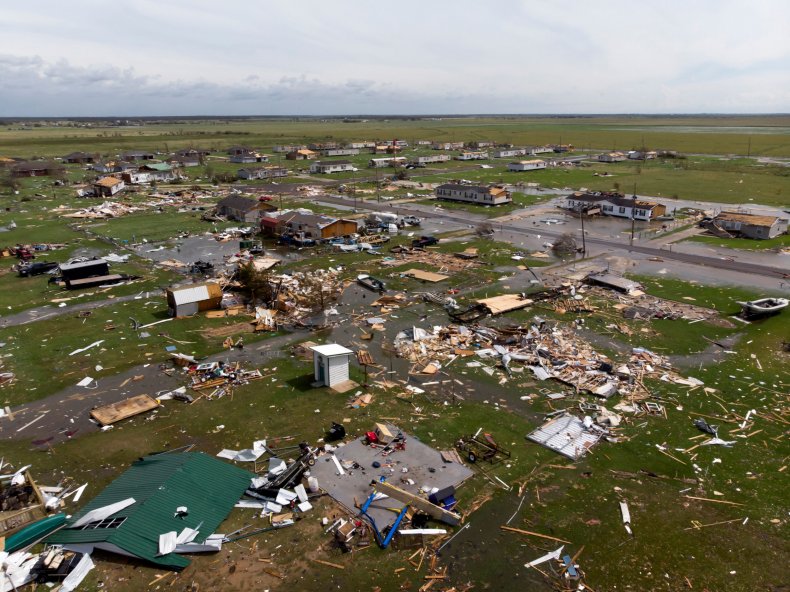 The National Hurricane Center released a message early Friday morning warning Louisiana residents that a "life-threatening" storm surge is expected near and east of where Delta makes landfall. The center also states that heavy rainfall will lead to "significant flash flooding" in parts of the state on Friday and Saturday.
Parts of Cameron Parish remain under evacuation orders and mandatory curfew issued before Laura, while several other parishes—including Calcasieu, where Lake Charles is located—are under mandatory evacuation orders since Wednesday. Thousands of people have not gotten the chance to return to their homes since Laura hit over a month ago.
In a radio interview on Thursday, Edwards acknowledged just how fragile the area hit by Laura remains.
"Those structures have not yet been repaired. The electrical infrastructure there is in the process of being repaired," Edwards said. "And we've got people who are very tired. We're still sheltering over 6,000 people from southwest Louisiana in 12 hotels, primarily in New Orleans."
On Wednesday, Calcasieu Parish Sheriff Tony Mancuso urged residents to remain calm and heed warnings from local officials in a Facebook video message.
"We have all gone through this for the last six weeks, and here we are having to possibly deal with it again, but I want everyone to take a deep breath and stay calm and relax," Mancuso said. "These are very trying times. This has been one of the most challenging years in all aspects that we've ever dealt with, but it's not over. We still have challenges to overcome."
"All of us are committed to getting this parish back up and running like it was before the storm," he added.