Hurricane Dorian: 7-year-old Boy Is First Reported Death As Category 5 Storm Crashes Into Bahamas
A 7-year-old boy is the first reported fatality from Hurricane Dorian, the Category 5 storm said to be the worst the Bahamas have ever endured. Lachino Mcintosh drowned while his family tried to relocate from their home in Abaco, The Bahama Press reported. His sister is also missing, according to a tweet by the publication.
The storm made landfall on the southern end of Elbow Cay on the Caribbean islands on Sunday in the first Category 5 storm there since 1992. The storm also hit Grand Bahama island hard with high winds and torrential rainfall.
Videos from residents on Great Abaco island showed trees bending and heavy rain as winds up to 180 miles per hour tore roofs from buildings and caused severe flooding across the Caribbean islands.
Prime Minister Hubert Minnis tweeted: "This is probably the saddest and worst day for me to address the Bahamian people. We are facing a hurricane that we have never seen in The Bahamas. Please pray for us."
There is widespread devastation to the Abaco towns of Marsh Harbour, Murphy Town, and Dundas Town, with people left homeless, while power and communications have been cut off. The Bahama Press reported that already damage is estimated at around $8 billion.
"The place is a disaster, no business is operable and bodies are floating around Big Cat. The concern is nobody knows how many people died, and they feel when the water subsides some bodies will be washed out to sea," the publication reported.
Louby Georges, director of international affairs for Human Rights Bahamas, told the New York Times that many people were panicking as the storm approached. "People are sending voice notes, people are crying. You can hear people hollering in the background."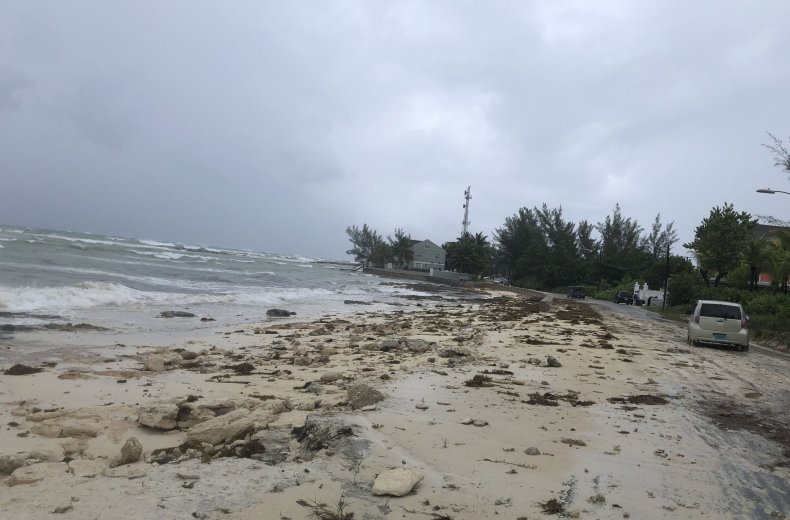 The hurricane is expected to continue to move over Grand Bahama Island on Monday and then move closer to Florida's east coast late on Monday and through to Tuesday.
The states of Florida, Georgia, and North and South Carolina have all declared states of emergency. The storm may spare Florida a direct hit, but is forecast to lash the southern portion of the Eastern seaboard, the National Hurricane Center warned.
Georgia Gov. Brian Kemp ordered evacuations starting at noon Monday for Bryan, Camden, Chatham, Glynn, Liberty, and McIntosh Counties, The Hill reported.
The graphic below, provided by Statista, illustrates the history of tropical cyclones over the Atlantic since 1967.