Hurricane Dorian Update: Slow-Moving Storm Prompts Fear on Twitter About Potential Damage, Flooding In Bahamas And Florida
Hurricane Dorian continued to wreak havoc on the Bahamas on Monday. The Category 5 storm made landfall in the islands on Sunday and has remained there, barely making any movement since its arrival.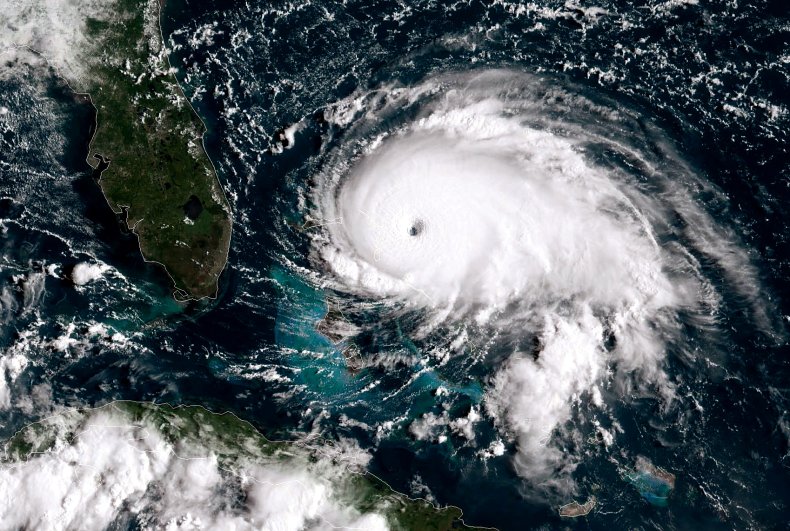 The National Hurricane Center reported the eye of the hurricane, which is currently located over Grand Bahama, was only moving at a speed of 1 mile per hour as of Monday morning. Maximum sustained winds were tracked at 165 miles and extended nearly 45 miles from the storm's center while areas in the Caribbean some 140 miles away from Dorian's eye also faced tropical-force winds.
Dorian is expected to move westward to northward — heading towards Florida, Georgia and South Carolina, according to meteorologists — over the next few days. However, the storm is expected to hover over Grand Bahama potentially into Tuesday morning due to the slow speed at which the hurricane is progressing.
Dorian's turtle pace rattled the nerves of some storm-watchers on Twitter on Monday. Those keeping an eye on the weather worried about the damage and destruction Dorian's high winds and flooding would have on Grand Bahama after beating down on the island for such a sustained period.
Twitter users were especially afraid for the people in the islands that weren't able to reach higher ground, and what the storm's slow pace would mean for Florida, where it is expected to land later this week.
Devastation from the hurricane in the Bahamas is expected to be immense. Not long after the storm made landfall, power lines were cut and many places across the islands were reported underwater, including the Abaco Islands. The group of islands and barrier cays located within the Bahamian archipelago was the first area to be hit by Dorian. The storm's arrival to the Abaco Islands, which are positioned about 200 miles away from the Florida coastline, saw storm surge reaching 23 feet.
Meanwhile, pictures and videos shared on social media depicted the destruction Dorian had on Grand Bahama and other areas of the island. Roofs were torn off buildings due to the storm's 180 miles per hour wind speed, while houses and streets were almost entirely underwater. Debris can be seen floating in the floodwaters in some videos.
As shocking as Dorian's lack of movement in Grand Bahama is, it's not the first time a hurricane has made its way across a region at speeds as slow as 1 mile per hour after making landfall. The eye of Hurricane Harvey moved at a notably slow pace when it landed in Texas and Louisiana in 2017, and 2018's Hurricane Florence also hovered over the Carolinas for a significantly long time when it arrived in 2018. Both hurricanes made landfall as category 4 storms.