Hurricane Dorian Path to Bahamas: Watch in Effect For Northwestern Islands as Storm Intensifies to Category 3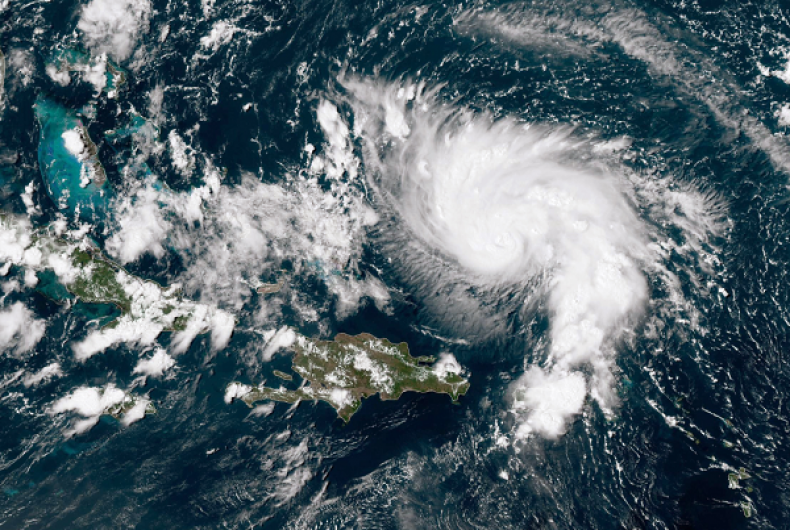 Dorian's strength intensified in the Caribbean, leading weather officials in areas of the Bahamas to issue hurricane watch advisories. Although still considered a Category 2 storm, meteorologists projected Dorian to evolve into a Category 4 storm over the weekend.
Near the Northwestern Bahamas, where hurricane watch warnings went into effect on Friday morning, the storm is already nearing Category 3 strength. The storm's center is roughly 255 miles east of the southeastern islands of the Bahamas, according to the National Weather Service (NWS). Wind speeds on Friday morning were tracked at roughly 105 miles per hour and are expected to progress over the weekend.
Dorian is expected to ravish the northwestern Bahamas by late Saturday night or in the early hours of Sunday morning.
Northwestern Bahamas is expected to receive the brunt of the damage of the storm. Although rainfall totals across the islands are predicted to see between six and 12 inches of rainfall, weather officials warned of isolated rainfall totals reaching 15 inches in the northwestern Bahamas and that could potentially lead to flash flooding.
The heavy rainfall and strong winds could cause life-threatening storm surge throughout the weekend. The National Hurricane Center suggested water levels in the northwestern Bahamas could rise by as much as 10 to 15 feet above usual tide levels.
By Sunday night and early Monday morning, the storm is expected to continue its slowdown as it reaches the coastline of the southeastern United States. The weather service has not determined exactly which areas of the Atlantic seaboard will be impacted the most, but Dorian's path is tracking to hit anywhere between Florida and southeastern Georgia. The storm may journey north toward the Carolinas in the early days of next week, the NWS said.
In Florida, people have already begun preparing for the storm. The state's Governor Ron DeSantis issued a state of emergency on Wednesday. "It's important for Floridians on the East Coast to monitor this storm closely. Every Florida resident should have seven days of supplies, including food, water and medicine, and should have a plan in case of disaster," DeSantis said in a statement.
"I will continue to monitor Hurricane Dorian closely with emergency management officials. The state stands ready to support all counties along the coast as they prepare."
President Donald Trump, who canceled a trip to Poland due to the storm, announced plans to allocate all necessary government resources to areas across the East Coast that may be damaged by Hurricane Dorian. Calling the storm an "absolute monster" during a press conference on Thursday, Trump said, "It's something very important for me to be here."
"The storm looks like it could be a very, very big one indeed," he continued, adding, "We're ready. WE have the absolute best people in the world ready, and they're going to help."