Hurricane Dorian Update: Storm Strengthens to Category 3 As It Heads Toward Bahamas, Florida
Two days after going from a tropical storm to a hurricane, Hurricane Dorian strengthened into a Category 3 hurricane.
Dorian formed as a tropical storm in the Atlantic Ocean and on Wednesday became a Category 1 hurricane. Although some weakening was expected after it passed by Puerto Rico, the storm gathered strength and became a major hurricane on Friday as it approached the Bahamas and Florida.
A major hurricane, according to the National Hurricane Center (NHC), is a storm that is at least a Category 3 on the Saffir-Simpson wind scale. As a Category 3, winds are at least 111 miles per hour and could be as much as 129 miles per hour.
In areas where the storm hits, well-built framed homes could incur major damage and trees will be snapped or uprooted. Tree damage could result in roadblocks, possibly isolating communities from other areas. Electricity and water could be unavailable for days or even months.
The latest advisory from the NHC placed the storm about 445 miles from the Bahamas and 625 miles from West Palm Beach, Florida. Maximum sustained winds were at 115 miles per hour and the storm was moving at about 10 miles per hour. On Friday and Saturday, the NHC forecasted the storm would move near or over the Bahamas and be near Florida late on Monday.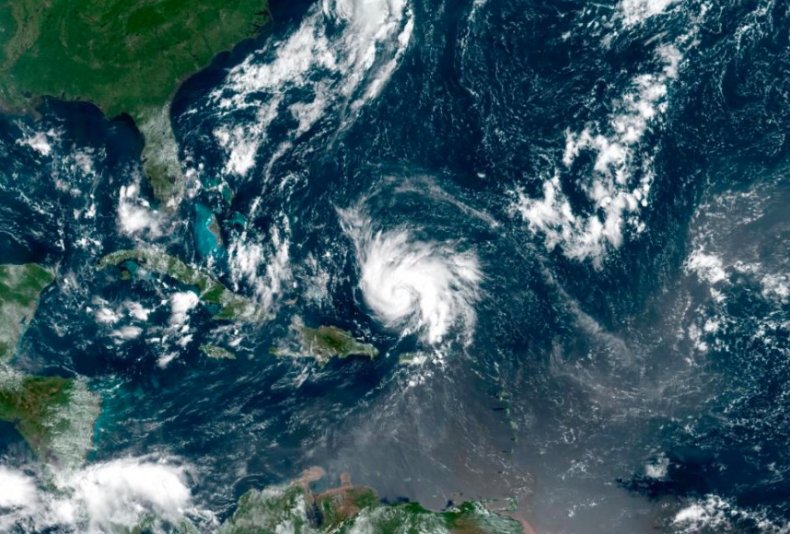 At its current strength, the NHC described Dorian as an "extremely dangerous hurricane" that posed a significant threat to both Florida and the Bahamas. Parts of the Bahamas and the Southeast United States could experience six to 12 inches of rain and 18 in isolated areas.
"A life-threatening storm surge will raise water levels by as much as 10 to 15 feet above normal tide levels in areas of onshore winds in the northwestern Bahamas. Near the coast, the surge will be accompanied by large and destructive waves," the NHC said.
On Saturday, the maximum wind was expected to be 115 knots, equivalent to about 132 miles per hour. If the storm has wind speeds of 132 miles per hour, it would move it into a new category on the scale, making it a Category 4 hurricane.
Currently, the only watch or warning that was issued was for the Northwestern Bahamas, which was under a hurricane watch. During a hurricane watch, the impacted area could experience hurricane conditions within 48 hours. Although Florida was not under any watches or warnings, the NHC recommended that those with interests in Southern and Central Florida should monitor Dorian's progress.
Dorian was forecasted to make landfall in Florida on Tuesday morning, just northwest of Jupiter. After making landfall, the storm was forecasted to make a northwest turn toward Orlando and hit just northwest of Deltona.