Dorian Could Cause $15 Billion in Damages, Economic Losses as a Category 3 Hurricane, AccuWeather Estimates
It's possible Florida could be spared from Hurricane Dorian's wrath, however, if the storm barrels into the Sunshine State as a Category 3 hurricane, it could cause up to $15 billion in damage.
For days, Dorian made its way across the ocean as a tropical storm and on Wednesday afternoon turned into a Category 1 hurricane as it neared St. Thomas. Currently, the storm had maximum sustained winds at 65 knots or about 75 miles per hour, but was expected to gain strength during the next few days over the Atlantic Ocean.
Winds from Dorian were predicted to reach Florida on Saturday and the storm's center would follow on Monday. When Dorian reached the Sunshine State, it was forecasted to be a major hurricane, which is a storm classified as a Category 3, 4 or 5 on the Saffir-Simpson Scale.
The scale measures a hurricane's sustained wind speed and can be a predictor of property damage, however, Category 1 and 2 storms can also be dangerous and require preventative measures.
During a Category 3 hurricane, potential damage can be "devastating" and include major damage to well-built framed homes. Trees will also be uprooted or snap, causing roads to be blocked.
"All indications are that by this Labor Day weekend, a powerful hurricane will be near the Florida or southeastern coast of the United States," NHC stated.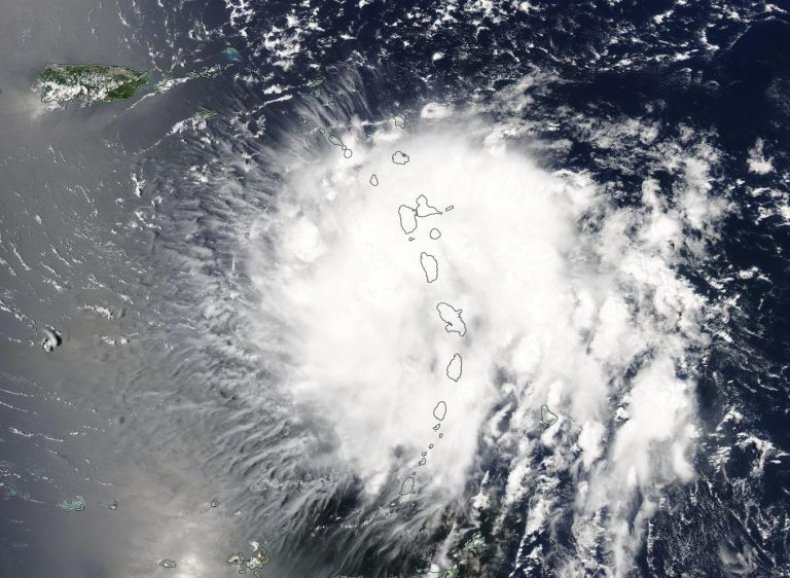 NHC's current advisory has the storm making landfall in Florida between Daytona Beach and Orlando and AccuWeather estimated the total damage and economic loss of the storm could be as much as $15 billion. This included damage to homes, businesses, cars and infrastructure, as well as, job and wage losses and costs to the travel and tourism industry.
Not helping the weather situation is the timing of its arrival. Coming to the Sunshine State during the Labor Day holiday weekend will only add to the financial loss Florida could take. Ahead of the storm, Southwest Airlines offered customers the ability to change their flight free of charge.
Southwest customers traveling to, from or through Fort Lauderdale, Orlando or West Palm Beach could rebook in their original class of services within 14 days of their original date of travel without paying additional charges. Other travelers may consider halting their plans given the incoming storm.
Tracking Dorian has come with a bit of uncertainty, as the storm's behavior could change. NHC noted that it's still too early to say the definitive impact Dorian would have for Florida, but estimated it could experience dangers storm surge and hurricane-force winds.
Coastal sections of the Southeast United States, including Florida, could see four to eight inches of rain with 10 inches in isolated areas, which could cause life-threatening flash floods.
However, it's possible, according to AccuWeather, that Florida could be spared from the brunt of Dorian. If the hurricane slows down and makes a northward turn, the Carolinas would be impacted significantly and Florida would not see major damage.
Ahead of the storm's arrival, the NHC and Florida officials advised residents to prepare for Dorian. Along with taking cautionary measures to secure their property, Floridians were urged to have enough food and water for seven days.