Hurricane Dorian Headed for Florida Possibly as Category 4: How to Cancel Disney World Plans for Free
Hurricane Dorian could hit Florida only a short distance away from the "Happiest Place on Earth." While Disney World hasn't made any formal announcements regarding possible closures, the theme park has a policy in place for visitors to obtain refunds.
Dorian turned into a Category 1 hurricane on Wednesday afternoon as it passed Puerto Rico. Although the storm was forecast to weaken as it moved away from the island, additional strengthening is expected. According to forecasters, Dorian could turn into a Category 4 hurricane before hitting Florida.
Considered a "major" hurricane on the Saffir-Simpson Scale, which measures a hurricane's wind speed, as a Category 4, Dorian will have wind speeds of at least 130 miles per hour. At that strength, well-built framed homes could incur major damage, trees could snap or be uprooted, therefore blocking roads, and electricity and water could be unavailable for days or weeks after the storm passes.
The latest projections from the National Hurricane Center (NHC) have the storm making landfall just south of Poinciana, about 20 miles from the Disney World resort in Orlando. Given that the effects of Dorian were expected to impact Florida over the Labor Day holiday weekend, several people on social media began questioning if their trip to Disney World will be a wash.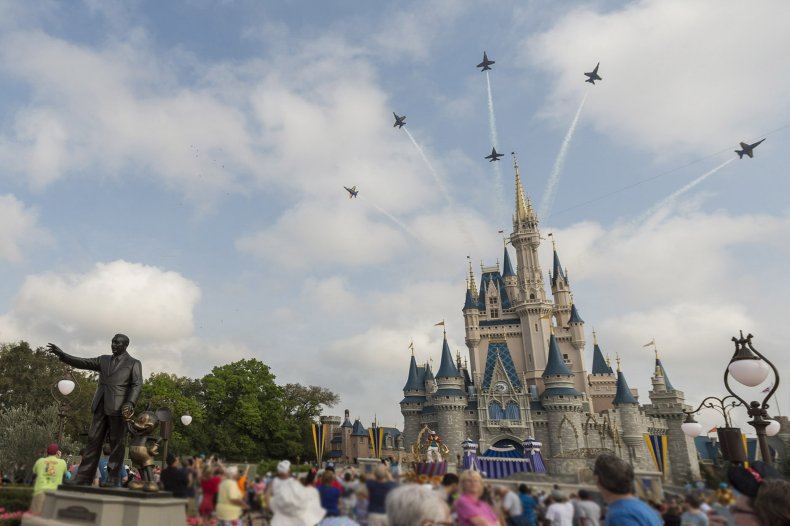 Disney hasn't commented publicly if the theme park will have reduced hours or close entirely. Newsweek reached out to Disney but did not receive a response in time for publication.
However, the company has clearly defined policies regarding cancellations and refunds in the event a hurricane disrupts vacation plans.
If the NHC issues a hurricane warning for Orlando or the area where the customer lives within seven days of a customer's arrival date, they can reschedule or cancel Walt Disney Travel Company Magic Your Way vacation packages and most room-only reservations without paying cancellation or change fees.
This does not apply to those who booked their vacation through any service other than Disney, though. Customers could still have to pay cancellation or rescheduling fees imposed by third-party vendors.
When it comes to the theme park tickets, in the event a hurricane warning is issued, it's possible customers can cancel their tickets without a penalty. They are encouraged to contact Disney directly.
As of Thursday afternoon, the NHC has not issued a hurricane warning for Florida. During a hurricane warning, hurricane conditions are expected to occur in the area within 36 hours.
Along with it being a holiday weekend, on Thursday, Disney opened the Star Wars: Galaxy's Edge park, which undoubtedly will bring Disney World some additional visitors.
Dorian isn't forecast to hit until Monday, but winds could arrive in Florida as early as Saturday evening and continue through the weekend. Along with strong winds, the storm is expected to bring four to eight inches of rain to coastal sections of the Southeast United States and up to 12 inches in isolated areas. The increase in precipitation could cause life-threatening flash floods and residents are urged to prepare.