Hurricane Dorian Intensifies to Category 5 Storm, Still Threatens US East Coast
Hurricane Dorian intensified to a Category 5 storm on Sunday with wind speeds reaching as high as 185 miles per hour, according to the National Hurricane Center's mid-morning update.
The storm has reached "catastrophic levels" and is still predicted to take a sharp turn north, nearing Florida's east coast on Monday.
Dramatic storm surge and devastating winds are expected to pound the Bahamas' Abaco Islands and Grand Bahama on Sunday and Monday, the center reported. Officials warned of likely devastation in the region with strong sustained winds and storm surge of up to 20 feet. Heavy rains could also result in flash floods. A hurricane warning is in effect for the islands.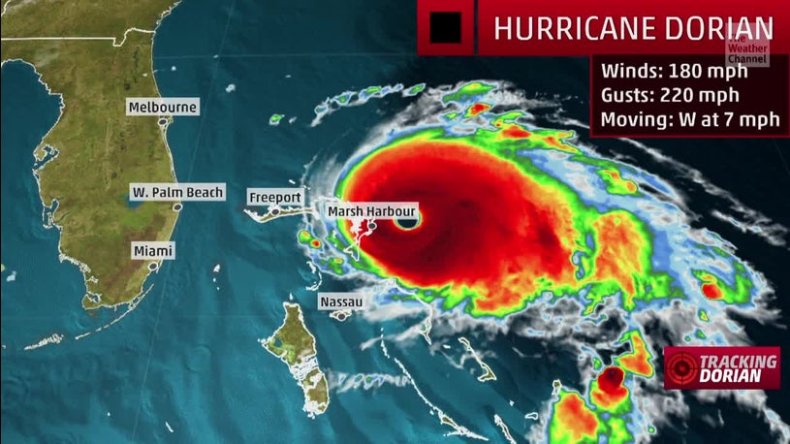 Data collected by the Air Force Hurricane Hunter plane suggests that Dorian is likely to remain a powerful hurricane late into the week.
From Abaco Island, the conditions will spread across Grand Bahama, the northernmost island of the Bahamas, over the course of Sunday.
"The surge will be accompanied by large and destructive waves," the update stated.
Additionally, the east coast of Florida and the Southeastern United States will be affected by large swells causing rip currents on Monday and Tuesday. Anyone still planning to visit Florida's beaches this Labor Day weekend ahead of the storm's arrival should remain within sight of a lifeguard at all times, Fox News reported early on Sunday.
The forecast for the United States improved on Saturday, but the coast is not clear. "A tropical storm warning is now in effect for a portion of the Florida east coast" the NHC warned, adding that "life-threatening storm surge and dangerous hurricane-force winds are still possible."
Dr. Daniel Kaniewski, Acting Deputy Director of the Federal Emergency Management Agency told Fox News that FEMA was deploying emergency response units up and down the East Coast, as it waited to see where Dorian would strike.
Preparations are under way to prepare for the massive storm. Although some fluctuations in the intensity are likely, Dorian's impact will be felt over the next few days.
The Category 5 storm could make landfall in Georgia and the Carolinas later in the week.