Hurricane Dorian Flight Cancellations Reach Nearly 2,000 in U.S. While More Than 1,400 Routes Are Delayed
As residents in Florida brace themselves for the incoming Hurricane Dorian, hundreds of people traveling out of the state are now scrambling to find alternative routes following massive flight cancellations.
Nearly 2,000 flights across the U.S. were canceled on Tuesday while more than 1,400 others were delayed, according to aviation tracking website FlightAware.com. Granted the storm cannot be credited for every single cancellation, at time of post, 92 percent of the 1,728 flights canceled were either headed to or out of Orlando International Airport (MCO).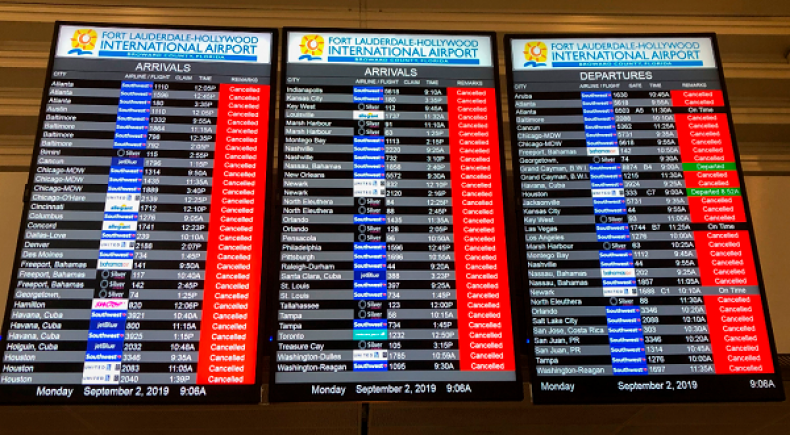 The airport announced plans to cease operations in preparation for Hurricane Dorian's looming arrival in the early hours of Tuesday morning.
Although the National Hurricane Center reduced Hurricane Dorian to a Category 2 storm early on Tuesday afternoon — noting the weather event decreased in maximum intensity despite growing in size — MCO explained there were no plans to reinstate flights traveling to and from the airport.
"A reminder that as of now we do not have an expected time to resume operations, as it depends on many factors as the storm moves past. Updates will be posted here as they become available and passengers are encouraged to check with their airlines for flight updates. Thanks, all," the airport wrote in a statement shared on Twitter.
Palm Beach International and Orlando Melbourne International have similarly suspended service. Fort Lauderdale-Hollywood International Airport, which canceled all in-and-outbound flights on Monday, announced plans to resume operations as of noon on Tuesday. Meanwhile, Miami International remains open, but warned passengers to keep an eye on their flight status before heading to the airport and recommended people to arrive at the airport at least two hours before their scheduled departure.
Down in the Bahamas, Nassau Airport said it would open on Tuesday although the majority of flights scheduled to come in and out of the island are canceled due to Hurricane Dorian.
Passengers aren't necessarily entitled to full reimbursements if their travel plans are affected by the storm.
"As the flight disruption is caused by bad weather, this is considered to be a 'force majeure' or an 'extraordinary circumstance' and airlines are therefore not liable to compensate passengers who experience a delay or cancellation," Paloma Salmeron, a representative at air passenger rights agency AirHelp.com, told CNN in a statement.
"However, if the delay exceeds five hours or if the flight is canceled, the passenger is entitled to either a full or partial refund of their original ticket or a return flight to their point of departure if necessary," she added.
Airlines including Delta, JetBlue, American Airlines, Southwest, United, Spirit and Frontier are reportedly accommodating flight change requests for those experiencing cancellations or delays in areas impacted by Hurricane Dorian.