Hurricane Dorian Path Update: Storm Could Hit Florida as Category 4, State of Emergency Declared
Hurricane Dorian could hit Florida hard, so ahead of the storm's arrival, Governor Ron DeSantis declared a state of emergency for several counties on Wednesday.
Dorian transformed from a tropical storm to a Category 1 hurricane on Wednesday afternoon as it skirted past Puerto Rico, and now eyes have turned to Florida. Expected to make landfall on Monday, Hurricane Dorian could be a Category 4 storm when it hits.
Hurricane categories are measured on the Saffir-Simpson scale, which solely factors in wind speeds. It doesn't take into account rainfall, flooding or possible storm surges, all of which are dangers presented by hurricanes.
As a Category 4 hurricane, the second-highest level on the scale, Dorian will have wind speeds between 130 and 156 miles per hour. At that point, well-built framed homes could sustain severe damage and lose most of the roof structure and exterior walls. Trees will snap or be uprooted entirely and power poles could be knocked down.
If trees and power poles are knocked down, they can isolate residential areas, making it difficult for people to get in and out of communities. It's possible, power outages could last for weeks or even months and most of the area would be uninhabitable for that same amount of time.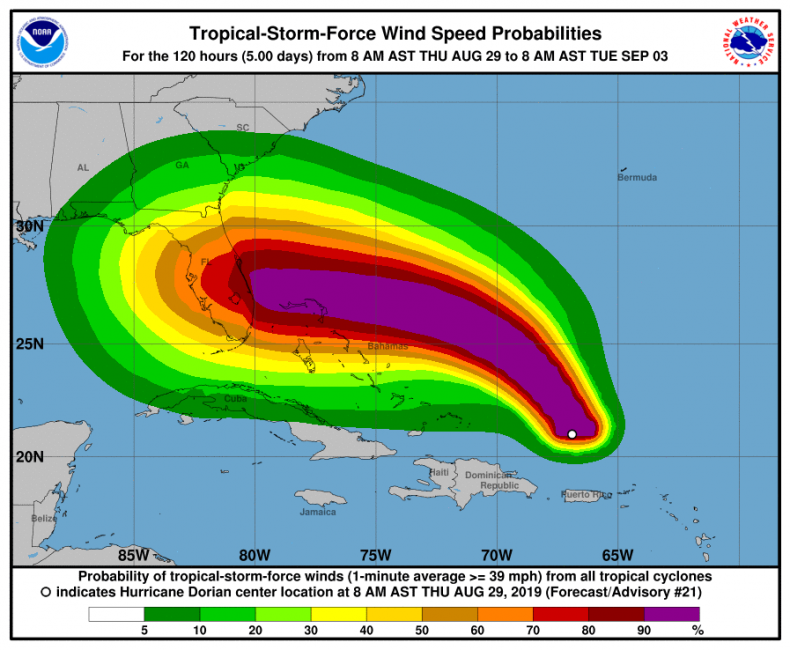 Within the next 24 to 36 hours, Dorian is expected to move northwestward, but the National Hurricane Center (NHC) said it was too early to determine the areas of Florida that would be impacted greatest.
"Regardless of the exact track of Dorian, heavy rains are expected to occur over portions of the Bahamas, Florida, and elsewhere in the southeastern United States this weekend and into the middle of next week," the NHC said.
On Wednesday, DeSantis issued an executive order declaring a state of emergency for the counties that lie within Dorian's expected path. The state of emergency enabled state and local governments ample time, resources and flexibility to prepare, according to the governor. It also calls for more fuel to be brought into gas stations and mobilizes the National Guard. However, at this point, it's difficult to know exactly where to deploy troops.
DeSantis urged Florida residents to have seven days worth of supplies, including food, water and medicine and a plan in case of disaster.
Twenty-six counties, almost the entirety of Florida's east coast, were part of the state of emergency and on Thursday, DeSantis said there would likely be additional counties added.
"I spoke with President [Donald] Trump yesterday and he assured me that the federal government would be with us every step of the way, supporting us in any way they can," DeSantis said.
Along with the state of emergency, the Florida governor said he would request a pre-landfall declaration from the federal government for protective measures and assistance for generators and pumps. After speaking with the Federal Emergency Management Agency, DeSantis said he didn't believe there would be any issues getting approval for the declaration.
"The message, I think right now, is that all Floridians need to monitor Hurricane Dorian and make the necessary preparations," DeSantis said. "This is a track that has a significant amount of uncertainty."
Before making landfall, Florida can expect to experience high winds from Dorian as early as Saturday evening.