Florida Men Arrested for Stealing Sandbags From Construction Site Ahead of Hurricane Dorian
Two people have been arrested on suspicion of stealing sandbags from a road construction site in Florida as Hurricane Dorian approaches.
Thaylon A. Lewis, 43, and Joseph Colombo Jr., 45, are accused of looting during a state of emergency after allegedly stealing the sandbags from a site on Daytona Beach at around 5 p.m. on September 2.
According to the Volusia County Sheriff's Office, one man was spotted by a sheriff loading bags into a red Chevrolet truck while a second man acted as a lookout at a site at the Tomoka Farms Road/Interstate 4 overpass.
Lewis and Colombo were both arrested on scene and charged with theft during a declared state of emergency. Colombo was also arrested for an injunction violation for possessing a firearm.
"Sheriff Mike Chitwood has issued several warnings that enhanced penalties are in effect during the state of emergency declared in advance of the storm, and will be pursued against anyone caught committing crimes during this period," a Volusia County Sheriff's Office statement said.
More than 100,000 sandbags have been distributed across the county over the past few days in preparation for the ferocious Hurricane Dorian, which is expected to make its way towards the east coast of the U.S. having battered the Bahamas with wind speeds of up to 185 miles per hour.
The Category 5 hurricane which hit the Caribbean has reportedly killed at least five people and caused extensive damage to buildings and infrastructure. Bahamas Prime Minister Hubert Minnis described how "we are in the midst of a historic tragedy in parts of the northern Bahamas."
Giving an update on the huge storm, the National Hurricane Center described how Dorian "won't budge" after hovering over the Grand Bahama Island for more than a day. Dorian is expected to drift slowly northwards by early Tuesday (September 3).
"A turn toward the north-northwest is forecast by this evening, with a turn to the north forecast by Wednesday, followed by a turn to the northeast on Thursday," an NHC forecast said.
"On this track, the core of extremely dangerous Hurricane Dorian will continue to pound Grand Bahama Island today. The hurricane will then move dangerously close to the Florida east coast late today through Wednesday evening, very near the Georgia and South Carolina coasts Wednesday night and Thursday, and near or over the North Carolina coast late Thursday."
Hurricane Dorian has since been downgraded to a Category 3, but is sustaining maximum wind gusts of up to 120 miles per hour. It is expected to remain a powerful hurricane for the next few days.
In a press conference on September 2, Florida Governor Ron DeSantis urged local residents to "get out now while you have time."
He added: "Hopefully by tonight, we'll have a sense of [Dorian's] movement and the weather experts have said once we see the definitive movement north on which path that's on, that's going to allow us to kind of even more concisely and concretely identify the places along Florida's coast that are most at risk."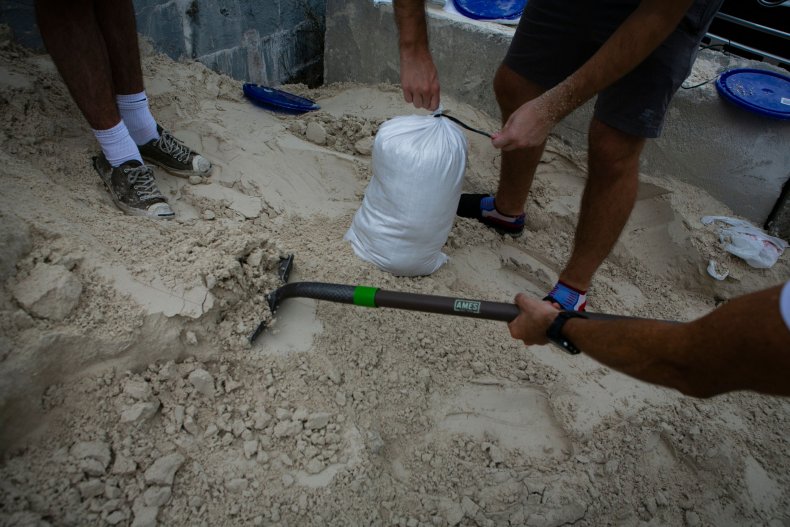 Florida Men Arrested for Stealing Sandbags From Construction Site Ahead of Hurricane Dorian | U.S.