Hurricane Dorian Path Update: Will Storm Hit Palm Beach, Mar-a-Lago?
Once identified to be in Hurricane Dorian's path, Mar-a-Lago and Palm Beach, Florida, should be spared from a direct hit from the storm, although life-threatening conditions were still expected for the area.
After spending days as a tropical storm, Dorian strengthened into a hurricane on Wednesday and made landfall in the Bahamas as a Category 5 on Sunday night. The storm decimated infrastructure, caused massive flooding, took multiple lives and Bahamian Prime Minister Hubert Minnis called it a "historic tragedy."
The slow-moving storm halted over the area, battering the island for more than a day, but on Tuesday, it finally began to move northwestward. The most recent advisory from the National Hurricane Center (NHC) placed the storm about 105 miles from Fort Pierce, Florida, and moving at about two miles per hour.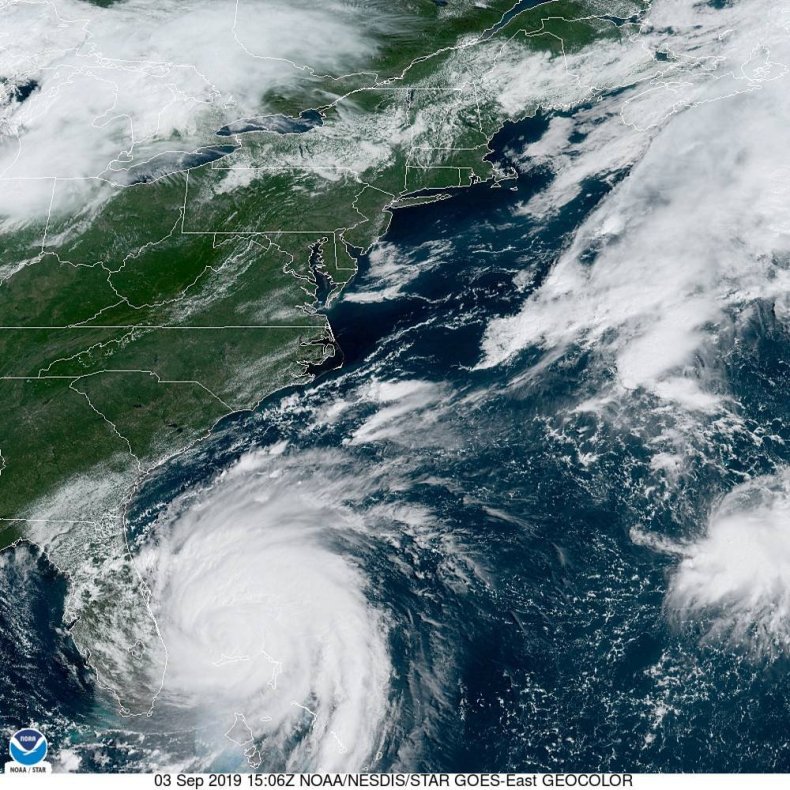 At one point, Dorian was forecasted to make landfall in Florida, between Jupiter and West Palm Beach near President Donald Trump's Mar-a-Lago resort. However, the most recent advisory projected the storm wouldn't make landfall in the United States, at all.
Instead of continuing on a direct path to Florida, Dorian was forecasted to move away from the Bahamas and continue north, along Florida's coast, reaching the coast of Palm Bay on Tuesday night. On Wednesday night, Dorian was predicted to be off the side of Palm Coast and then outside Jacksonville, in the northern part of the state, on Wednesday night.
Then, Dorian should turn northwest and continue up the coast of Georgia, before finding itself off the coast of Charleston, South Carolina, on Thursday morning. Another shift toward the northwest would carry the storm up the coast of North Carolina to outside the Pamlico Sound on Friday.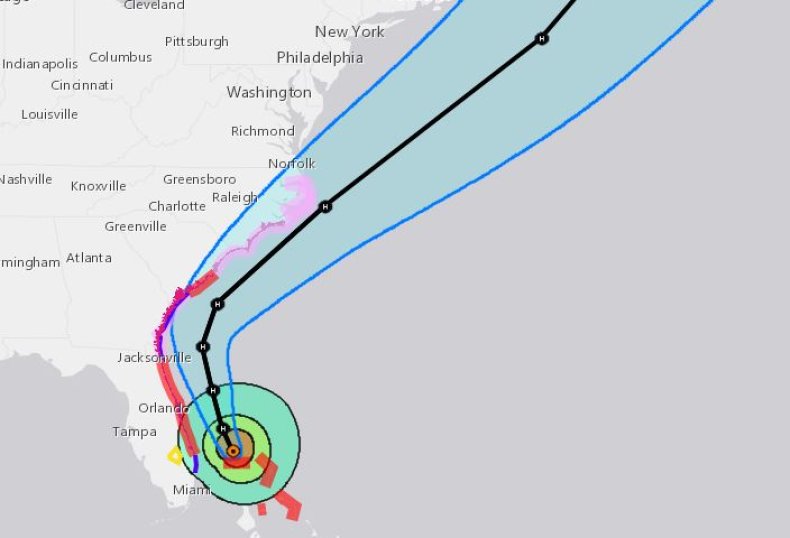 Currently a Category 2 hurricane on the Saffir-Simpson wind scale, Dorian was expected to remain in that category until Saturday, when it should drop to a Category 1 with wind speeds of about 85 miles per hour.
Despite the prediction that the storm wouldn't make landfall, life-threatening storm surges and dangerous winds were still expected for portions of the coasts of Florida, Georgia and South Carolina. In anticipation of the storm, a number of watches and warnings were issued for the United States, listed by the NHC as:
Storm Surge Warning: Jupiter Inlet, Florida, to South Santee River, South Carolina
Storm Surge Watch: North of South Santee River, South Carolina, to Cape Lookout, North Carolina
Hurricane Warning: Jupiter Inlet to Ponte Vedra Beach, Florida; North of Edisto Beach, South Carolina, to South Santee River
Hurricane Watch: North of Ponte Vedra Beach to Edisto Beach; North of South Santee River to Duck, North Carolina; Albermarle, North Carolina, and Pamlico Sounds
Tropical Storm Warning: North of Deerfield Beach, Florida, to Jupiter Inlet; North of Ponte Vedra Beach to Edisto Beach
Tropical Storm Watch: Lake Okeechobee, Florida
During a warning, conditions associated with the warning are expected within the next 36 hours. A watch signals that conditions could occur within the next 48 hours.
Although Dorian wasn't forecasted to make landfall, the NHC noted that the wind field increased and any deviation of the track to the east would wring hurricane-force winds onshore along portions of Florida's east coast.