Hurricane Dorian Update: Florida State University Moves Football Game From Jacksonville Jaguars Stadium
With Hurricane Dorian possibly hitting Florida as a Category 4 hurricane, Florida State University moved the first football game of its season inland.
Dorian formed in the Atlantic Ocean and remained a tropical storm for several days. On Wednesday afternoon, it became a Category 1 hurricane and is forecasted to hit Florida, possibly as a Category 4 hurricane.
Current projections from the National Hurricane Center (NHC) have the storm making landfall on Florida's east coast between Jupiter and Palm Beach Gardens. Then, Dorian is forecasted to head northwest and hit south of Orlando on Wednesday.
While the storm wasn't set to make landfall until after the Labor Day holiday was over, Floridians were expected to feel the impacts of Dorian's winds on Saturday or Sunday.
Ahead of the storm's arrival, several universities in Florida canceled classes and Florida State University made the decision to move its football game. Originally scheduled to be played in Jacksonville at TIAA Bank Field, the home of the Jacksonville Jaguars, FSU's game against Boise State University was moved to their home field in Tallahassee.
"After consulting with emergency responders, law enforcement and hurricane preparedness teams at the state and local level, moving the game is the best option given the information we have at this time," FSU Director of Athletics David Coburn said in a statement.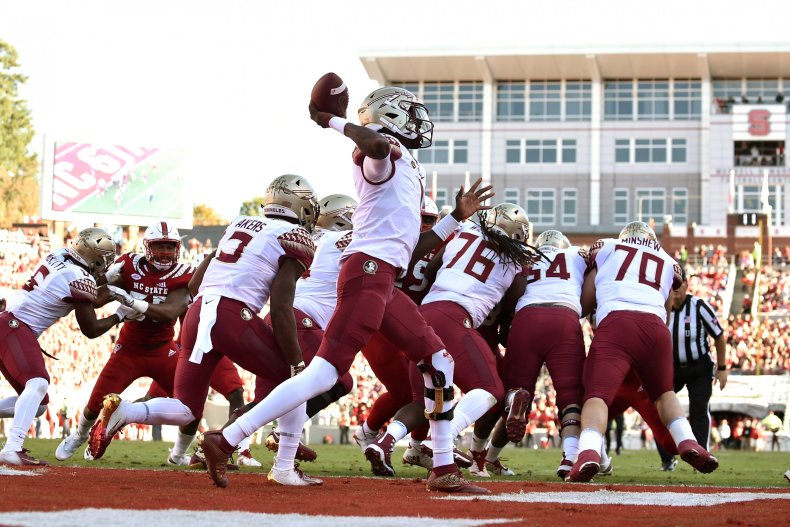 Fans who purchased tickets for the game in Jacksonville would be refunded and FSU would sell new general admission tickets online for $10. Students from both Boise State and FSU could attend the game for free with valid identification.
Coburn expressed regret over having to move the game because fans were excited about the venue and Jacksonville invested in the event.
"I want to thank the City of Jacksonville and Mayor Lenny Curry for their exceptional work in putting together what was going to be an outstanding event," FSU President John Thrasher said. "I also want to thank Governor Ron DeSantis and our city and county officials for their cooperation in staging a game on such short notice, particularly our local law enforcement agencies."
Fans who couldn't make it to the game in person could watch it live on ESPN.
Although the storm is expected to make landfall on the eastern side of the state, DeSantis encouraged all Floridians to be prepared because the effects could be widespread. He declared a state of emergency for more than 20 counties and said he requested a pre-landfall declaration from the federal government.
"The message, I think right now, is that all Floridians need to monitor Hurricane Dorian and make the necessary preparations," DeSantis said during a Thursday press conference. "This is a track that has a significant amount of uncertainty."
The graphic below, provided by Statista, illustrates how much economic damage hurricanes have wrought on the U.S. compared to other types of natural disaster.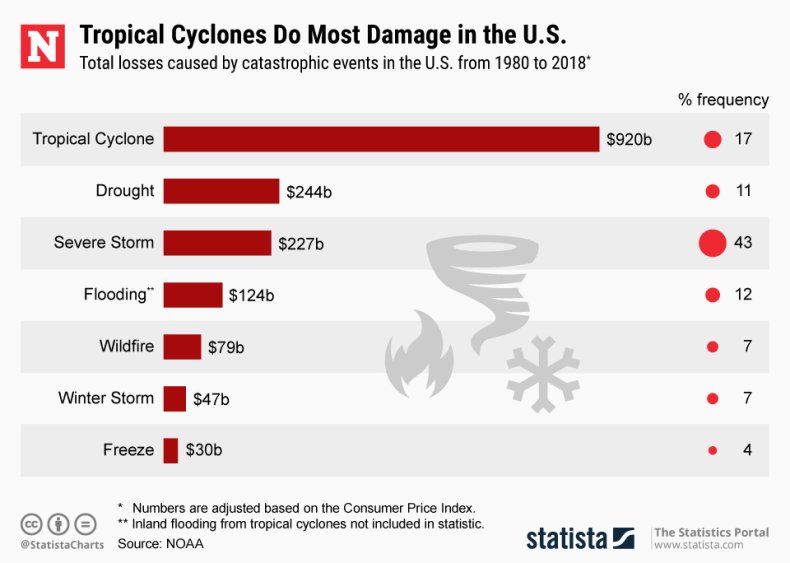 This article was updated to include an infographic.