Hilton Head, Palmetto Dunes, College of Charleston Webcam: Watch Live as Hurricane Dorian Passes South Carolina
For those who evacuated out of harm's way as Hurricane Dorian approached the coast of South Carolina, there were a number of webcams set up for residents to observe from afar.
Venturing up the East Coast, Hurricane Dorian brought heavy winds, rain and flooding to areas of South Carolina. As of Thursday morning, Dorian was a Category 3 hurricane on the Saffir-Simpson wind scale with maximum sustained winds of 115 miles-per-hour.
The storm was located about 70 miles from Charleston, South Carolina, and throughout Thursday, the storm would move closer to the coast, according to the National Hurricane Center (NHC). Although Dorian didn't make landfall, hurricane-force winds extended up to 60 miles from the center and tropical-storm-force winds reached even farther, up to 195 miles.
Life-threatening storm surges threatened areas of South Carolina and 20,000 Beaufort County customers lost power. The Beaufort County Sheriff's Office urged people to stay off bridges, causeways and roads in general until the storm passed.
"Flash flooding will become increasingly likely across the eastern Carolinas today. There is a high risk of flash flooding over coastal sections of the Carolinas where life-threatening flash flooding is expected," the NHC stated in an advisory.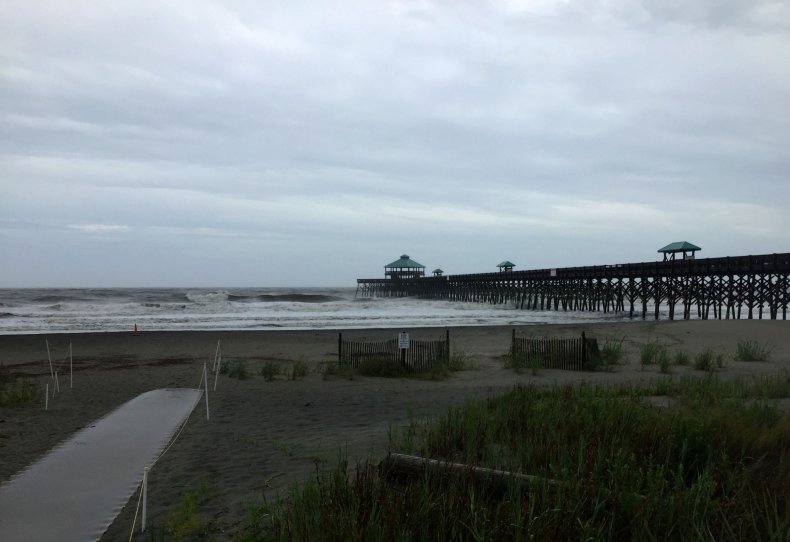 Ahead of the storm, some College of Charleston students evacuated to Winthrop University, located about 200 miles inland. Those who ventured off the campus could still keep an eye on the school, though, by way of the college's webcam.
Placed on top of the Bell Building, it gave viewers a live look at the Marion and Wayland H. Cato Jr. Center for the Arts, located on the College of Charleston campus. As of Thursday morning, the camera was shaking and rain was visible. From below, trees were visibly shaking and the sky was cloudy. Viewers can catch a glimpse of their own here.
The College of Charleston wasn't the only webcam available and the Hilton Head Island-Bluffton Chamber of Commerce shared a number of live feeds for evacuated residents on its Facebook page.
Palmetto Dunes, a golf and beach resort located on Hilton Head Island, had several webcams available on its website. Viewers could stream video here of The Dunes House, Robert Trent Jones Golf Course, Hilton Head Outfitters Shop and the 11-mile Lagoon.
Another camera was set up to show the view of the harbor in Harbour Town on Hilton Head Island and additional footage was available of Coco's on the Beach, an ocean-front tiki bar on Hilton Head Island.
Dorian was forecasted to be north of Charleston on Thursday afternoon with decreased maximum sustained wind speeds of 100 miles-per-hour. Continuing in a northeast direction, it would move past Myrtle Beach, South Carolina, and into North Carolina late Thursday night or early Friday morning.