Labor Day Weekend Weather: Hurricane Dorian to Bring Rain, Thunderstorms to Florida, Georgia, South Carolina
Hurricane Dorian's arrival on the southeastern coast could make for a rainy and windy Labor Day weekend in Florida and parts of Georgia and South Carolina.
Dorian formed in the Atlantic Ocean at the beginning of the week and spent a few days as a tropical storm but turned into a Category 1 hurricane on Wednesday afternoon as it passed Puerto Rico. It's forecasted to strengthen over the coming days and make landfall on the eastern side of Florida, possibly as a Category 4 hurricane.
As a Category 4 storm, Dorian would be considered a major hurricane on the Saffir-Simpson scale and have wind speeds of at least 130 miles per hour. Along with causing damage to the area that's directly hit, Dorian has been forecasted to bring widespread impacts to the southeastern part of the United States.
The storm's arrival, which was expected to occur on Tuesday, would be preceded by heavy wind and rain. Given the slow nature of the storm, the National Hurricane Center (NHC) noted it could mean prolonged periods of intense weather for Florida.
Florida
Winds from Dorian's system have been forecast to reach Florida on Sunday morning and the eastern part of the state could see six to 10 inches of rainfall between August 30 and September 6. Farther west, rainfall over the week would range from one to six inches.
Set to hit near Jupiter, The Weather Channel predicted the area would have temperatures in the mid to upper 80s and thunderstorms beginning on Saturday and continuing through Tuesday.
Farther north in Orlando, near where the storm has been forecasted to hit on Wednesday, thunderstorms and precipitation were also expected.
The northwestern part of the Sunshine State would have better weather for the holiday weekend than its eastern counterparts, but it likely still wouldn't be a banner year for Labor Day weather. The Weather Channel forecasted Tallahassee would experience thunderstorms on Saturday afternoon and Sunday and that Monday would be partly cloudy.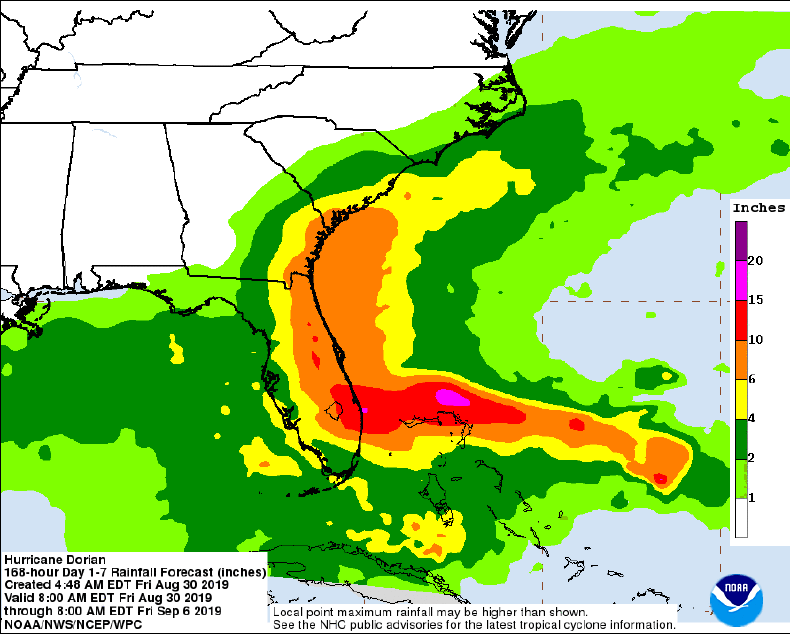 Georgia
While the focus of Dorian is largely on the impact it could have on Florida, the breadth of the storm means parts of Georgia could also feel its strength. Beginning on Monday morning, Dorian's winds could reach a large part of the state and rain in the southeastern corner could range from one to six inches.
In Brunswick, located in the southeastern part of Georgia, residents should expect temperatures in the mid 80s and thunderstorms all weekend, from Friday until Monday. North of Brunswick, in Savannah, it would still likely be a stormy weekend with thunderstorms on Saturday and scattered thunderstorms on Sunday and Monday.
If people are headed to Georgia for Labor Day weekend, Atlanta would be a safer choice in terms of weather. Saturday was forecasted to be a sunny 90-degree day, and Sunday and Monday were announced to be partly cloudy with only a 20 percent chance of rain.
South Carolina
South Carolina will also feel the effects of Dorian, with winds arriving on Monday morning. The southern part of the state will be impacted more than the northern half and could see four to six inches of rain between August 30 and September 6. Other areas of the Palmetto State could receive one to four inches.
Located in the southern corner of the state, Hilton Head will likely have a rainy holiday weekend. On Saturday, The Weather Channel reported there would be a 90 percent chance of rain and thunderstorms. Sunday still had a 60 percent chance of precipitation and morning thunderstorms. Then, Hilton Head residents would ring in Labor Day with a 40 percent chance of rain and scattered thunderstorms.
Although they announced a 10 percent lower chance of rain in Charleston, The Weather Channel still forecasted it to be a rainy, thunderstorm-consumed weekend.
Similarly to Georgia, parts of South Carolina could provide an oasis from the rain. If residents ventured a bit northwest to Columbia, they'd find temperatures in the high 80s or low 90s. Saturday was forecasted to be mostly sunny and Sunday and Monday were partly cloudy, with just a 20 percent chance of rain.