Hurricane Dorian Path Map Update: Category 5 Storm Moves Towards U.S. Mainland As Florida, Georgia, South Carolina and North Carolina Declare State of Emergency
As Category 5 Hurricane Dorian continues to batter the Bahamas, four U.S. states—Florida, Georgia, South Carolina and North Carolina—have declared states of emergency in preparation for its impact.
Mandatory evacuations orders have been issued for parts of Florida and for the South Carolina and Georgia coastlines later on Monday, the Associated Press reported.
Currently, the storm is moving towards the Florida east coast over the course of Monday and is expected to swing northwards, roughly following the contours of the U.S. coastline. While it may not make landfall, the storm will likely bring powerful winds, heavy rain and storm surges.
"The combination of a dangerous storm surge and the tide will cause normally dry areas near the coast to be flooded by rising waters moving inland from the shoreline," the National Hurricane Center said (NHC.)
As of 5 a.m. EDT on Monday, the storm's center was located around 40 miles east of Freeport, Grand Bahama Island, and around 115 miles east of West Palm Beach, Florida.
Maximum sustained wind speeds are near 165 miles per hour placing it in Category 5 of the Saffir-Simpson Hurricane Wind Scale. Hurricane-force winds extend outwards up to 45 miles from the center, while tropical-storm-force winds extend outward up to 140 miles, according to the NHC.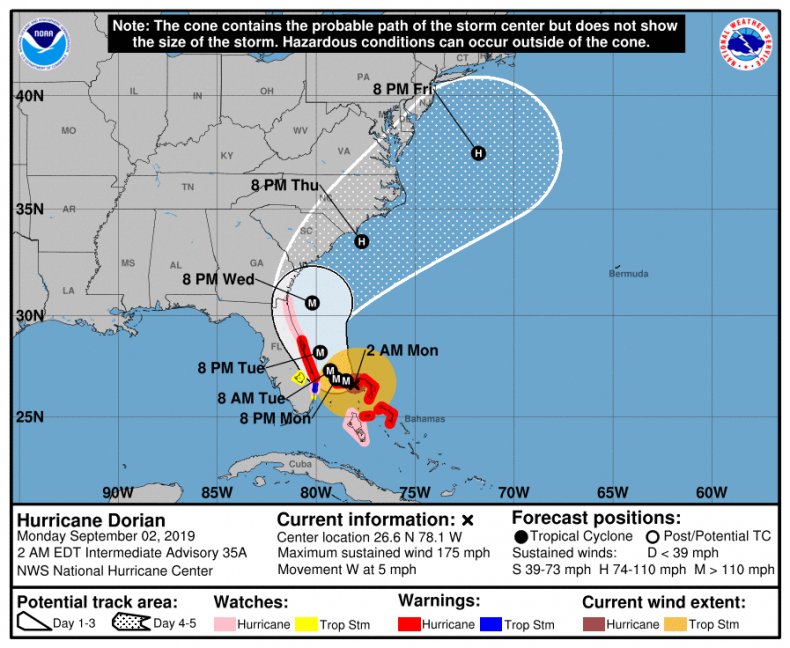 "Dorian is moving toward the west near 1 mph," an NHC statement read. "A slow westward to west-northwestward motion is forecast during the next day or so, followed by a gradual turn toward the northwest and north. On this track, the core of extremely dangerous Hurricane Dorian will continue to pound Grand Bahama Island through much of today and tonight.
The hurricane will move dangerously close to the Florida east coast tonight through Wednesday evening. Although gradual weakening is forecast, Dorian is expected to remain a powerful hurricane during the next couple of days," the statement read.
On Sunday, President Donald Trump claimed wrongly that the storm would hit Alabama. In a tweet he wrote: "In addition to Florida—South Carolina, North Carolina, Georgia, and Alabama, will most likely be hit (much) harder than anticipated. Looking like one of the largest hurricanes ever. Already category 5. BE CAREFUL! GOD BLESS EVERYONE!"
However, the National Weather Service were quick to debunk the claim, tweeting: "Alabama will NOT see any impacts from #Dorian. We repeat, no impacts from Hurricane #Dorian will be felt across Alabama. The system will remain too far east."
Dorian is turning out to be one of the strongest-ever Atlantic hurricanes, with gusts of up to 220 miles per hours recorded on Sunday. The graphic below, provided by Statista, illustrates the number of tropical cyclones over the Atlantic since 1967.