Hurricane Dorian Path Map Update: Category 3 Storm's Slow Movement Will Make It More Destructive Say Experts
Hurricane Dorian is wreaking more havoc on the Bahamas because the calm atmosphere above it is keeping it stationary, meteorologists have warned.
In a counterintuitive analysis of the most powerful Atlantic hurricanes on record, where winds have reached up to 185 miles per hour, meteorologists say that the storm itself is only crawling along at one mile per hour.
This is because the upper atmosphere's winds, which would normally pull a hurricane along, have calmed, and because they are not moving, neither is Dorian, Associated Press reported.
Jeff Masters, meteorology director at Weather Underground, told AP: "This is unprecedented. We've never had a Category 5 stall for so long in the Atlantic hurricane record." Masters added that hurricanes which stall can dissipate themselves as they churn up cold water which dilutes the warm water fueling them.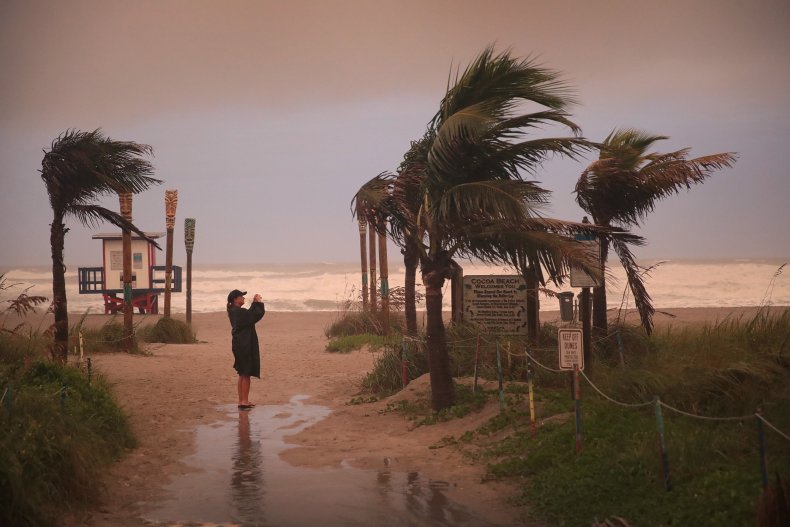 This means those caught in the path of the hurricane, which decimated the Bahamas when it made landfall on Sunday, can expect more prolonged destruction.
Adam Douty, a meteorologist with AccuWeather, speaking to Time, said such a slow-moving storm will make the flooding worse, with "continued battering with the wind so it has time to weaken structures," and that Dorian is likely to cause significant coastal erosion with "hours and hours of waves" in the Bahamas.
NHC director Ken Graham said on a Facebook Live video Friday, as reported by Insider: "The slower you go, that means more rain. That means more time that you're going to have those winds. That's a long period of time to have hurricane-force winds and tropical-storm force winds. All of a sudden we have trees down, more power lines down. So, a very serious situation."
The Miami-based National Hurricane Center (NHC) said in an advisory issued at 2 a.m. EST Tuesday that the storm had weakened to a Category 3 hurricane but it was still battering the Bahamas with winds of 120 miles per hour.
"Dorian won't budge," the NHC said in its update which shows no movement of the hurricane that is still sitting over Grand Bahama Island.
It said that the storm would move "dangerously close" to the Florida east coast late Monday through Wednesday evening and then move north to coastal Georgia and South Carolina on Wednesday night and Thursday.
More than 1,300 flights into and out of the U.S. have been canceled due to the ferocious storm which has claimed at least five lives when it hit the Abaco Islands. The Bahamas Press has reported that there are many more fatalities, with bodies being collected all across Abaco.
Astronauts aboard the International Space Station tweeted dramatic images as the ISS flew 260 miles overhead, Space.com reported. Astronaut Nick Hague wrote: "You can feel the power of the storm when you stare into its eye from above. Stay safe everyone!"
Hague's crewmate, NASA astronaut Christina Koch, tweeted a four-photo series revealing the storm's eye and views of the hurricane as it crossed the northwestern Bahamas. "Hurricane Dorian as seen from Space Station earlier today. Hoping everyone in its path stays safe," she wrote.
The graphic below, provided by Statista, illustrates the economic damage wrought by hurricanes over the years.