Where Is Hurricane Dorian Right Now? Path Map Updates As Tropical Storm Fernand Heads Toward Mexico
After battering the Bahamas for two days—causing catastrophic destruction and at least seven deaths—Hurricane Dorian is now located around 80 miles east northeast of Cape Canaveral, Florida. It is moving north-northwest at around 7 miles per hour, as of 2 a.m. EDT, according to forecasters.
At present, the storm—which has weakened to a Category 2 on the Saffir-Simpson Hurricane Wind Scale with maximum sustained wind speeds of 110 miles per hour—is not expected to make landfall in the U.S. Instead, the National Hurricane Center (NHC) believes it will likely stay just off the U.S. Eastern seaboard as it tracks northwards.
"A slightly faster motion toward the northwest or north-northwest is expected through this morning, according to a statement from the NHC. "A turn toward the north is forecast by this evening, followed by a turn toward the north-northeast on Thursday morning. On this track, the core of Hurricane Dorian will move dangerously close to the Florida east coast and the Georgia coast through tonight. The center of Dorian is forecast to move near or over the coast of South Carolina and North Carolina Thursday through Friday morning."
"Some weakening is expected during the next couple of days, and Dorian is expected to remain a powerful hurricane during the next few days," the statement read.
The graph below, provided by Statista, shows the cost of damage by weather incidents worldwide over the past 20 years.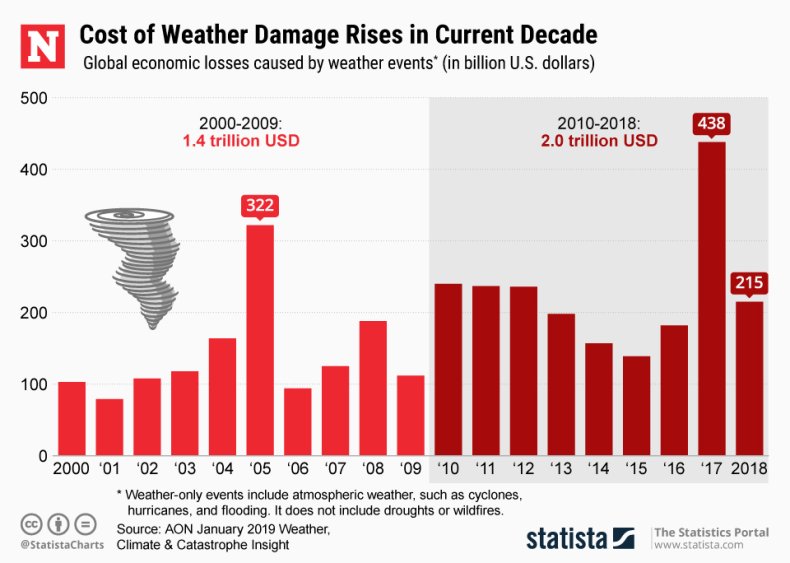 Even though the storm's center is not expected to make landfall in the U.S., this does not mean that there will be no impacts on the mainland. Hurricane-force and tropical-storm-force winds extend outward from the center up to 60 and 175 miles respectively, according to the NHC.
Dorian is currently bringing tropical storm conditions to parts of Florida's northeastern coast, while hurricane conditions are also expected. Maximum sustained wind speeds were clocked at 45 miles per hour in St. Augustine with gusts of up to 52 miles per hour.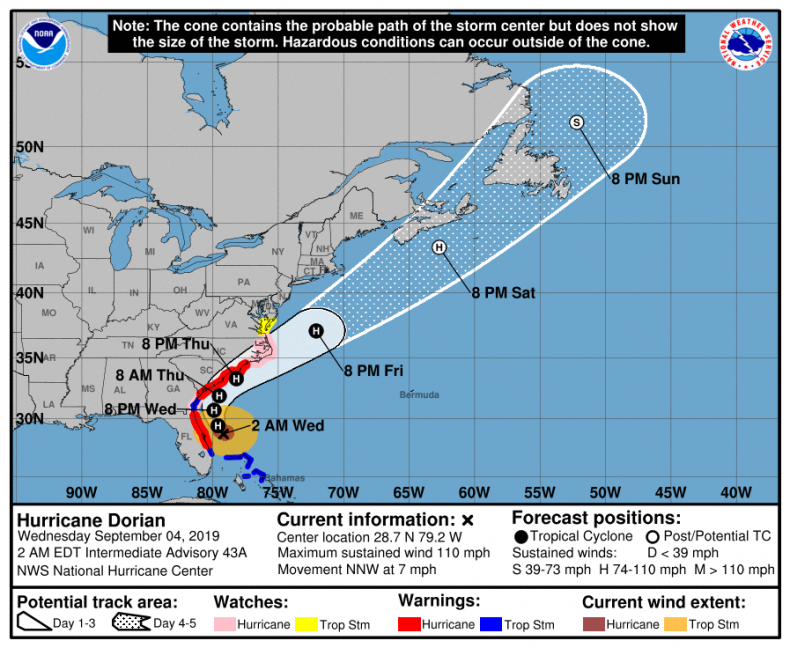 "Tropical storm conditions will continue along the Treasure Coast of Florida for a few more hours," the NHC said. "Tropical storm conditions are beginning along the northeastern coast of Florida and should begin along the Georgia coast later this morning."
"Hurricane conditions are expected somewhere within the Hurricane Warning area in Florida by early today. Tropical storm conditions will begin within the Hurricane Warning area in the Carolinas later today, with hurricane conditions by tonight," the statement read.
The hurricane is expected to bring dangerous storm surges to some areas of the Florida and North Carolina coasts, which could be accompanied by large and destructive waves.
Heavy rainfall is also expected in Florida, the Carolinas, Georgia and southeast Virginia until Friday. This has the potential to cause life-threatening flash-floods.
More than 2 million people living in vulnerable areas in four states—Florida, South Carolina, North Carolina and Georgia—have been warned to evacuate, CBS News reported.
The NHC is also tracking Tropical Storm Fernand, which formed in the Gulf of Mexico and is expected to make landfall on Mexico's northeast coast later tonight. It currently has maximum sustained wind speeds of 50 miles per hour and is forecast to strengthen slightly before it makes landfall. However, it will then likely dissipate in a couple of days.