Where Is Hurricane Dorian Right Now? Path, Track for Storm After Landfall Over Cape Hatteras, North Carolina
Hurricane Dorian made landfall over North Carolina and the storm continues to bring heavy wind, rain, flooding and storm surges to areas of the East Coast.
Long believed to be destined to make landfall in Florida, after hitting the Bahamas as a Category 5 hurricane on the Saffir-Simpson wind scale, Dorian turned northeast. The change in direction put the storm on a path that would carry it along the coast of the United States instead of directly toward Florida.
For residents in Florida, Georgia and South Carolina, the worst of the storm is largely behind them, but it still poses danger to those in North Carolina and Virginia. On Friday morning, the National Hurricane Center (NHC) reported Dorian made landfall over Cape Hatteras, North Carolina.
The latest advisory from the National Hurricane Center (NHC) placed Dorian about 50 miles from Cape Hatteras with maximum sustained winds of 90 mph. At that speed, the storm is considered a Category 1. As of the 11 a.m. advisory, Dorian was off the coast of North Carolina, seemingly parallel with Greenville.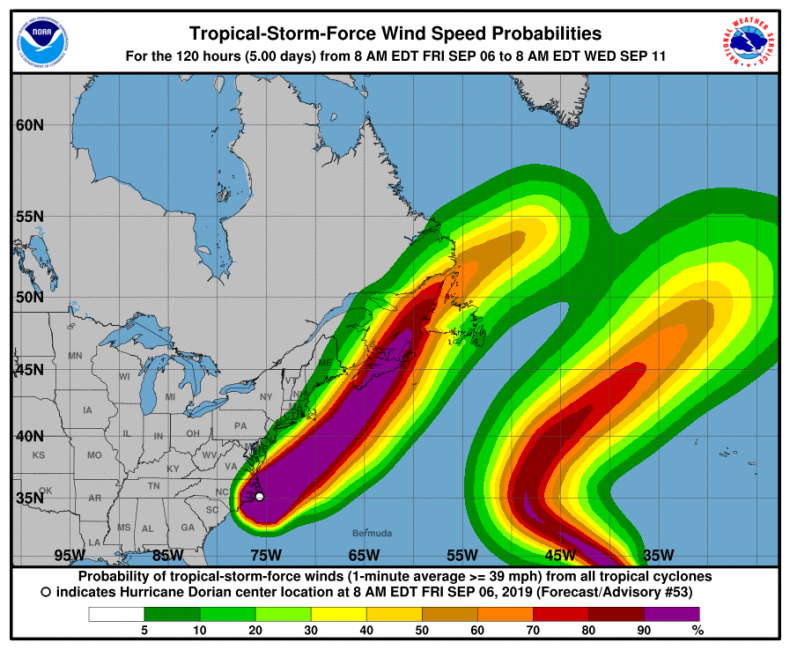 A Hurricane Warning was discontinued west of Bogue, Inlet, North Carolina, but the NHC issued a number of other watches and warnings for various areas of the East Coast, Identified as:
Storm Surge Warning: Salter Path, North Carolina, to Poquoson, Virginia; Pamlico and Albemarle Sounds; Neuse and Pamlico Rivers; Hampton Roads
Hurricane Warning: Bogue Inlet to the North Carolina/Virginia border; Pamlico and Albemarle Sounds
Hurricane Watch: Nova Scotia
Tropical Storm Warning: North Carolina/Virginia border to Fenwick Island, Delaware; Chesapeake Bay from Drum Point southward; Tidal Potomac south of Cobb Island; Woods Hole to Sagamore Beach, Massachusetts; Nantucket and Martha's Vineyard, Massachusetts; East of Bar Harbor to Eastport, Maine
Tropical Storm Watch: Prince Edward Island; Magdalen Islands; Fundy National Park to Shediac; Francois to Boat Harbour
The difference between a watch and a warning is the likelihood for conditions to occur. During a warning, conditions are expected to occur within the next 36 hours, whereas, during a watch, it's possible conditions will occur.
The NHC warned that life-threatening storm surges and flash flooding could continue to occur in North Carolina and Virginia over the next few hours.
Moving in a northeast direction, Dorian was expected to head farther away from the coast on Friday night, but sustain the 90 mph wind speed. Finding itself outside Richmond, Virginia, on Friday night, the storm would then continue northeast and be outside the Nantucket Sound on Saturday morning.
It is possible Dorian could make landfall in Nova Scotia as a Category 1 hurricane on Saturday night.