Hurricane Dorian Path Update: Storm to Remain 'Powerful Hurricane' As It Moves Along Florida, Georgia, Carolinas
A storm that began as largely a threat to Florida, Hurricane Dorian continues to move parallel to the East Coast, bringing dangers as far north as Virginia.
After making landfall in the Bahamas on Sunday night and ravaging the area for more than a day, Dorian finally started moving north on Tuesday. Making its way toward Florida, Dorian brought hurricane and tropical storm conditions to parts of the Sunshine State.
The latest advisory from the National Hurricane Center (NHC) placed the Category 2 hurricane about 90 miles from Daytona Beach, Florida, and 205 miles from Charleston, South Carolina. Moving at about nine miles per hour, Dorian was expected to be north of Jacksonville, Florida, on Wednesday evening before passing by Savannah, Georgia, and Charleston on Thursday.
Continuing up the East Coast, Dorian was forecasted to be off the shore of Havelock, North Carolina, on Friday morning with maximum sustained winds at 100 miles-per-hour.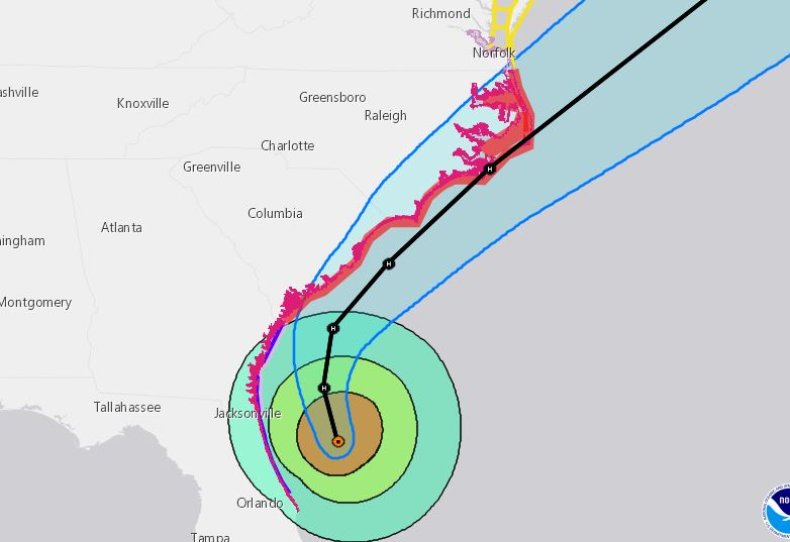 Once expected to directly hit Florida, Dorian's change in direction, leaving it running parallel to the East Coast, broadened its reach and resulted in the issuance of additional watches and warnings. Areas from Florida to Virginia were under a variety of advisories, identified by the NHC as:
Storm Surge Warning: North of Port Canaveral, Florida, to the North Carolina/Virginia border; Pamlico and Albermarle Sounds in North Carolina; Neuse and Pamlico Rivers in North Carolina.
Storm Surge Watch: North Carolina/Virginia border to Poquoson, Virginia, including Hampton Roads
Hurricane Warning: North of Savannah River on the Georgia/South Carolina border to the North Carolina/Virginia border; Albemarle and Pamlico Sounds
Hurricane Watch: North of Ponte Vedra Beach, Florida, to Savannah River
Tropical Storm Warning: The Volusia/Brevard County, Florida, line to Savannah River
Tropical Storm Watch: The North Carolina/Virginia border to Chincoteague, Virginia; Chesapeake Bay from Smith Point in Virginia southward
Although the dangers presented are the same during a warning and watch, the advisories differ in that during a warning, conditions are expected to occur and during a watch, there is a possibility they will occur.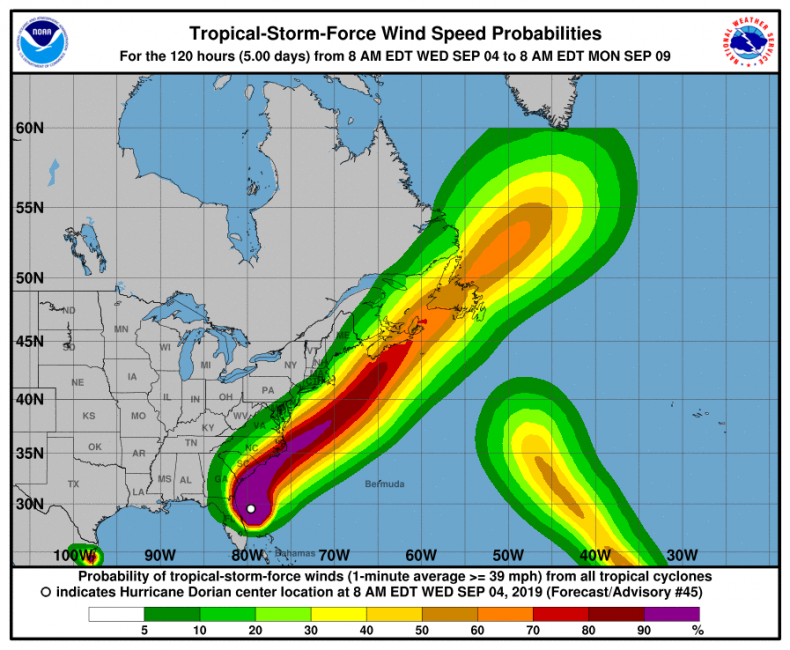 Storm Surge Warnings are life-threatening situations and people located in the impacted areas should follow evacuation instructions and take necessary actions to protect life and property. Those under a Hurricane Warning should also rush to complete preparations.
Despite a forecasted weakening in the storm, the NHC said Dorian would remain a powerful hurricane over the next few days with hurricane-force winds extending outward up to 70 miles from the center. Tropical Storm-force winds extended outward up to 175 miles.
Through Friday, the Coastal Carolinas could see five to 10 inches of rain and 15 inches in isolated areas. Florida, Georgia, South Carolina and Southeast Virginia were predicted to experience three to six inches of rain and the Georgia Coast could have as much as nine inches.
Ahead of the storm's arrival, the federal government granted emergency declarations for Florida, South Carolina, Georgia and North Carolina.