Hurricane Dorian Path Update: 'Life-threatening' Storm Strengthens to Category 2, Could Strike Florida East Coast as Category 4 Monday
Storm Dorian has strengthened into a Category 2 hurricane with maximum sustained wind speeds of 105 miles per hour as it moves over the Atlantic towards the Bahamas and the southeastern United States, according to forecasters.
The storm is now expected make landfall on Florida's east coast as a powerful Category 4 hurricane—maximum sustained winds between 130 and 156 miles per hour—by early Monday although there is still some uncertainty about timing, the exact path that the storm will take and where the strongest winds will occur, according to the National Hurricane Center (NHC.)
Forecasters say that life-threatening storm surges could affect the the northwestern Bahamas this weekend and the Florida east coast late this weekend or early next week.
Regardless of Dorian's exact path, heavy rains are expected in the Bahamas, Florida, and other areas of the southeastern United States this weekend and into the middle of next week. For example, coastal portions of the southeast U.S. could see anywhere between 5 and 10 inches of rain, with some isolated areas receiving up to 15 inches. This rainfall has the potential to cause life-threatening flash-floods.
The NHC recommends that residents in the areas affected should ensure that they have their hurricane plan in place and listen to advice given by local emergency officials.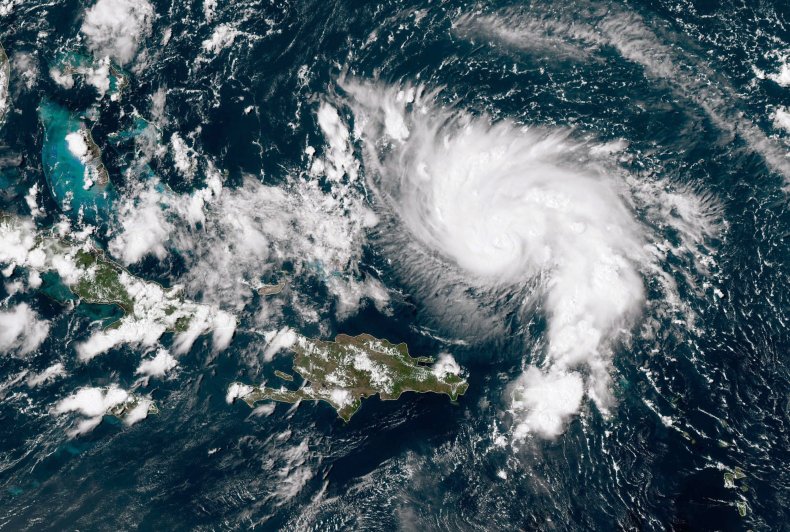 As of 11:00 p.m. Thursday night, Dorian's center was located about 295 miles east-northeast of the southeastern Bahamas, traveling northwest at a speed of 12 miles per hour. Hurricane force- and tropical-storm-force-winds extend outward from the center by 25 and 105 miles respectively.
"This general motion is expected to continue through Friday," an NHC statement read. "A west-northwestward to westward motion is forecast to begin by Friday night and continue into the weekend. On this track, Dorian should move over the Atlantic well east of the southeastern and central Bahamas tonight and on Friday, approach the northwestern Bahamas Saturday, and move near or over portions of the northwest Bahamas on Sunday."
"Dorian is expected to become a major hurricane on Friday and remain an extremely dangerous hurricane through the weekend," the NHC said.
A state of emergency has been declared in Florida in preparation for what could be the strongest hurricane to strike its east coast since Hurricane Andrew in 1992, CNN reported. President Donald Trump has cancelled his trip to Poland to focus on the federal government's response to the storm, which could bring "devastating winds," to Florida, according to the NHC.
"With Dorian forecast to pass over the extremely warm water of the Gulf Stream, where cooled, up welled water is rapidly replaced by more warm water, you have to be concerned that a Category 5 storm is on the table before reaching the U.S. coast," meteorologist Alex Sosnowski told AccuWeather.
The graphic below, provided by Statista, illustrates how much economic damage hurricanes have wrought on the U.S. in recent years.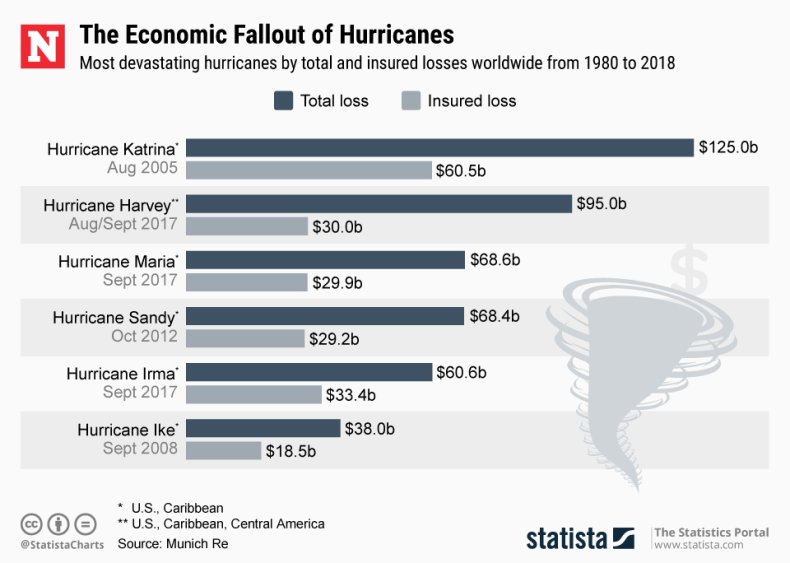 With the devastation wrought by Hurricane Michael last year still fresh in the memory, Floridians flocked to shops across the state in order to stock up on food and supplies.
While Dorian is expected to strike Florida, forecasters warn that it could still have an impact in Georgia, leading Governor Brian Kemp to declare a state of emergency for several counties in his state, including Brantley, Bryan, Camden, Charlton, Chatham, Effingham, Glynn, Liberty, Long, McIntosh, Pierce and Wayne, WSB-TV reported.
"People have got to be ready before Sunday," Ken Graham, director of the National Hurricane Center, told CNN.
This article was updated to include an infographic.