Hurricane Dorian Relief Efforts: How to Help the Bahamas Recover From Destructive Storm
As Hurricane Dorian continues to batter the Bahamas, people from all corners of the globe have started to ban together to help those living in the island country get the supplies and necessities they'll surely need in the aftermath of the destructive storm.
Homes and buildings across the Bahamas were completely destroyed by the storm, prompting the Caribbean Disaster Emergency Management Agency to announce plans on Monday to send an 18-person Rapid Needs Assessment Team to Grand Bahama and other neighboring areas that have been ravished by the hurricane. While the agency works with the Bahamian government to help people in the most severely impacted areas, charity groups have started raising money and requesting donations that will benefit people living in the affected neighborhoods.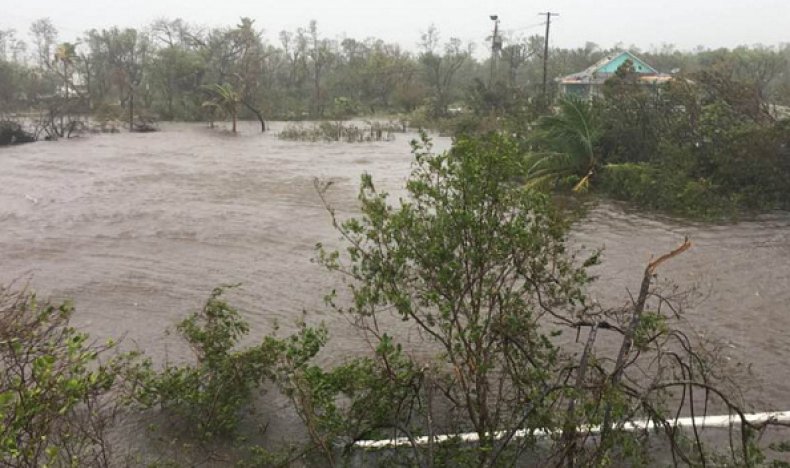 As more people spread means of helping the Bahamas on social media, it's important to be wary of the unfortunate scams that tend to pop up in light of a major natural disaster.
The Better Business Bureau encourages donors to make sure that they are offering support — particularly monetary donations — to experienced disaster relief organizations and avoid newly created charity groups that seem inexperienced or have unclear agendas and mission statements. Donors can check the authenticity of relief organizations on the Better Business Bureau website as well as give.org.
Charity Navigator is also a resourceful and trusted tool for finding honest organizations dedicated to helping those in need following a natural disaster.
Below you'll find a list of a few relief groups aiming to help the communities across the Bahamas affected by Hurricane Dorian.
Community Emergency Operations Center Miami
Supported by Florida Representative Shevrin Jones, local community organizers have begun collecting toiletries, diapers, first-aid items, nonperishable foods, water, generators, and various other everyday essentials for people in the Bahamas. Items can be dropped off at the Miami-Dade Community Emergency Operations Center or monetary donations can be made at mthsmile.com.
All Hands and Hearts Smart Response
The nonprofit organization is comprised of more than 57,000 volunteers who help communities get back on their feet following a natural disaster. While the group is accepting donations, volunteers willing to help provide first-hand relief to affected areas of the Bahamas are also being requested. Sign up to volunteer or donate HERE.
Good 360
The Virginia-based charity has spent the last 35 years providing disaster relief to those in need. In response to Hurricane Dorian, the organization is requesting corporations and individuals donate items people in the Bahamas need the most including water, toiletries, diapers, tarps, pillows, sheets, blankets and portable chargers. For more info on how to send items, see here.
BahamaStrong
Launched by Miami Commissioner Ken Russell on Sunday, the relief effort is requesting people donate a number of common goods including water, canned goods, can openers, mosquito spray, sunscreen, diapers, baby formula, first-aid items, flashlights, batteries, and small generators. Donations can be dropped off at any fire station in the city of Miami. Russell told local news media items will be flown directly to the Bahamas once winds from the storm die down as the City of Miami has access to emergency airplanes. For more info, check HERE.
International Medical Corps
The global humanitarian nonprofit is sending medical teams to the Bahamas at the request of the Florida Department of Health while seeking donations that will be used to help provide affected Bahamians with the medical care they need. Donations can be made online HERE.
Heart to Heart International
In preparation of the storm, the global humanitarian effort — which specializes in programs aimed at health and wellness — deployed medical response teams including the Mobile Medical Unit stocked with tocked with medicines, tetanus vaccines, medical supplies and hygiene kits days before the storm made landfall in the Bahamas. However, the organization is looking to send more medical aid to the Bahamas once the storm clears, in addition to deploying units in areas of Florida, Georgia and North Carolina, where the storm is predicted to head next. The organization is requesting donations, which can be made HERE.
Hurricane Dorian Relief Efforts: How to Help the Bahamas Recover From Destructive Storm | U.S.