Hurricane Dorian: Scams and Fraud to Be Aware of, from Price-Gouging to Fake Charities
As Hurricane Dorian continues to bear down upon the Bahamas, U.S. authorities warn about a variety of scams that can arise during natural disasters.
The National Weather Service said today the "devastating" hurricane is expected to remain a powerful storm over the next couple of days, moving "dangerously close" to Florida's coast before reaching near Georgia, South Carolina and North Carolina later this week.
"A life-threatening storm surge will raise water levels by as much as 10 to 15 feet above normal tide levels in areas of onshore winds on Grand Bahama Island," the NWS Hurricane Center has said. "Near the coast, the surge will be accompanied by large and destructive waves."
In the past, such destruction has quickly been exploited by scammers. Therefore, experts say it is vital to be aware of what to look out for—from price-gouging to fake charity to robocalls.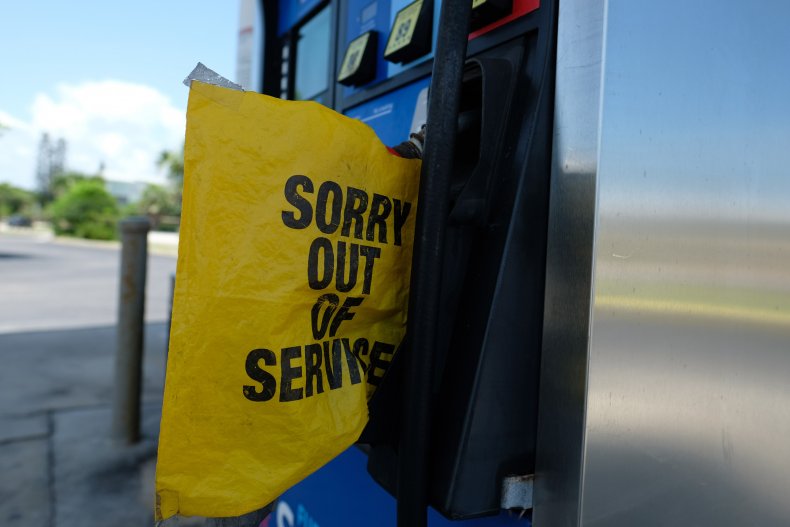 Price-gouging is when a sellers raise the price of goods or services during a natural disaster, a practice that is not only unethical but illegal, the Better Business Bureau has warned. Example items that are vulnerable to tampering include food, water, hotel rooms and gas.
"BBB warns businesses not to give in to the temptation to raise prices during a storm, both because it may be illegal to do so and because it erodes marketplace trust," the agency says. "Consumers will remember which businesses took advantage of them during a storm."
The majority of U.S. state attorney offices will roll out legal penalties for price-gouging when a state of emergency is declared. Individual offices can be checked online.
The Federal Communications Commission warns that fraudsters have previously spewed out scam phone calls about fake flood insurance to residents in a storm's path. On its website, the FCC urges the public to verify any information in robocalls with insurance providers. To report suspected fraud, you can contact the FEMA Disaster Fraud Hotline: 1-866-720-5721.
According to the FCC, disaster relief charity scams are also known to surface in the wake of major events, including hurricanes. The agency warns that scammers create fake charities in an attempt to steal cash from people who think they are helping to raise money for a good cause.
According to figures compiled by Statista, weather damage is already been more costly this decade than in the last.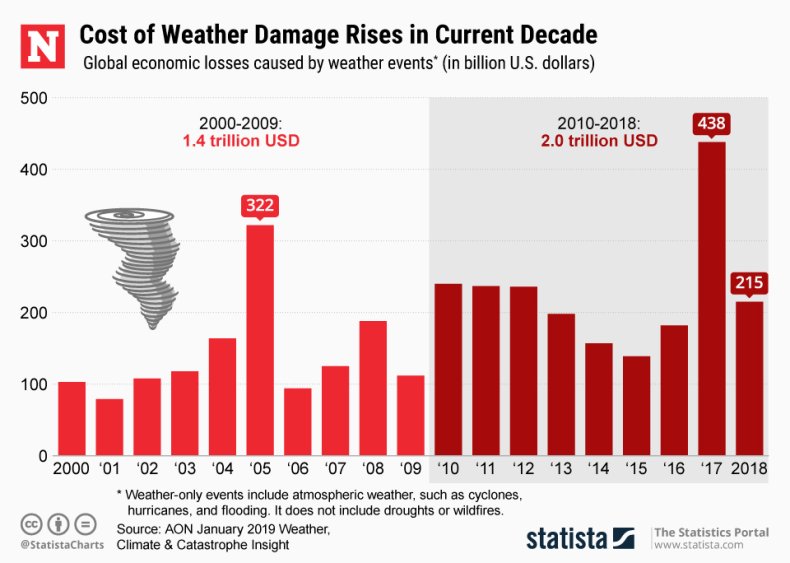 Luckily, there are a slew of websites that can be used to verify if a charity is legitimate. These include: Charity Navigator, Charity Watch, GuideStar and the BBB's Wise Giving Alliance. In addition, the FCC warns against opening suspicious emails and urges everyone to be skeptical about social media, which can host crowdfunding campaigns without any real transparency.
"Donors should watch out for newly-created organizations that emerge that are inexperienced in addressing disasters or may be seeking to deceive donors at a vulnerable time," said Art Taylor, president of the Wise Giving Alliance, in a media release on August 30.
"In previous weather disasters, Give.org has seen crowdfunding posts claiming to raise funds so they can deliver and distribute water, food and flashlights to impacted areas," Taylor added. "Even if sincere, such efforts may risk lives, complicate access by professional efforts and potentially divert donations that could be directed in more helpful ways."
It's not just hypothetical. The scams have already started.
On Monday, ABC Action News meteorologist Denis Phillips said on his official Facebook page that someone had been posing as him online in an attempt to dupe social media users into sending money via digital apps under the guise of a fundraiser. It was totally bogus, he stressed.
"This is a SCAM. DO NOT SEND THEM ANY MONEY," Phillips wrote in a post which has already been shared more than 6,000 times. "This makes me so angry and sad at the same time."
If you think that you have donated to a scam charity, the scheme can be reported to the FTC: ftc.gov/complaint. The Federal Emergency Management Agency (FEMA) has warned additional scams include phony housing inspectors, building contractors and offers of fake state aid.
Georgia attorney general Chris Carr told consumers in his state last week that scams and fraud are likely to rise as Hurricane Dorian approaches the state. He warned businesses that the financial penalties for price gouging will be between $2,000 to $15,000 per violation.
"We strongly urge scammers and price gougers to think twice before trying to take advantage of consumers who are fleeing the storm's path or attempting to rebuild their lives in this storm's aftermath in Georgia," Carr said. Earlier this week, Newsweek reported on a number of legitimate relief groups that are currently supporting communities living across the Bahamas.