Hurricane Dorian has caused catastrophic destruction in the Bahamas and killed at least seven people there. But aside from its impact on humans, the powerful storm likely severely affected wildlife on the islands and may have even caused a rare species of bird to go extinct, according to an expert.
Diana Bell—a professor of Conservation a Biology at the University of East Anglia (UEA) in the U.K.—said that as well as being a "humanitarian disaster" for people living in the northern Bahamas, the storm is also likely to have caused an "ecological disaster" due to its affects on Caribbean pine forests on the islands, which contain unique bird species and other wildlife.
"[Dorian] was a Category 5 hurricane that moved extremely slowly across Grand Bahama and the Abacos island which would have caused maximum damage through wind, rain and storm surge of salt water to human infrastructure and the remnant Caribbean pine forest habitat which supported several endangered Bahamian bird species," Bell told Newsweek.
Previous work by UEA researchers revealed that one bird species native to forests on the islands—the Bahama nuthatch—was teetering on the edge of extinction, and Bell says that Dorian could have pushed it over the edge.
"Surveys in 2018 indicated that the number of Bahama nuthatches—which hadn't been recorded since Hurricane Matthew in 2016—may be down to 1-2 individuals," Bell said. "How do small birds survive these conditions in already highly fragmented habitat."
"We watched carefully for any hurricanes this time last year and these islands escaped but Dorian was a direct hit and worst case scenario for people, buildings and remnant native Caribbean forest fragments plus the biodiversity they support," she said.
The graph below, provided by Statista, shows the cost of damage by weather incidents worldwide over the past 20 years.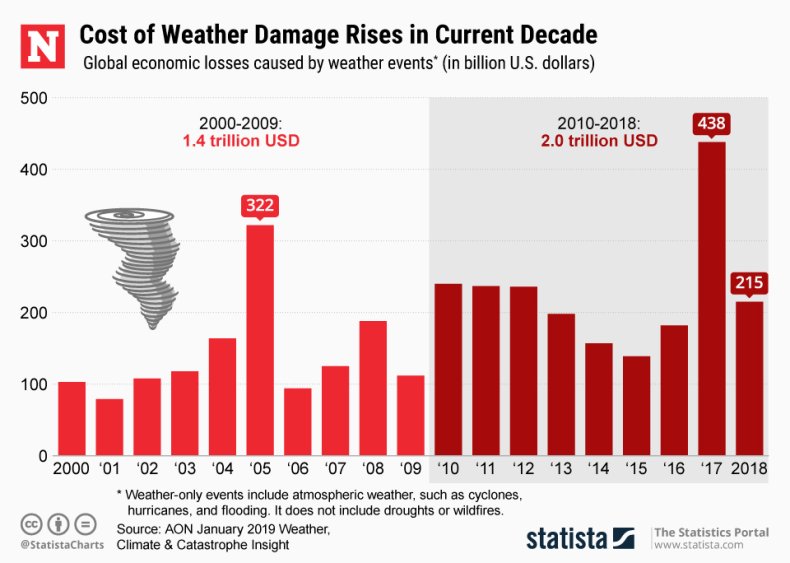 Researchers say that the species has suffered steep declines since 2004, when there were an estimated 1,800 individuals. The Bahama nuthatch has long been threatened by habitat destruction and damage, which has been driven by several factors including logging, tourist developments, and more recently, hurricane damage. The bird—which only nests in mature pine trees—is also threatened by invasive species.
"We need to be restoring these endemic habitats which will have evolved in the presence of hurricanes not only on oceanic islands but continents worldwide to help mitigate against increased extreme weather events associated with climate change," Bell said.
Other threatened endemic birds in the Bahamas include the Bahama Swallow, Bahama Warbler and Bahama Yellowthroat.
"We now have to ask whether birds such as the Bahama warbler and other native pine forest dependent species have survived the extremely high winds, rainfall and storm surges this hurricane has caused," Bell said in a statement.
According to emerging reports from relief officials, Dorian has caused widespread devastation in the northern Bahamas.
"It's total devastation. It's decimated. Apocalyptic," Lia Head-Rigby, who runs a local hurricane relief organization, told the Associated Press, referring to the situation in the Abaco Islands. "It's not rebuilding something that was there; we have to start again."
Currently, Dorian is located around 95 miles east northeast of Daytona Beach, Florida. It is moving north-northwest at around 8 miles per hour, as of 8 a.m. EDT, according to forecasters.
At present, the storm—which has weakened to a Category 2 on the Saffir-Simpson Hurricane Wind Scale with maximum sustained wind speeds of 105 miles per hour—is not expected to make landfall in the U.S. Instead, the National Hurricane Center (NHC) believes it will likely stay just off the U.S. eastern seaboard as it tracks northwards.
The storm is the most powerful Atlantic hurricane ever to make landfall in the Bahama, bringing maximum sustained wind speeds of 185 miles per hour to the islands.
"Our thoughts are with the people and biodiversity in this tragedy," Bell said.