Hurricane Dorian Strands Cruise Ship Passengers in New Orleans: 'Everyone's Been Starving, No One Knows What's Going On'
Thousands of cruise ship passengers have been stranded in New Orleans as vessels are diverted to avoid Hurricane Dorian, currently still churning off the East Coast and forcing the closure of ports in Florida.
Two Norwegian Cruise Line ships arrived in New Orleans on Tuesday afternoon, according to local TV station 4WWL.
Both the Norwegian Breakaway and the Norwegian Sun were scheduled to end their journeys in Florida, but were prevented from doing so by the Coast Guard's decision to close the docks at Port Canaveral and Port Miami.
The cruise line is now attempting to secure alternative travel arrangements for its passengers. 4WWL said Norwegian arranged flights on Tuesday and Thursday for some travelers, but Fox 8 local news said hundreds of others remain stuck in New Orleans.
The Norwegian Sun's itinerary had already been affected by Dorian. The 2,400-capacity liner had been due to visit the Bahamas, but the approaching storm meant it had to head to the Mexican island of Cozumel instead.
Dorian has already torn across the Bahamas as a Category 5 storm, battering the islands with powerful winds and deadly storm surges from Sunday to Tuesday. At least seven people have been reported killed, with others still missing. Prime Minister Hubert Minnis said that the death toll is expected to rise.
The storm is currently heading towards the Florida coast. Though it has been downgraded from a Category 5 storm to a Category 2, coastal regions of Florida, South Carolina, North Carolina and Georgia are bracing for strong winds and dangerous storm surges.
The graphic below, provided by Statista, illustrates the economic losses caused by natural disasters in the U.S.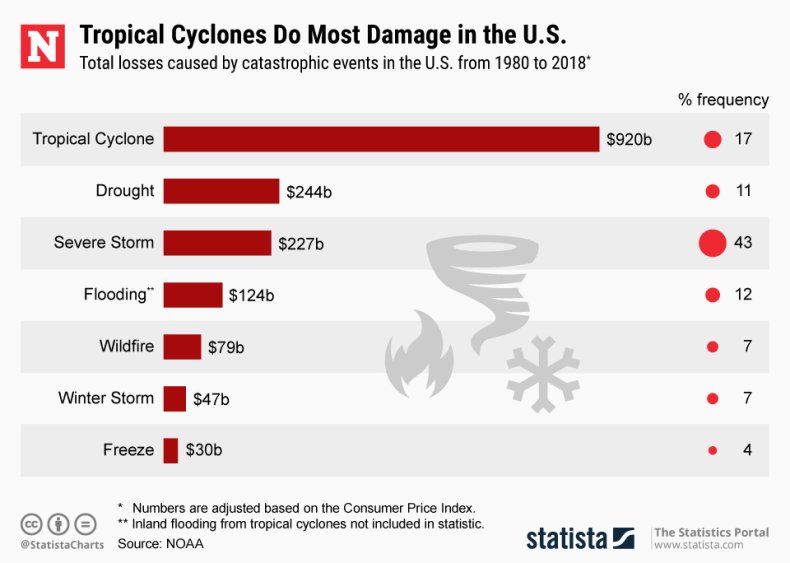 Holiday-maker Debbie Harrell told 4WWL that the Norwegian Sun vacation had turned into a desperate effort to find shelter as Dorian loomed. "[The ship] just meandered out until they finally found a place, thank God y'all could take us," she said. "The food was running out, the service was worse. It was like Hotel California—once you check in, you can't check out."
Some travelers took off on their vacations before the severe threat posed by Dorian became apparent. The Norwegian Breakaway, for instance, set sail almost two weeks ago. One unnamed passenger told 4WWL, "I thought it was kind of a joke, but obviously not.
Another, Heidi Dowd, simply said: "I learned never again travel during hurricane season."
Angry passengers are now demanding answers from Norwegian, accusing the company of poor communication and organization. Sarah Alonso, who was on the Norwegian Breakaway, told Fox 8 on Tuesday they had been confined to a cargo terminal in New Orleans with no one allowed in or out.
"Everyone's been starving, no one knows what's going on, basically Norwegian Breakaway just dumped us here and said 'see you later,'" Alonso said. "Everyone's losing it a little bit right now. We've been here for hours, it's hot, we've called our families countless times with different travel arrangements, different plans." Alonso was eventually able to board a chartered plane out of New Orleans.
Beverley Albertie was also angry at how the company handled the unexpected detour. "The communication was off. They made too many miscommunications," she told Fox 8. While Norwegian arranged transport for some passengers, Albertie said those from the Miami area were abandoned.
"No one knows this area, no one knows how to get home, some people don't speak English, some people thought we were here for the day to go back to Miami, the communications were extremely poor," Albertie said.
Norwegian Cruise Line did not immediately respond to Newsweek's request for comment. On its website, a statement read: "While it is our every intention to maintain the original itinerary as much as possible, the security of everyone on board always takes precedence."