Hurricane Dorian Reaches Category 4, Barrels Toward Florida
The National Hurricane Center said Friday evening that Hurricane Dorian has reached 130 mph of sustained winds and is now classified as a dangerous Category 4 storm. Dorian reached Category 3 status just earlier on Friday, which made it a major hurricane.
Dorian still sits in the western Atlantic Ocean and just east of the Bahamas, where hurricane warnings have already been issued. Forecasters still do not know the true path Dorian will take as it aims for Florida's eastern coast. The forecast cone reaches from South Florida in Miami northward to Jacksonville and all areas in between.
"The biggest concern will be Dorian's slow motion when it is near Florida, placing some areas of the state at an increasing risk of a prolonged, drawn-out event of strong winds, dangerous storm surge and heavy rainfall," NHC said, according to the Sun-Sentinel in Ft. Lauderdale.
According to the National Hurricane Center, a Category 4 storm is considered catastrophic, and "well-built framed homes can sustain severe damage with loss of most of the roof structure and/or some exterior walls. Most trees will be snapped or uprooted and power poles downed. Fallen trees and power poles will isolate residential areas. Power outages will last weeks to possibly months. Most of the area will be uninhabitable for weeks or months."
The highest-rated storm is a Category 5, in which wind speeds reach 157 mph or greater, like Hurricane Michael reached when it crushed Florida's northwest coast in the Gulf of Mexico during 2018.
Even with time to evacuate, if they choose, this creates a difficult decision for residents of South Florida who might wish to evacuate north, where the storm could turn and land. And with so many residents and tourists potentially on the road for Labor Day weekend, it has created challenges for those trying to fill up their gas tanks.
Florida has no refineries, so they are depending on assistance from neighboring states to bring a fleet of trucks to help keep gas and diesel supplied. This supply is not only for those evacuating the state, but those rolling to Florida from other states to assist in recovery efforts.
Winds from the storm reached 130 mph Friday evening, and they are expected to keep climbing as Dorian passes over the Bahamas. The National Hurricane Center expects the storm to slow down before it bears down on the Florida peninsula early next week.
As of Friday night, Dorin sat about 575 miles east of West Palm Beach and had a track moving slightly to the northwest. And though the hurricane's direct path still remains uncertain on Friday, the National Hurricane Center said "any small deviation in the track could bring the core of the powerful hurricane well inland over the Florida, keep it near the coast, or offshore."
Florida Gov. Ron DeSantis had already declared a state of emergency for the state, and he said Friday that President Donald Trump had already approved the disaster declaration, which gets FEMA funds and resources moving faster.
"That will enable us to draw down more federal resources in anticipation of this storm," the governor said. "The constant in this storm ... is that this thing is getting stronger."
Florida's west coast was pummeled by Hurricane Michael just last year when Mexico Beach and Panama City Beach took the brunt of that Category 5 storm.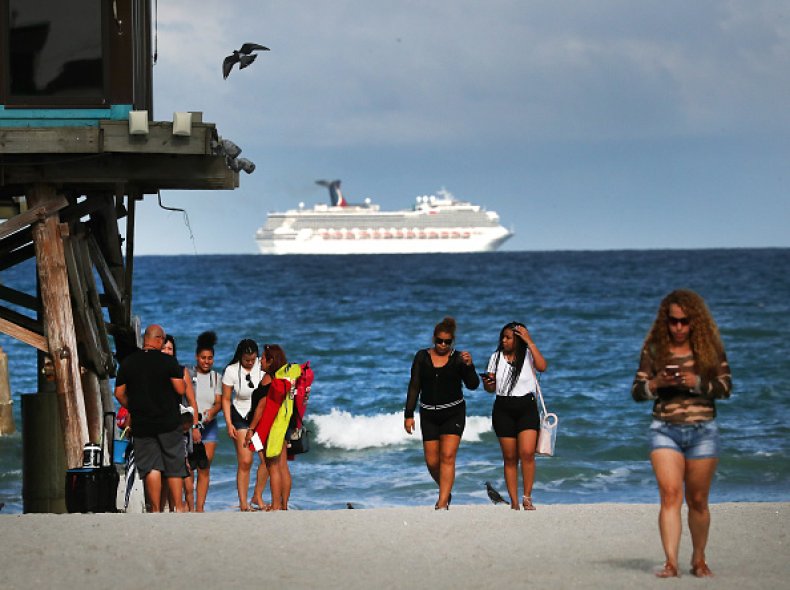 Hurricane Dorian Reaches Category 4, Barrels Toward Florida | News