As Hurricane Dorian Hammers Bahamas, Potential Tropical Cyclone Seven to Threaten Gulf Coast As Tropical Storm
While America's southeastern residents brace for Hurricane Dorian's arrival, a potential tropical cyclone threatened the Gulf Coast.
Dubbed Potential Tropical Cyclone Seven, the disturbance formed on Tuesday morning over the west-central and southwestern Gulf of Mexico and was expected to become a tropical cyclone. The storm lacked a well-defined center, but the National Hurricane Center (NHC) noted it's gradually becoming more defined and could bring heavy rainfall to areas of Mexico.
As of Tuesday morning, the storm was about 200 miles from La Pesca, Mexico, located on the eastern side of the Mexican state, Tamaulipas, and 225 miles from Tampico Mexico, south of La Pesca. Moving at about seven miles per hour, the storm was forecasted to strengthen slightly over the next 36 to 48 hours and make landfall on Wednesday night or Thursday morning.
Although strengthening is expected, the NHC said broad and large circulation should prevent rapid intensification from occurring.
"The primary threat from this system will be heavy rainfall that could produce flooding and mudslides, especially in mountainous areas," the NHC said.
Tropical Cyclone Seven was forecasted to bring 6 to 12 inches of rain to northeast Mexico, with up to 15 inches in isolated areas. Rainfall would likely be greatest in the Sierra Madre Oriental of Tamaulipas and Nuevo Leon.
South Texas and the lower Texas coast could get 2 to 4 inches and up to 6 inches in some parts of the state.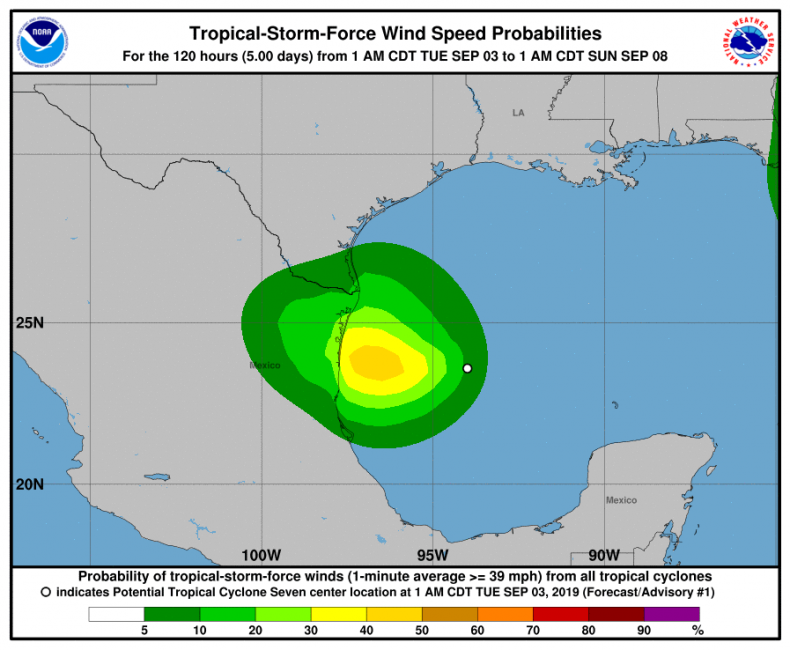 Ahead of the storm's arrival, a tropical storm warning was issued from La Pesca to Barra El Mezquital. During a tropical storm warning, residents in the area can expect tropical storm conditions within 36 hours.
Currently, Seven's maximum sustained winds were 35 miles per hour. A tropical cyclone becomes a tropical storm when winds reach 39 miles per hour and the NHC forecasted Seven would become a tropical storm by Tuesday night.
While Seven formed in the Gulf Coast, Hurricane Dorian moved toward the United States as a Category 3 hurricane. About 110 miles from West Palm Beach, Florida, on Tuesday morning, Dorian was no longer forecasted to make landfall in the U.S., but could still wreak havoc on the southeastern coast.
Storm surge and hurricane warnings are in place for parts of Florida and areas of South Carolina are under a hurricane watch. On Sunday night, South Carolina Governor Henry McMaster issued evacuation orders for residents living in the state's coast. McMaster also ordered schools and government offices to be closed in eight counties, beginning on Tuesday.
Despite the possibility Dorian would no longer make landfall in Florida, as previously suspected, the NHC urged residents to continue to prepare, as life-threatening storm surges, heavy rain and wind could be expected.