Hurricane Dorian Videos Show Strength of the Growing Storm as It Approaches the United States
Puerto Rico dodged a direct hit from Hurricane Dorian on Wednesday as the category 1 storm skirted north of the island and continued moving west-northwest toward the Bahamas and Florida's east coast.
Hurricane Dorian, which has sustained winds of 80 mph as of 5 p.m. ET on Wednesday, appeared to be on target to slam Puerto Rico head on, but it shifted north at the last hour and dumped rain over both the U.S and British holdings of the Virgin Islands.
Parts of Puerto Rico got a little rain and minimum winds, which was good news for the island still trying to recover from the powerful Hurricane Maria that devastated it almost two years ago.
Dorian now is projected to become a category 2 storm by Thursday, and perhaps a category 3 before its projected landfall in Florida.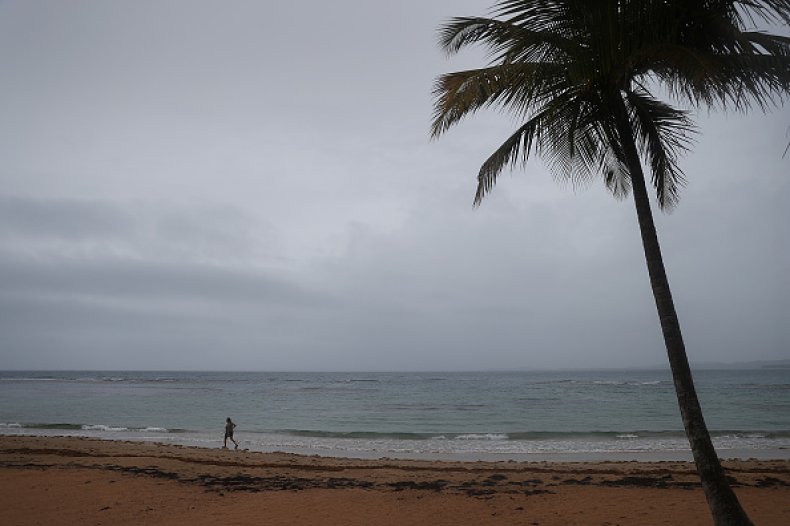 As the storm brews in the Atlantic and moves eastward, those in its path have recorded video of the storm's power and strength. The videos range from being filmed on the mainland of some islands to one that's reportedly at sea and on the northern eyewall of the hurricane.
Here are some of the videos of Hurricane Dorian as it churned on Wednesday.
This tweet from El Horizonte, a news source in Mexico, shows small boats maneuvering through choppy seas created by Dorian's winds of more than 75 mph. The video was taken by Shaun Kadison on her boat near St. Thomas.
ABC News posted this shot of the storm as it passes over the U.S. Virgin Islands on Wednesday.
Meteorologist Mike Seidel of The Weather Channel posted this video of Dorian sending 97 mph winds over Charlotte Amalie, St. Thomas.
This Twitter user posted video footage of Dorian's damage as the eye is just south of St. Thomas in the U.S. Virgin Islands. She said there were "horizontal sheets of rain" slamming the island.
This video shows ominous clouds in the background dumping massive amounts of rain as it nears St. Thomas in the U.S. Virgin Islands.
A gas station was twisted apart by the outer bands of Dorian, which had not even made its full presence on this island when this video clip was taken.
This is the latest satellite video of Dorian, which is now slowly making its way to the Bahamas and then perhaps Florida by Saturday night or Sunday morning.
The National Hurricane Center will provide its next update at 8 p.m. ET on Wednesday.