Hurricane Douglas Update, Tracker as Tropical Storm Passing Hawaii
Hurricane Douglas came close to hitting the Hawaiian Islands on Sunday but the state has missed the worst of the weather so far. However, residents of Hawaii have been asked to remain vigilant as the hurricane's path could shift.
Currently, Oahu and Kauai are under a hurricane warning while the whole state is under a flash flood watch until Monday afternoon.
At 8 p.m. local time on Sunday, Douglas maintained its maximum sustained winds of 85 miles per hour, and was moving west-northwest at 16 mph, according to the Honolulu Star-Advertiser.
The Category 1 hurricane's center was 60 miles north of Honolulu and 85 miles east of Lihue.
Newsweek subscription offers >
However, the path could shift, and Eric Lau, a meteorologist with the National Weather Service in Honolulu said Sunday: "It's still not out of the realm of possibilities. So we want people to really remain vigilant and stay prepared, at least for tonight."
Meteorologists warned of strong winds, storm surge, and flooding, but Hawaii has so far missed the worst of these effects as Hurricane Douglas is on a path to the north of the state.
This means that the islands are near the southwest quadrant of the storm, which is often less destructive than the northeast and the right side of a hurricane's eye, according to Lau.
Lau said: "We were really playing with a really fine line, a razor-thin line between what we've experienced today compared to what we could have experienced."
Newsweek subscription offers >
However, The National Weather Service also said: "Hurricane Douglas will be affecting the western portions of the main Hawaiian islands through Monday morning. Heavy rains, strong winds, and possible coastal inundation issues can be expected across some areas.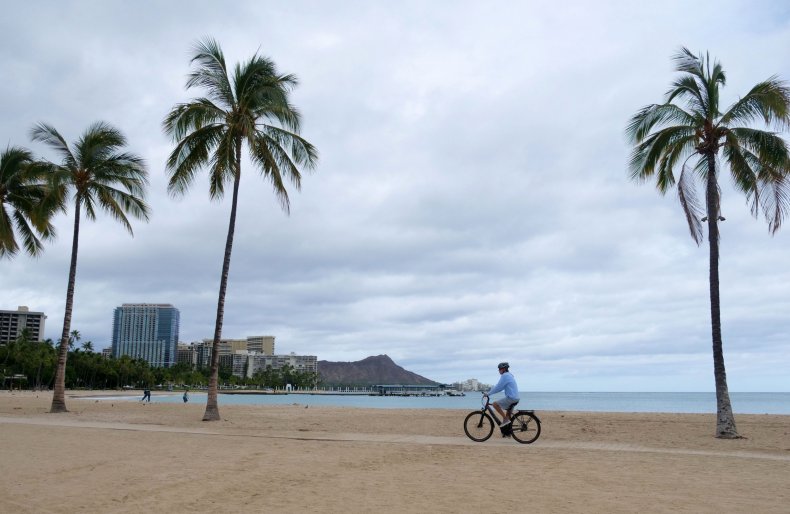 "Once Douglas departs the area later Monday, a typical trade wind weather pattern will return with clouds and passing showers favoring windward and mauka areas."
Hurricane Douglas' impact on Hawaii has been exacerbated by the coronavirus pandemic. Storm shelter and relief operations complicate social distancing requirements and FEMA and state agencies are responding to the pandemic and the storm.
Over the weekend, around 300 people evacuated to the Hawaii Convention Center on the edge of Waikiki, and 22 people were at five shelters around the island of Maui.
Evacuees had to bring masks and hand sanitizer and emergency supplies of food and water, and they had to wear face coverings to be admitted. They will be required to wear face coverings unless they are eating, drinking, or sleeping.
There are 625 people in Hawaii in isolation or quarantine as of Friday, as they have either tested positive for coronavirus or have been in contact with somebody who has, and they have said that they intend to shelter-in-place.
President Donald Trump has issued an emergency declaration for Hawaii because of the hurricane and has directed federal assistance to supplement state and local response efforts.
Hurricane Douglas Update, Tracker as Tropical Storm Passing Hawaii | U.S.