What We Know About Hurricane Elsa's Approach Toward Caribbean, Florida
Tropical storm Elsa strengthened to a category 1 hurricane as it hits the Caribbean early Friday morning, making it the first hurricane of the 2021 season.
Elsa was located about 95 miles east of St. Vincent and was moving west-northwest at 28 mph, according to the National Hurricane Center. Hurricane warnings have been issues in Barbados, St. Vincent, the Grenadines and St. Lucia.
The Meteorological Service of Barbados reported a sustained wind of 74 mph and gust to 86 mph.
Heavy rainfalls are expected over the Windward and Leeward Islands Friday and into Puerto Rico, Hispanola and Jamacia over the weekend.
Heavy rainfall is expected, and Cuba, the Turks and Caicos and the Bahamas could also face heavy winds and rainfall next week.
Elsa is the earliest fifth-named storm on record, according to Colorado State University hurricane researcher Phil Klotzbach. He also noted that Elsa is "the farthest east that a hurricane has formed this early in the calendar year in the tropical Atlantic" since 1933.
As of 5 a.m., the NHC predicted storm surge, wind and rainfall in the Florida Keys and parts of the Florida peninsula early next week.
"Interests in Florida should monitor Elsa's progress and updates to the forecast," the NHC said.
The trajectory of Elsa is still uncertain. The NHC said it will know more depending on Elsa's interaction with the Greater Antilles over the weekend.
ABC meteorologist Ginger Zee tweeted that we should not "get married" to Elsa's predicted track as "huge range of possibilities as the models have not come together and we have some time."
Elsa could cause further issues for rescue operations in Surfside, Florida where crews are still looking through rubble and debris looking for survivors of the Champlain Towers South building collapse.
Fires, cracked structures and movements in the concrete have already paused efforts over the past week.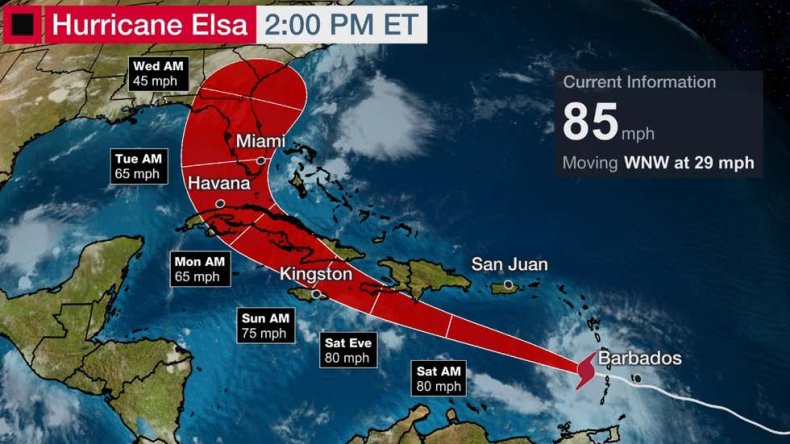 The live updates for this event has ended
High surf advisories in Puerto Rico and the U.S. Virgin Islands
The National Weather Service in San Juan said Friday that there are "no watches or warnings" for Puerto Rico or the US Virgin Islands.
However, the NWS San Juan is closely monitoring the movements of Hurricane Elsa.
As of 3:45 p.m., the NWS reported high surf advisories on the southern beaches of Puerto Rico and the U.S. Virgin Islands, with waves around 10 to 15 feet.
There is a high current risk on the northern beaches.
Officials urge residents in Elsa's path to have an evacuation plan
As Hurricane Elsa moves towards Florida, officials are urging residents to prepare for the incoming weather.
While "it's still too early to determine what impacts are expected for South Florida," Miami National Weather Service said, "now is a great time to check your hurricane plan and gather supplies."
According to Ready Go, FEMA public service campaign, advises those in the path of hurricanes to make an emergency plan, know their evacuation zone, keep cellphones charges and gather necessary emergency supplies.
Elsa winds reach 85 mph
Hurricane Elsa has intensified as it moves into the eastern Caribbean Sea, the National Hurricane Center reports.
As of 2:00 p.m. Friday, the maximum sustained winds reached 85 mph.
The storm is moving west-northwestward at 29 mph. It remains a category 1 hurricane.
Storm conditions expected to hit Florida Monday or Tuesday
Officials from the National Weather Service and the Florida and Miami-Dade Offices of Emergency Management are working together to monitor Hurricane Elsa.
During a press briefing in Surfside, Florida Friday, officials said high winds and heavy rainfall are expected to hit Florida on Monday and Tuesday.
However, officials noted that the trajectory of the storm is still uncertain and will depend on how the storm interacts with landmasses over the weekend.
Miami-Dade Fire Chief Alan Cominsky told reporters that rescue teams are using state and federal resources to continue their efforts, including bringing in more engineers to monitor the stability of the remaining structure on-site in the wake of the expected storm weather.
"We will monitor the state of the remaining structure and make all necessary precautions," he said.
The National Weather Service said that weather advisories will continue to be rolled out every six hours.
Emergency Management authorities urged residents to start preparing for storm conditions by securing homes and gathering 3-7 days of supplies for each member of their household.
Hurricane Elsa could produce up to 15 inches of rain in the Caribbean
At 11:00 a.m. AST, the center of Hurricane Elsa was located a few miles north of St. Vincent, the National Hurricane Center (NHC) reported.
Forecast track estimates Elsa will move towards the eastern Caribbean Sea later Friday afternoon into the evening and arrive near the southern coast of Hispaniola later Saturday.
By Sunday, the NHC said, Elsa is expected to move near Jamacia and Cuba.
The NHC logged maximum sustained winds near 75 mph with "little change in strength" forecasted during the next 48 hours." Hurricane wind conditions are expected across the entire region into the weekend.
Elsa is expected to produce 4 to 8 inches of rainfall with a maximum of 15 inches Friday across the Windward and the southern Leeward Islands, including Barbados. The same is expected over portions of Hispaniola and Jamacia Saturday into Sunday.
About 1 to 5 inches of rainfall in expected over Puerto Rico into Saturday.
The NHC also warned that flash flooding and mudslides may occur.
Videos show Elsa barreling down in the Caribbean
Hurricane Elsa hit Barbados Friday with 86 mph winds and rain barreling down on the island.
One woman said she "underestimated" Elsa in a tweet she shared with a video taken by her son, Henry.
Another Twitter user, Chad Robinson, shared a video of the scene from Bridgetown, Barbados, as palm trees bent in the strong winds.
The situation in St. Lucia is similar. Kristin Easterling shared footage of Elsa raging over a resort pool.
Florida officials prepare for responses to both Surfside and Hurricane Elsa
Florida is preparing for the impact of Hurricane Elsa, which is expected to hit the state early next week.
The Florida Division of Emergency Management (FDEM) said it is monitoring the hurricane and "preparing for potential impacts."
State officials are currently managing two disasters, as rescue efforts at the Champlain Towers South continue Friday.
Officials are concerned about how the incoming weather will impact operations in Surfside, which have paused this week for both rain and concerns over the stability of the remaining sections of the structure.
"The State Emergency Response Team is prepared to support & will provide updates on both events over the next few days," the FDEM tweeted.
Florida Governor Ron DeSantis said that officials are continuing "to support Surfside and monitor ongoing search efforts" while also preparing for Elsa.
Officials in St. Vincent set up 94 shelters
Officials in the Caribbean have closed schools, businesses and airports as Hurricane Elsa approaches the region.
St. Vincent authorities have set up 94 shelters and are urging people to evacuate valleys due to the risk of flooding, mudslides and lahars, according to the Associated Press.
"They will move anything within its path," St. Vincent Prime Minister Ralph Gonsalves said. "Do not wait until it's too late to go to a shelter."
As of Friday morning, Hurricane Elsa had maximum sustained winds of 75 mph (120 kph), according to the National Hurricane Center in Miami.
Many people on the island still remain in shelters after massive volcanic eruptions that began in April.