The tropical cyclone Elsa that's traveling up the west coast of Florida on Tuesday evening has gone back to being a category 1 hurricane, according to the latest advisory by the National Weather Service (NWS).
Hurricane Elsa is about 100 miles southwest of Tampa and due west of Fort Myers and Cape Coral. The latest advisory states that Elsa has maximum sustained winds of 75 mph. A tropical storm becomes a Cat 1 at 74 mph.
Elsa made Cat 1 status on Friday before dropping wind speed and falling back to a tropical storm by Saturday. The storm's winds dropped to 60 mph, and then 50 before gaining more strength as it passed through Cuba Monday and got into the Gulf of Mexico.
The storm could keep getting stronger as it skirts the Florida coast in the eastern Gulf of Mexico. Elsa is expected to make landfall between 8 a.m. and 9 a.m. Wednesday somewhere between the Tampa metro area and north into the Big Bend region of Florida.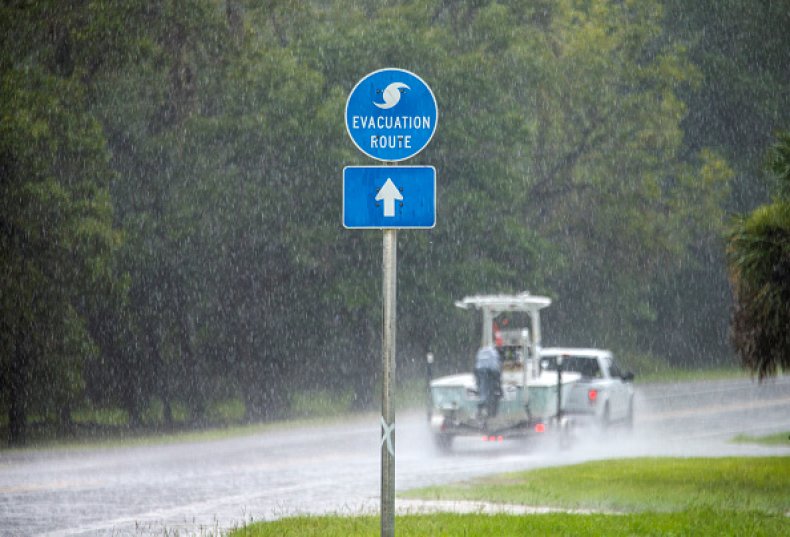 Elsa has already caused three deaths in its path—one in St. Lucia and two more in the Dominican Republic. It's the fifth named storm of the 2021 hurricane season, but the first one of those to become an actual hurricane.
Elsa will likely touch ground Wednesday morning as a category 1 storm unless it reaches sustained winds of 96 mph throughout the night and morning before the eyewall touches land.
Florida Governor Ron DeSantis on Monday issued a state of emergency for two dozen counties at risk from Elsa.
"While we continue to provide resources to support the response at Surfside, impacts from Elsa will begin affecting the Florida Keys and portions of southern Florida as early as Monday," DeSantis said.
"All Floridians in the potential path of this storm need to prepare for the risk of isolated tornadoes, storm surge, heavy rainfall and flash flooding."
The NWS in Miami issued a tornado watch for all of south Florida that's set to expire at 11 p.m. Tuesday night.
One of the greatest threats in the Tampa/St. Petersburg metropolis is flooding, as it's a low-lying area. Category 1 storms usually bring more rain than wind, and the area lies along a geographical area prone to flooding, even during the typical summer squalls.
The storm is projected to skirt northeasterly through Florida and into Georgia, and then continue a northern trek through the Carolinas, Virginia and well into New England.
The 2021 tropical season was predicted to be busier than normal, but not as hectic as 2020, when a record 30 named storms developed in the Atlantic basin.