Hurricane Epsilon has decreased in intensity but tropical storm conditions are still expected in Bermuda today, as the storm is forecast to move towards the east of the island.
As of 8 a.m. ET, Hurricane Epsilon is around 235 miles east-southeast of Bermuda and is moving northwest at seven miles per hour, with maximum sustained winds of 100 miles per hour. Hurricane-force winds extend outward up to 24 miles from the center and tropical-storm-force winds extend outward up to 310 miles.
The center of Epsilon is forecast to make its closest approach to Bermuda later this evening but is expected to keep well to the east of the island. Epsilon is then expected to turn toward the north-northwest on Saturday and the hurricane is forecast to slowly weaken over the next few days.
A Tropical Storm Warning is in effect in Bermuda, which means that tropical storm conditions are expected somewhere within the warning area. Epsilon will generate large surf swells that will affect Bermuda, the Bahamas, the Greater Antilles, the Leeward Islands, the east coast of the United States, and Atlantic Canada during the next few days.
After forming on Monday, Epsilon quickly intensified to a major Category 3 storm on Wednesday, its wind speed increasing by 50 miles per hour in 24 hours.
The Air Force Reserve Hurricane Hunters shared photos and a video from inside the eye of Epsilon on Twitter, showing its stadium effect.
Epsilon is the tenth hurricane of what has been a busy season. In August, the National Hurricane Center estimated that there would be between 19-25 named storms, including seven to 11 hurricanes.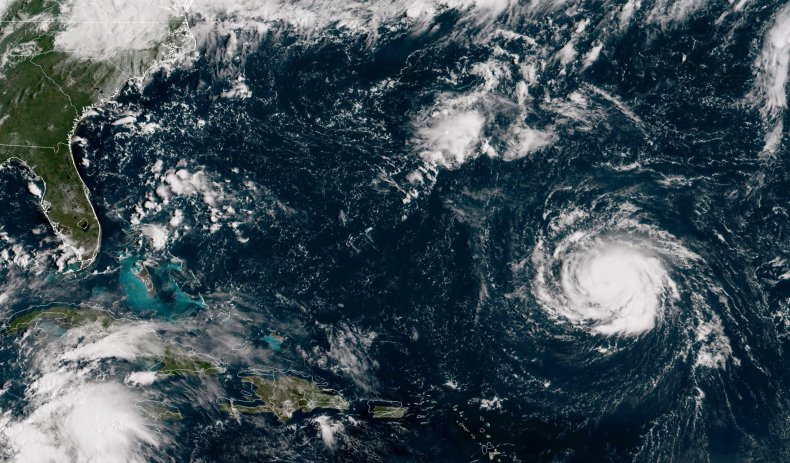 At the time, U.S. Secretary of Commerce Wilbur Ross said in a statement: "This is one of the most active seasonal forecasts that NOAA has produced in its 22-year history of hurricane outlooks. NOAA will continue to provide the best possible science and service to communities across the Nation for the remainder of hurricane season to ensure public readiness and safety.
"We encourage all Americans to do their part by getting prepared, remaining vigilant, and being ready to take action when necessary."
Gerry Bell, Ph.D., lead seasonal hurricane forecaster at NOAA's Climate Prediction Center, said: "This year, we expect more, stronger, and longer-lived storms than average, and our predicted ACE range extends well above NOAA's threshold for an extremely active season."