Hurricane Erick and Tropical Storm Flossie: Latest Path Map as Storms Head Towards Hawaii
Hurricane Erick and Storm Flossie are intensifying as they make their way towards Hawaii, according to the National Hurricane Center (NHC).
In its latest advisories on the storms, the NHC has advised that Hurricane Erick is moving in a west-northwest course towards the island state, at 17 miles per hour (28 kilometers per hour).
From today through to Wednesday, maximum sustained winds are expected to be near 80mph (130kph) with higher gusts, with additional strengthening tomorrow. However, weakening is expected to start late tomorrow night or early Thursday morning.
Its hurricane-force winds extend outward up to 15 miles (30 kilometers) from the center, according to the NHC, with tropical storm force winds extending outward up to 80 miles (130 kilometers). The estimated minimum central pressure is 988 millibar (29.18 inches of Mercury).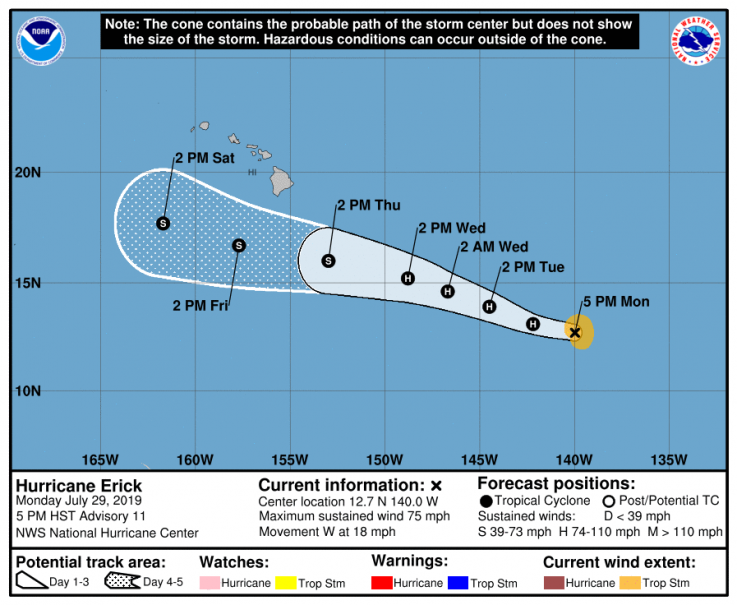 Storm Flossie, which is expected to become a hurricane later today and a major hurricane tomorrow, is currently moving toward the west at near 16mph (26kph). It is expected to turn to west-northwest later toward, moving towards Hawaii.
Its maximum sustained winds are closing to 65mph (100kph) with higher gusts, according to the NHC. Its tropical storm force winds extend outward up to 80 miles (130 kilometers) from the center, with an estimated minimum central pressure of 1001mb, or nearly 30inHg.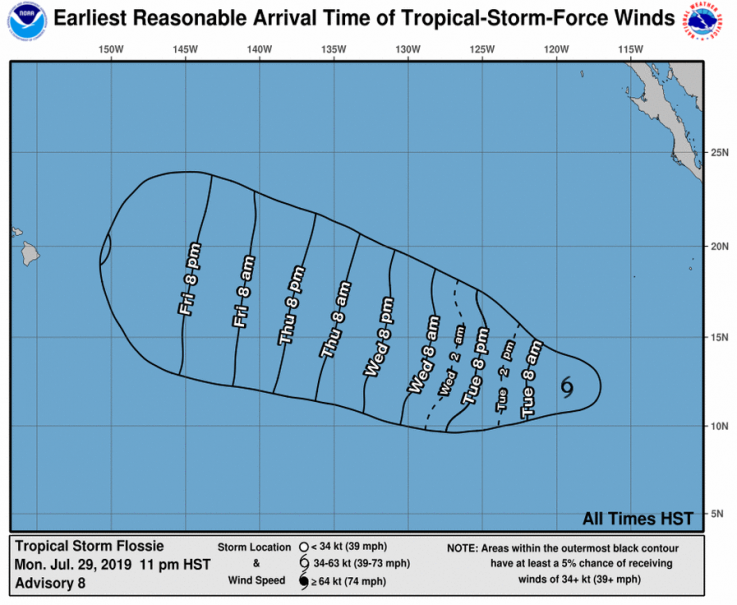 For both storms, there are currently no warnings in place for the coast or hazards for land. However, Hurricane Erick is not expected to pass Hawaii until Friday, according to the latest path map.
In order to prepare for the hurricanes, residents of Hawaii are advised by the National Weather Service (NWS) and the NHC to make arrangements of emergency kits in advance and to be aware of their evacuation points.
Hurricanes are one of the most dangerous weather phenomenon to affect populations in the Caribbean, Pacific, Atlantic and the Gulf of Mexico, however dangers also come from rippling weather affects. Storm surges and storm tides, for example, pose the greatest threat to life and property along coastal areas, according to the NHC. These large waves are an abnormal rise of water generated by storm winds and reach heights well over 20 feet, affecting over 100 miles of coastline, and moving several miles inland.
Flooding also becomes an issue with heavy rainfall being produced by tropical storms and hurricanes. Reaching in excess of six inches, flash flooding can occur quickly, with longer term flooding on rivers and streams persisting for several days.
Advice from the NWS for preparing for hurricanes and the hurricane season in general, which started in June, includes:
Find out if you live in a hurricane evacuation area by contacting your local government or emergency management office.
Put together a basic emergency kit, and consider what else you might need depending on if you have pets, senior family members or young children.
Go through your family emergency plan and make copies for everyone.
Review your insurance policies.
Make yourself aware of the NWS watches and warnings, and which is more severe or urgent.
Hurricane Erick and Tropical Storm Flossie: Latest Path Map as Storms Head Towards Hawaii | U.S.