Hurricane Fiona Path, Tracker as Canada Braces for Unprecedented Storm
Hurricane Fiona has already caused significant weather disruption in Puerto Rico earlier this week but could also break records as it heads towards Canada.
The National Weather Service has warned that the hurricane could be one of the strongest to hit Canada, but it also gave assurances that it would not strike the U.S.
"The weather buzz right now is about Hurricane Fiona," NWS Cleveland said on Twitter on Friday.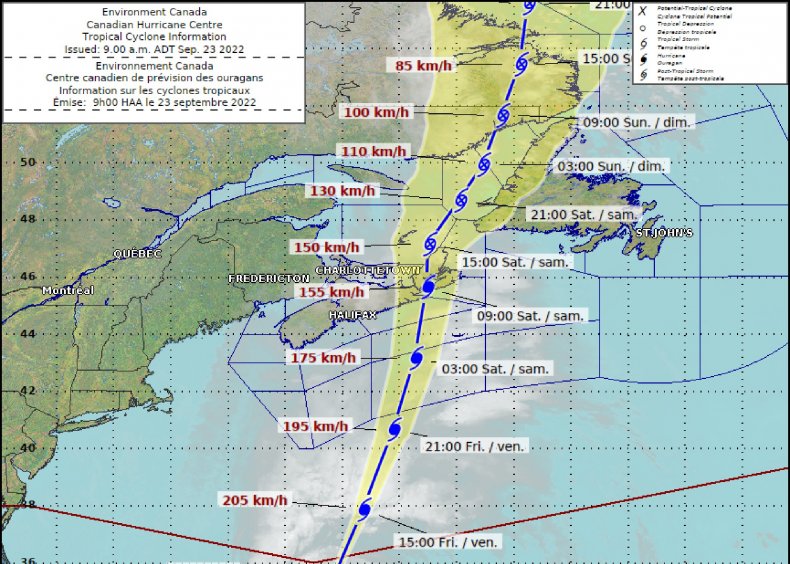 "It will not hit the USA but could be one of the strongest storms to hit Canada.
"Fiona will hit the Canadian Maritimes and Nova Scotia this weekend with devastating winds over 100 mph."
The tweet also highlighted a map showcasing the hurricane's predicted trajectory over the next few days and rough estimates of when it would reach these areas.
Ahead of Fiona touching down in Canada, the Canadian Hurricane Centre issued a hurricane watch for portions of Nova Scotia, Prince Edward Island, Iles-de-la-Madeleine and Newfoundland, according to The Washington Post.
"Hurricane Fiona has the potential to be a landmark weather event in Eastern Canada this weekend, and we encourage the public to continue to monitor the forecasts regularly," the Canadian Hurricane Centre tweeted.
Meteorologists have also explained the intense weather conditions expected and the significance of the storm.
"Once Fiona passed by Bermuda, the storm is forecast to impact Nova Scotia by Saturday afternoon," CNN meteorologist Robert Shackelford said.
"Fiona will become extratropical before impact, but this will do little to hinder the damage that Fiona will cause."
Tanya Mullally, Prince Edward Island's head of emergency management, said flooding was a serious concern ahead of the upcoming storm.
"Storm surge is certainly going to be significant... Flooding that we have not seen nor can we measure against," she said, according to CNN.
She added that the northern portion of the island will face the brunt of the storm due to the direction of the winds which could lead to property damage and coastal flooding.
Hurricane Fiona has already proved deadly as four people reportedly died in connection with the storm in Puerto Rico, according to a Federal Emergency Management Agency (FEMA) official.
Thousands sought refuge in emergency shelters in Puerto Rico due to the flooding and heavy rain.
Hundreds of people were rescued but the storm left most residents without electricity or running water.
In addition to the deaths reported by FEMA, Puerto Rico Governor Pedro Pierluisi told a press conference that at least two more people died in a shelter due to natural causes.